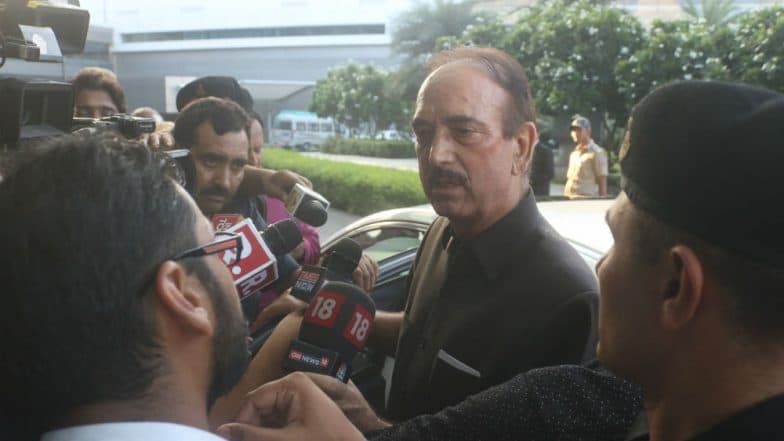 New Delhi, September 16: The Supreme Court on Monday allowed Congress's Rajya Sabha MP Ghulam Nabi Azad to travel to Jammu and Kashmir. While allowing Ghulam Nabi Azad to visit Jammu and Kashmir, a bench headed Chief Justice of India (CJI) Ranjan Gogoi asked him not to make speeches or hold a public rally. Azad can only visit Srinagar, Baramulla, Anantnag and Jammu districts. "He will not make any speeches or hold any public rally as per his own submissions," Justice Gogoi said. Jammu And Kashmir Under Siege: Security Lockdown, Communication Blackout And UT Status Leave Kashmiris With No Autonomy.
The apex court was hearing Azad's plea over the Kashmir issue. In the petition filed in his personal capacity, the former Jammu and Kashmir Chief Minister sought permission to visit his home state to enquire about the well being of his family members. He had tried to visit the state after the abrogation of Jammu and Kashmir's special status but was sent back from the airport by authorities. Several opposition leaders, including Congress leader Rahul Gandhi, had attempted to visit the state, but were sent back from the airport itself. UN Human Rights Experts Urge India to End Communication Shutdown in Jammu And Kashmir.
The Modi government abrogated Article 370 of the Constitution from Jammu and Kashmir on August 5 that gave special status to the state. The government also bifurcated the state into two union territories. Following the decision to abrogate Article 370, the government imposed a massive clampdown on the Valley by detaining most of the political leaders and keeping the former chief ministers under house arrest. Phone lines, mobile and internet connections were also suspended as precautionary measures. NSA Ajit Doval on Article 370 Repeal: Majority of Kashmir Supporting Move, 92.5% of J&K Freed of Restrictions.
The top court had on September 5, allowed former Jammu and Kashmir chief minister Mehbooba Mufti's daughter Iltija to meet her in Kashmir, where she is under detention following the revocation of the state's special status. The apex court had allowed Iltija to meet her mother in private but said that as far as moving around in other parts of Srinagar goes, she can do so subject to the permission from district authorities.