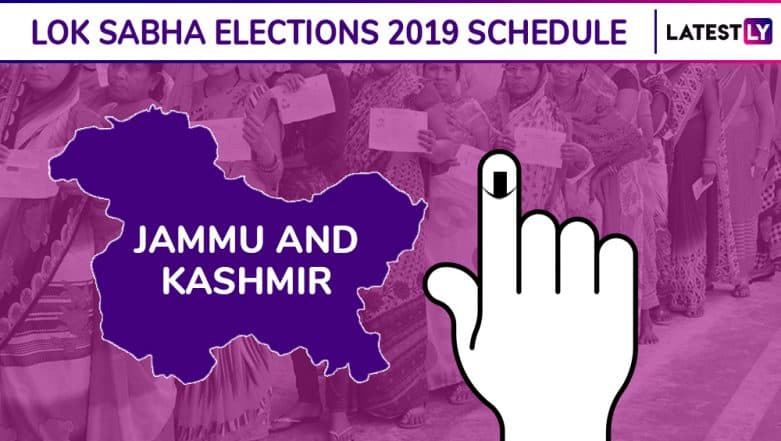 Srinagar, March 10: The Election Commission of India (ECI) on Sunday announced dates for Lok Sabha elections in Jammu and Kashmir. The elections will be held in five phases. The first phase will be held on April 11, second on April 18, third on April 23 and fourth on April 29 and fifth on May 6. The results of Lok Sabha elections 2019 will be declared on May 23. The model code of conduct comes into effect from now onwards and will continue till the completion of the general elections, said Chief Election Commissioner Sunil Arora.
In the first phase on April 11, voting will be held in Baramulla and Jammu constituencies, while Srinagar and Udhampur constituencies will go to vote in the second phase on April 18. Voting in Anantnag will be held on April 23 and 29 and May 6, while Ladakh will also go to polls on May 6. For the first time in India's electoral history, polling for one Lok Sabha seat - Jammu and Kashmir's Anantnag constituency - will be held in three phases.
In 2014 Lok Sabha polls, the PDP and BJP won three seats each. The PDP bagged Srinagar, Anantnag and Baramulla parliamentary seats. In Jammu, Udhampur and Ladakh, BJP candidates clinched a victory. PDP leader Tariq Hamid Karra quit his Srinagar seat in October 2016. A by-election was held and Farooq Abdullah won the seat. The Anantnag seat remains vacant since Mehbooba Mufti resigned to become chief minister in April 2016. Punjab Lok Sabha Elections 2019 Dates.
Lok Sabha Elections 2019 Schedule And Dates: Voting In 7 Phases, Results On May 23 (Watch Video):
In Jammu and Kashmir, so far no alliance has been formed for the general elections. In 2014, the Congress and the NC contested together. This time, elections may become a four-cornered contest. The PDP and BJP came together after assembly polls in 2014, however, the alliance fell apart after the saffron party withdrew its support from the government last year.
The Lok Sabha elections will be held in seven phases from April 11 to May 19 and the votes will be counted on May 23. 91 parliamentary constituencies (spread across 20 states) will see polling on April 11, 97 constituencies (13 states) on April 18, 115 (14) on April 23, 71 (9) on April 29, 51 (7) on May 6, 59 (also 7) on May 12 and 59 constituencies (8 states) on May 19.