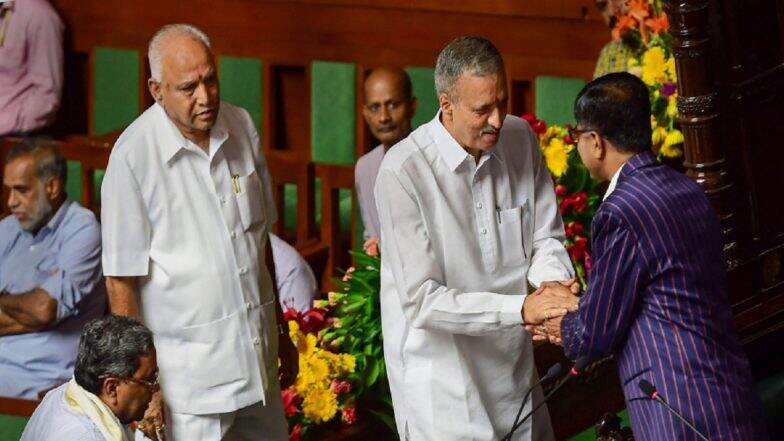 Bengaluru, October 9: In a shock move, Karnataka Speaker Vishweshwar Hegde Kageri has announced a ban on live streaming of assembly proceedings by TV news channels. With immediate effect, the Speaker has barred the entry of camerapersons in the media gallery of the House. The visuals of the proceedings will be shared later with media personnel, he said. Karnataka Bypolls For 15 Seats on December 5, Counting and Results on December 9.
The move is likely to draw flak from the Opposition Congress-JD(S). Chief Minister BS Yediyurappa is yet to elaborate on why the Speaker has taken the unprecedented step of disallowing TV channels from live streaming the House proceedings.
Speaker Bans Entry of Cameramen Inside Assembly
Karnataka speaker bans TV channels to shoot proceedings of the house. Assembly will give out visuals of the proceedings. No cameraman allowed inside assembly. #KarnatakaPolitics.

— Nagarjun Dwarakanath (@nagarjund) October 9, 2019
Nearly four years ago, the erstwhile Congress government headed by Siddaramaiah was considering to designate a separate channel on state expenses to live telecast the assembly proceedings. The channel was expected to be modelled around the Lok Sabha TV and the Rajya Sabha TV.
The Karnataka assembly, over the past two years, has witnessed several unruly scenes. Apart from heated debates in the House, two trust votes have been streamed live in which the incumbent CMs have been losing the confidence motion and tabling their resignations.