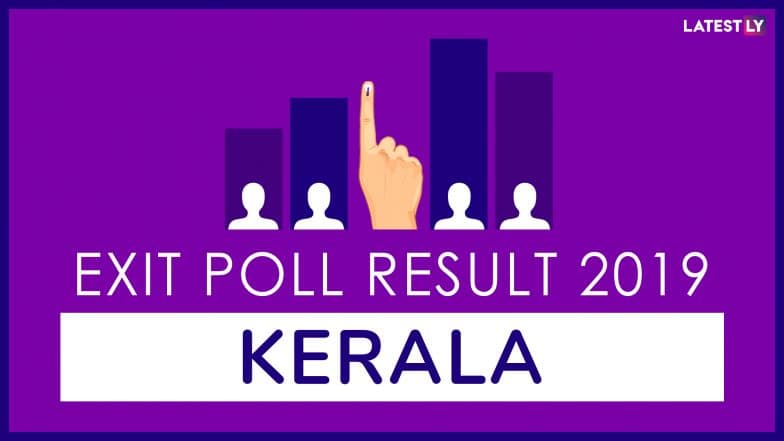 Thiruvananthapuram, May 19: The exit poll result of Lok Sabha Elections 2019 for 20 high-octane parliamentary seats in India's southern state Kerala has been declared. The poll surveys, conducted by various popular research agencies – in tie-ups with news channels, give an edge to opposition alliance United Democratic Front. However, Left Front-led Left Democratic Front is not far behind. Though surveys indicate that this time LDF's vote share has declined and the alliance might not be to secure the number of seats it won last time. Exit Poll Results For Lok Sabha Elections 2019 LIVE News Updates: Predictions By News18-IPSOS, India Today-Axis, News 24-Today's Chanakya, ABP-CSDS And More
According to the India Today-My Axis India prediction UDF is leading in the state with 15-16 seats. While on the other hand, BJP has is on the gaining side with one seat. However, LDF is limping between 3-5 to seats in the initial trends. The survey says that the vote share for LDF is 38%, for UDF its 46% and for NDA it's 13%.
In News 24-Today's Chanakya Survey the UDF is gaining UDF is most likely to attain 16 seats while LDF will get 4 seats. BJP, however, might not open their accounts. As per the ABP-Neilsel, Congress-led UDF would secure 15-16 seats, BJP would gain one seat, while LDF would gain two seats.
According to the News 18-IPSOS survey, Left Front's LDF is leading with 11-13 seats, Congress-led UDF with 7-9 seats. NDA might secure a single seat. Similar is the exit poll surveys for the state of Kerala, where Congress-led UDF is gaining securing more than 14 seats, while Left Front's LDF is managing with 4-5 seats.
Exit Polls Results for Kerala:
| | | | |
| --- | --- | --- | --- |
| Agency | LDF | UDF | BJP |
| India Today-Axis |  3-5 |  15-16 |  0 |
| ABP-Neilsel |  2 |  15-16 |  1 |
| CNN News 18- IPSOS |  11-13 |  7-9 |  1 |
| Times Now-VMR |  4 |  15 |  1 |
| Republic-Jan Ki Baat |  4-5 |  14-16 |  2 |
| Republic-CVoter |  5 |  15 |  0 |
| Today's Chanakya |  4 |  16 |  0 |
Along with this, aggregate survey results indicate that the vote share for Bharatiya Janata Party is most likely to gain, for the first time in the history of independent India. The profit margin for Left front is most likely to improve in some parts, but mainly the Congress is in gaining position, after they took the remarkable decision of fielding party president Rahul Gandhi from Wayanad Lok Sabha seat.
What Are Exit Polls? Know All About Predictions For Lok Sabha Elections 2019
Among the key candidates in the poll fray include Congress candidate P C Chacko from Chalakudy against CPM MP Innocent, Rahul Gandhi from Wayanad against BDJS's Thushar Vellapally, Shashi Tharoor from Thiruvananthapuram against CPI's C Divarkaran, NDA's Alphons Kammathanam from Ernakulum against Hibi Eden of Congress and CPI's P Rajeev among others.
Considering the previous history of the state, it is most likely that Congress would gain more seats this time with their alliance. Since, BJP has raised issues of violence, poll rigging and invoked the religious sentiments before and during the elections, the saffron party's vote share would too rise. However, whether it would be able to win seats or not, is still speculative now.
Considering the recent incidences of violence, flood, communal clashes and religious issues in Kerala, high voter turnout indicates a change in tenure of the ruling party. In 2014, the vote share of LDF was 40.17 per cent, while for UDF its was 42,06. NDA managed to secure just 10.83 votes in 18 seats it contested. With this, UDF won 12 seats, leaving Left Front at 8, and NDA at 0 seats respectively. Kerala Lok Sabha Elections 2019 Dates: Constituency Wise Dates Of Voting And Results For General Elections. 
The exit poll outcome, though weighing in favour of the UDF, are only reflecting the post-election trends. The actual outcome would be revealed on May 23, when the Election Commission of India is scheduled to begin the counting of votes.