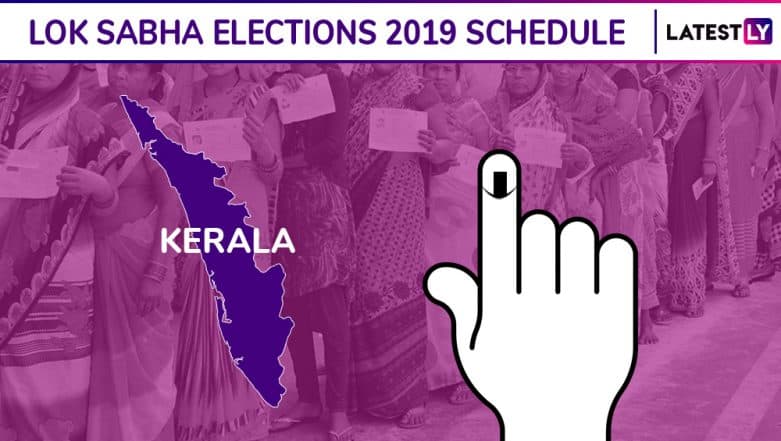 Thiruvananthapuram, March 11: The Election Commission of India (ECI) on Sunday announced the dates for the upcoming 2019 Lok Sabha elections. According to ECI, the general elections in Kerala, will take place in a single phase on April 23, and the results will be declared on May 23. While, the election for the Lok Sabha for 543 seats will take place in seven phases. A total of 20 Members of Parliament are elected from the southern state. The Congress will be looking to repeat its 2014 performance. Lok Sabha Elections 2019 Schedule: Voting In 7 Phases From April 11 to May 19, Counting And Results On May 23; Check All Dates For General Elections.
In 2014, the Lok Sabha elections were held in a single phase in Kerala on April 10, 2014. The total voter strength of Kerala is 24,251,937 and the percentage of voters who exercised their right was an impressive 74.04 percent. The results of the elections were declared on 16 May 2014. The Bharatiya Janata Party (BJP) does not seem to have any hold in this state. Model Code of Conduct Comes Into Force Ahead of Lok Sabha Elections 2019: What is MCC or Aachar Sanhita?
Lok Sabha Elections 2019 Schedule And Dates: Voting In 7 Phases, Results On May 23 (Watch Video):
In the 2014 parliamentary election, the United Democratic Front led by the Congress managed to win 12 seats out of 20, while the Left Democratic Alliance led by the Communist Party of India (Marxist) managed to bag on eight seats. Meanwhile, according to Times Now-VMR Opinion Poll, The Bharatiya Janata Party (BJP) is likely to open its account. While Congress-led UDF is expected to bag 16 seats, the LDF is expected to win only three seats.