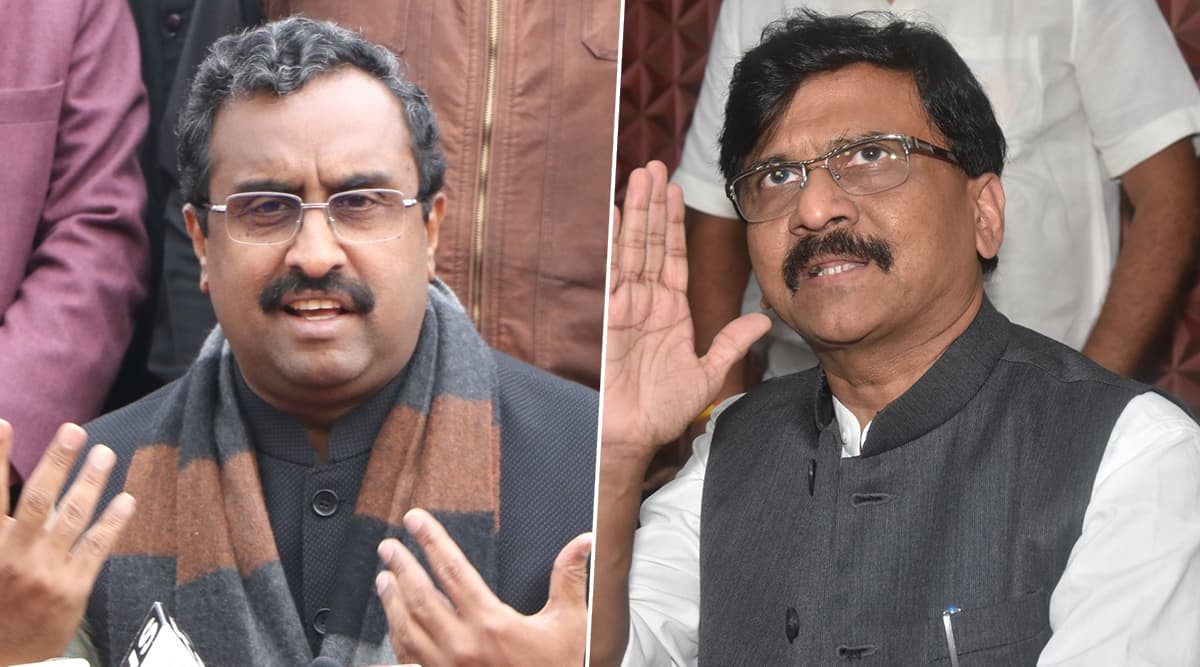 Mumbai, November 14: After failing to form government in Maharashtra despite winning mandate with the Shiv Sena, the Bharatiya Janata Party (BJP) has virtually shut its door on the warring ally. Senior BJP leader Ram Madhav on Thursday said that the Shiv Sena might not be invited again to join the BJP-led National Democratic Alliance (NDA). Ram Madhav also accused Shiv Sena leader Sanjay Raut of telling lies. Maharashtra Government Formation: Deputy CM of Congress, Muslim Reservation Could Be Included in 'Common Minimum Programme'.
Asked whether doors are still open for the Shiv Sena, Ram Madhav said: "After all that has happened, I personally do not see Shiv Sena entering the NDA again." Calling Sanjay Raut "Uddhav Thackeray's Joseph Goebbels", the BJP leader said that the Shiv Sena MP was spreading lies. "He (Sanjay Raut) can continue to peddle lies, but this is not Germany," Madhav added. Uddhav Thackeray on Tuesday said that the BJP was still contacting him. Cracks Appear in Congress Over Supporting 'Communal' Shiv Sena, Yashomati Thakur Says Party Ideology Must Be Protected.
"They keep making vague and differing offers each time. But we have decided to go with the Congress-Nationalist Congress Party," Uddhav Thackeray declared. The Shiv Sena on Monday virtually snapped ties with the NDA at the state and centre and even withdrew its sole nominee in the Union Cabinet, Heavy Industries Minister Arvind Sawant, which was a pre-condition by the Congress-NCP for negotiations. Sharad Pawar's Call to Sonia Gandhi Delays Maharashtra Political Rejig, Shiv Sena's Fate Hangs in Balance.
On Sunday, the BJP announced that it would not form government in Maharashtra. In the 288-member assembly, the BJP emerged as the single largest party winning 105 seats, and along with its longtime ally, Shiv Sena was in a comfortable position to form government. The Shiv Sena, however, with 56 legislators refused to join the BJP in forming a government, insisting on rotational chief ministership.
The Shiv Sena has since been holding talks with the NCP and Congress, which had won 54 and 44 seats respectively. After BJP, Governor BS Koshyari invited Shiv Sena to form government. The Shiv Sena, however, could not submit a letter of support from 145 MLAs during their 24-hour time period. The Uddhav Thackeray-led party had requested more time, however, the request was turned down. Later, Koshyari invited NCP to form the government.
On Monday, Governor Koshyari recommended President's rule in Maharashtra, which was sanctioned by President Ram Nath Kovind.