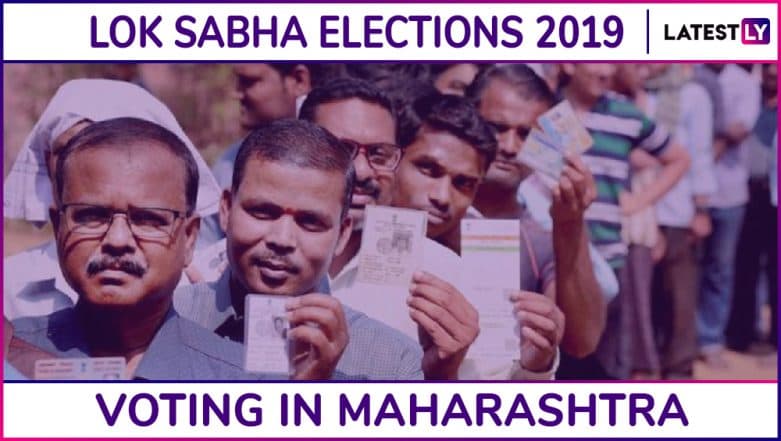 Mumbai, April 18: A moderate voter turnout with around 57 per cent voting was recorded in the second phase of polling for the 10 Lok Sabha constituencies in Maharashtra on Thursday amidst tight security. In this phase of Lok Sabha elections 2019, voting was held in Buldhana, Akola, Beed, Nanded, Solapur, Amravati, Hingoli, Parbhani, Osmanabad and Latur parliamentary constituencies.
The highest 60.88 per cent turnout was recorded in Nanded and the lowest 51.98 per cent in Solapur. The poll percentage in other constituencies was Buldhana 57.09 per cent, Akola 54.45, Amravati 55.43, Parbhani 58.50, Hingoli 60.69, Beed 58.44, Osmanabad 57.04 and Latur 57.94 per cent. Political heavyweights such as former chief minister Ashok Chavan, former union minister Sushil Kumar Shinde and Pritam Munde, daughter of late BJP stalwart Gopinath Munde, are in the fray.
As many as 1,68,35,910 people are eligible to cast their vote in the second phase of Lok Sabha polls in Maharashtra. The ruling Bharatiya Janata Party (BJP) and the Shiv Sena have formed an alliance, whereas the Congress has a tie-up with the Nationalist Congress Party (NCP) and other regional parties. Of the 10 Lok Sabha seats, the BJP is contesting on Akola, Beed, Latur, Solapur and Nanded Lok Sabha seats, while its ally Shiv Sena will fight in Buldhana, Osmanabad, Amravati, Hingoli and Parbhani. Farooq Abdullah, Hema Malini & More: 6 Key Candidates in Phase 2 of Lok Sabha Elections 2019.
The Congress is contesting on Akola, Latur, Solapur, Hingoli and Nanded, while its ally NCP has fielded its candidates in Buldhana, Beed, Osmanabad and Parbhani. In Amravati Lok Sabha seat, Yuva Swabhimani Party has the support of Congress and NCP. A total of 95 Lok Sabha seats are going to polls in the second phase of general elections. Check Full Schedule of Lok Sabha Polls 2019.
The seven-phase Lok Sabha elections started on April 11 and would conclude on May 19. Counting of votes will take place on May 23.