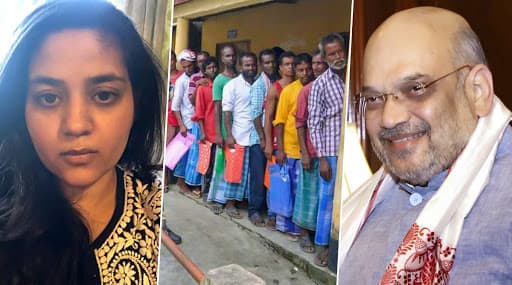 New Delhi, December 4: Hours after the Union government informed that the contentious Citizenship Amendment Bill or popularly known as CAB received a green signal on Wednesday, former Jammu and Kashmir Chief Minister Mehbooba Mufti's daughter -- Sana Iltija Javed -- slammed the ruling dispensation. Javad stated that the BJP-led central government does not favour those from the Muslim community.
Javad -- who operates Mehbooba Mufti's social media accounts, post abrogation of Article 370 and detention of former J&K CM -- posted on Twitter, "India - No country for Muslims." Earlier too, she had spoken against the Union government against Article 370 abrogation, communication restrictions and 'illegal' arrests of her mother in Jammu and Kashmir. Citizenship Amendment Bill Gets Green Signal From Cabinet: Here's All You Need to Know About the Contentious CAB.
Here's her tweet:
India - No country for Muslims https://t.co/j8NK5XQxnu

— Mehbooba Mufti (@MehboobaMufti) December 4, 2019
Earlier in August too, Javad had said, "The Government of India's intention is clear and sinister. They want to change the demography of the only Muslim-majority state in India, disempower Muslims to an extent where they become second-class citizens in their own state."
It is to be known that the Union government is planning to table the controversial bill on December 9 in the Lok Sabha. The CAB 2019 is facing strong opposition, and Northeastern states have stood together against the Centre. Also, opposition Congress and other opposition parties have alleged that the bill is against the secular picture of the country and has apparent communal overtone.
According to the CAB 2019, non-Muslims who fled religious persecution from Bangladesh, Pakistan and Afghanistan and entered India before December 31, 2014, would be granted Indian citizenship. The Bill seeks to amend the Citizenship Act, 1955.
The Bill seeks to make people belonging to six communities, namely Hindu, Sikh, Buddhist, Jain, Parsi, and Christian illegal migrants from Afghanistan, Bangladesh, and Pakistan, eligible for citizenship of India. So, the Bill aims to make it easier for non-Muslim immigrants from India's three Muslim-majority neighbours to become citizens of India.