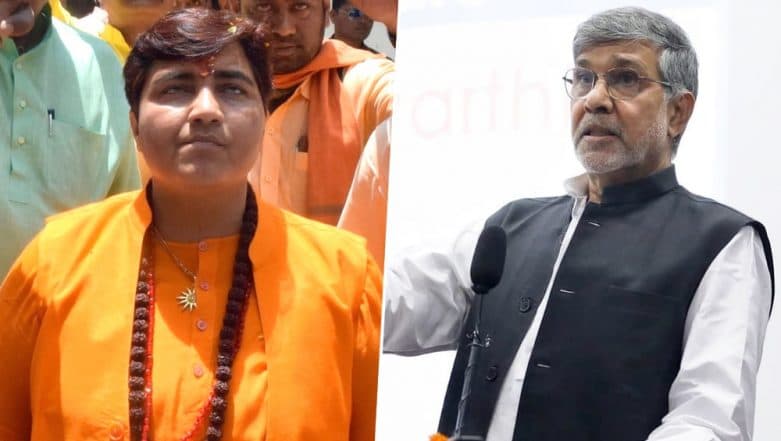 New Delhi, May 18: Nobel Peace Prize laureate Kailash Satyarthi on Saturday slammed Bharatiya Janata Party (BJP) candidate Pragya Singh Thakur for calling Nathuram Godse a patriot. In a tweet, Kailash Satyarthi said Nathuram Godse killed Mahatma Gandhi's body, but people like Pragya Singh Thakur are killing his soul. The 65-year-old child rights activist also said the BJP should immediately expel Pragya Thakur from the party.
"Godse assassinated Gandhi's body. But people like Pragya are killing his soul along with non-violence, peace and tolerance. Gandhi is above every party and politics. The BJP leadership should forego its interest of any small benefit and immediately take her out of the party in compliance with the Raj Dharma (duty of governance)," Satyarthi tweeted in Hindi. Priyanka Gandhi Lambastes Pragya Singh Thakur on Calling 'Nathuram Godse a Deshbhakt', Asks 'Bapu's Murderer a Patriot?'
Kailash Satyarthi's tweet:
गोडसे ने गांधी के शरीर की हत्या की थी, परंतु प्रज्ञा जैसे लोग उनकी आत्मा की हत्या के साथ, अहिंसा,शांति, सहिष्णुता और भारत की आत्मा की हत्या कर रहे हैं।गांधी हर सत्ता और राजनीति से ऊपर हैं।भाजपा नेतृत्व छोटे से फ़ायदे का मोह छोड़ कर उन्हें तत्काल पार्टी से निकाल कर राजधर्म निभाए।

— Kailash Satyarthi (@k_satyarthi) May 18, 2019
Thakur on Thursday stoked a huge controversy and left the BJP red-faced with her comment that Mahatma Gandhi's assassin Nathuram Godse was a 'true patriot', a statement her party denounced and asked her to apologise immediately for it. Prime Minister Narendra Modi, in an interview, said he would never forgive Thakur for her comments. The Opposition parties had attacked her saying what she said reflected the mindset of the people nurtured in RSS ideology.
Pragya Singh Thakur calls Nathuram Godse 'patriot', watch video:
#WATCH BJP Bhopal Lok Sabha Candidate Pragya Singh Thakur says 'Nathuram Godse was a 'deshbhakt', is a 'deshbhakt' and will remain a 'deshbhakt'. People calling him a terrorist should instead look within, such people will be given a befitting reply in these elections pic.twitter.com/4swldCCaHK

— ANI (@ANI) May 16, 2019
Thakur, a key accused in the Malegaon blast case, is not new to courting controversies. After being fielded by the BJP in Bhopal, she had said Hemant Karkare, who was killed during the 2008 Mumbai terror attacks, died because she had cursed him. The statement had attracted all-round criticism including from the BJP which disowned it.