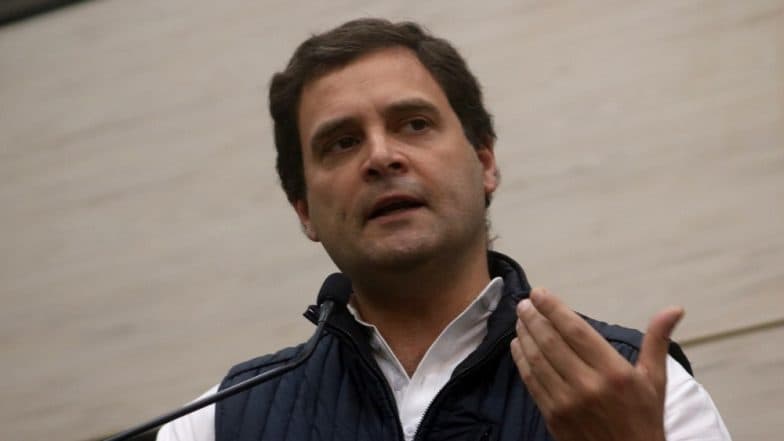 New Delhi, February 7: Congress president Rahul Gandhi on Thursday hit back at Prime Minister Narendra Modi over 'Motion of Thanks' speech in Lok Sabha in which he attacked the grand old party on various issues. When asked about PM Modi's remark, "ulta chor chowkidaar ko daante" remark, Gandhi said, "The Prime Minister has helped steal Rs 30,000 crore from the defence forces. He has handed that money to Anil Ambani. He has done this personally. Remember what I said." Congress General Secretary Priyanka Gandhi was also present during the Congress president's media interaction.
Earlier in the day, PM Modi took a jibe at Congress President Rahul Gandhi's "chowkidar chor hai" comment and paraphrased an old saying in India which goes as: "Ulta chor, chowkidar ko daante". (One who robs himself blames the watchman). The also attacked the grand old party over various issues including commonwealth scam with took place in 2010. He said, "In 2010 Commonwealth games, on one hand, our athletes were working hard to win medals for the country, while these people(Congress) were accumulating wealth for themselves."
Video of Rahul Gandhi attacking PM Modi over Rafale Deal:
#WATCH Congress President Rahul Gandhi responds to Prime Minister Narendra Modi's "ulta chor, chowkidaar ko daante" remark. pic.twitter.com/ksnkpt1971

— ANI (@ANI) February 7, 2019
The PM said that while opposing the Bharatiya Janata Party (BJP) and the government, the Opposition sometimes end up "insulting the country." Reflecting on the President's speech, the PM said that this government speaks the truth both inside and outside the house. He also alleged that the Congress during its rule did nothing to strengthen defence forces.
Meanwhile, on Thursday, Gandhi, speaking at the AICC minority department national convention on Thursday challenged Prime Minister Narendra Modi for debate and called the Prime Minister a "darpok" (coward). "I challenge the BJP, let Narendra Modi ji debate with me for 10 minutes on stage. He is scared, he is a 'darpok' person," said the Congress president at the convention.