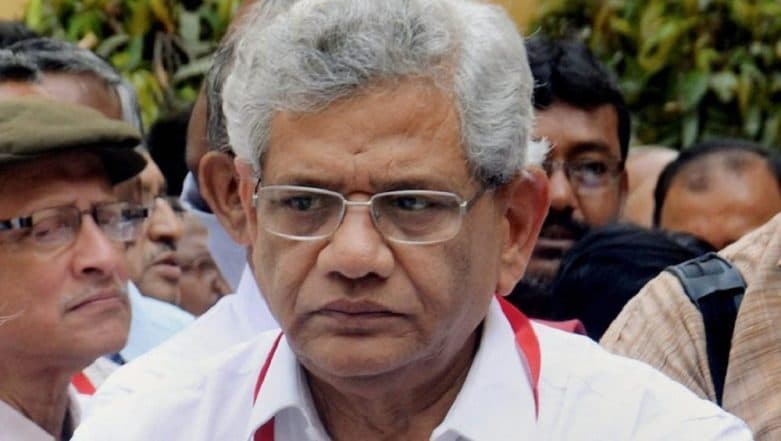 New Delhi, August 30: Communist Party of India (Marxist) leader Sitaram Yechury who returned to Delhi on Friday from Jammu and Kashmir dismissed the Centre's claims of normalcy in the state. According to reports, Yechury will file an affidavit in the Supreme Court regarding his visit of Jammu and Kashmir. The CPI(M) Yechury visited Srinagar on Thursday after getting permission from the top court. Rahul Gandhi Accepts Jammu And Kashmir Governor Satya Pal Malik's Invite to Visit Valley.
During his visit, he met his party's four-time MLA Mohammed Yousuf Tarigami. "We were not allowed to meet anyone else, so there was no way to assess the situation. But from what I could see on the roads, the situation is not what the government claims." Reported CNN News18 quoting Yechury as saying. Article 370 Abrogated From Jammu and Kashmir: Home Minister Amit Shah Proposes Scrapping of the Article, What Does the Article State?
Yechury's Meeting With Tarigami:
CPI(M) General Secretary Sitaram Yechury met party leader Yousuf Tarigami in SRINAGAR, yesterday. Supreme Court had allowed Sitaram Yechury to visit J&K and meet Yousuf Tarigami. pic.twitter.com/k4EpdMgYao

— ANI (@ANI) August 30, 2019
The CPI(M) met ailing Tarigami on August 29. He told the media house that the Centre wanted him to leave on Thursday evening.  Tarigami has been under house arrest since August 5, the day when the Narendra Modi government scrapped the special status of Jammu and Kashmir by diluting the Article 370.
Earlier on August 24, Indian National Congress leader Rahul Gandhi and other leaders of the opposition parties were denied permission to visit the Kashmir Valley. The leaders were sent back to Delhi from the Srinagar Airport. Gandhi was accompanied by Ghulam Nabi Azad, D Raja, Sharad Yadav, Manoj Jha and Majeed Memon.