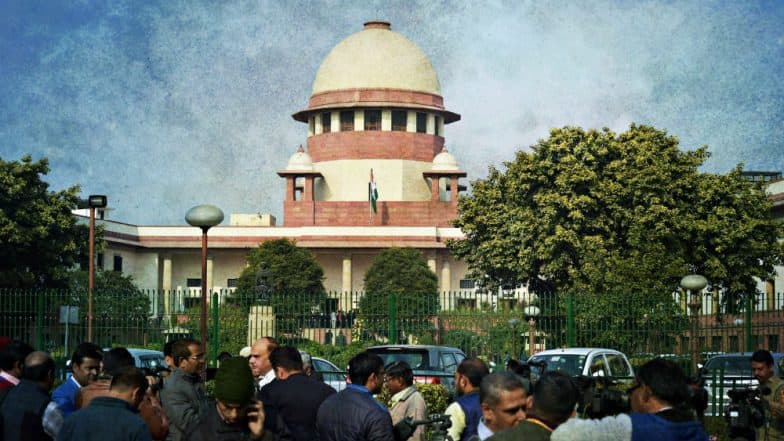 New Delhi, August 23: The Supreme Court on Thursday agreed to hear pleas challenging the newly enacted law which criminalises the practice of instant divorce through triple talaq among Muslims. The apex court also issued a notice to the Centre on pleas challenging the constitutional validity of the Muslim Women (Protection of Rights on Marriage) Act 2019 under which a Muslim man can be sent to jail for up to three years for giving triple talaq to his wife.
A Bench of Justices NV Ramana and Ajay Rastogi heard three petitions filed by Samastha Kerala Jamiathul Ulema, Sayyed Farooq and Jamiat Ulama-i-Hind challenging the triple talaq act. The petitioners argued the newly-enacted law violates Articles 14, 15 and 21 of the Indian Constitution. While issuing a notice to the Centre, Justice Ramana sought clarification whether laws were passed against other social evils. Triple Talaq Bill Passed: India Joins Pakistan, Saudi Arabia in Outlawing Practice; Check List of Countries Where Instant Divorce is Banned.
"Practices like Sati, dowry etc have been declared bad by courts, can a law not be enacted against the same. This is just a doubt I have," Justice Ramana said. Senior advocate Salman Khurshid, appearing for a petitioner, responded: "The issue, in this case, is on the impact of wife." He further explained how the triple talaq law could negatively impact the wife.
President Ram Nath Kovind has given assent to the Act which makes 'talaq-e-biddat' or any other similar form of talaq having the effect of instantaneous and irrevocable divorce pronounced by a Muslim husband void and illegal. On Thursday, Jamiat Ulama-i-Hind, a Muslim body, moved the Supreme Court challenging the constitutional validity of the Muslim Women (Protection of Rights on Marriage) Act 2019.
Earlier this month, 'Samastha Kerala Jamiathul Ulema', a religious organisation of Sunni Muslim scholars and clerics in Kerala, had also moved the apex court seeking to declare the newly enacted law as "unconstitutional".
The Act makes it illegal to pronounce talaq three times — spoken, written or through SMS or WhatsApp or any other electronic chat — in one sitting. "Any pronouncement of talaq by a Muslim husband upon his wife, by words, either spoken or written or in electronic form or in any other manner whatsoever, shall be void and illegal," the law says.