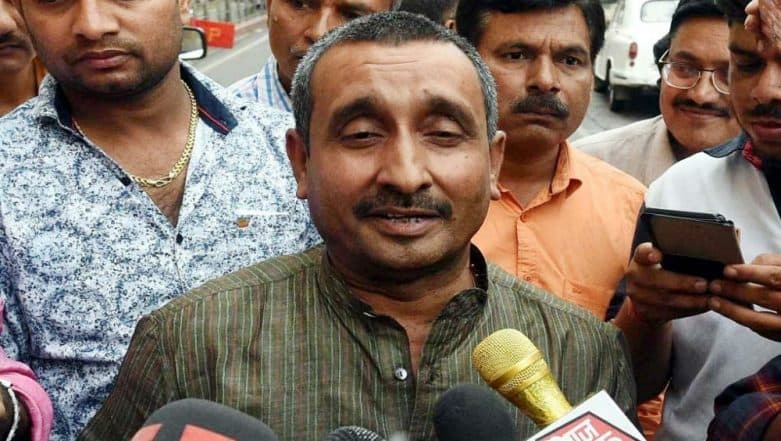 Unnao, August 16: Rape accused and expelled Bharatiya Janata Party (BJP) MLA Kuldeep Sengar's photo was seen in a newspaper advertisement. Unnao Nagar Panchayat Chairman Anuj Kumar Dixit was the one who gave the advertisement to the newspaper. Speaking to ANI, Dixit said, "He is MLA of our area that is why his photo is there. Till the time he is our MLA his photo can be put." Unnao Rape Case: Survivor Was Raped by BJP MLA Kuldeep Sengar, CBI Tells Court.
Along with Sengar, the banner also had images of Prime Minister Narendra Modi and Home Minister Amit Shah. Sengar is an MLA from Uttar Pradesh's Bangarmau who was ousted from the party due to his alleged involvement in the Unnao rape case. Unnao Rape Case: Expel Kuldeep Sengar and His Brother, Priyanka Gandhi Tells PM Narendra Modi in a Tweet
Dixit's Statement:
Photo of Unnao rape accused MLA Kuldeep Singh Sengar seen in Independence Day greetings published by Unnao Nagar Panchayat Chairman Anuj Kumar Dixit in a newspaper, says, "He is MLA of our area that is why his photo is there. Till the time he is our MLA his photo can be put." pic.twitter.com/OTEJFNu0Ut

— ANI UP (@ANINewsUP) August 16, 2019
Sengar was expelled from the saffron party in July after the Central Bureau of Investigation (CBI) registered an FIR against him in connection with an accident of rape survivor's car on July 28. Earlier this month, Delhi's Tis Hazari court issued a production warrant against MLA Sengar and Shashi Singh. Sengar and other accused were asked to appear before the court on August 5. The CBI also raided at least 17 premises related to the rape accused. Kuldeep Singh Sengar, Prime Accused in Unnao Rape Case, Expelled From BJP.
Tweet of CNN News18:
#NewsAlert | Unnao @BJP4India leader leaves party embarrassed.@pranshumisraa with details pic.twitter.com/bzQxahq8wv

— News18 (@CNNnews18) August 16, 2019
Earlier, BJP's Hardoi MLA also sympathised with Sengar. However, the saffron party distanced itself from the comments, saying the statements could be a personal view of Ashish Singh. The Hardoi MLA had said, "Our brother Kuldeep Singh could not be here among us today as he is going through difficult times. Our best wishes are with him. We hope that he will overcome the bad times, fight through it and come out of it and be with all of you to lead you." BJP MP Sakshi Maharaj had also visited Sengar in Sitapur jail in June and thanked the MLA for his contribution in his victory in the Lok Sabha elections 2019.