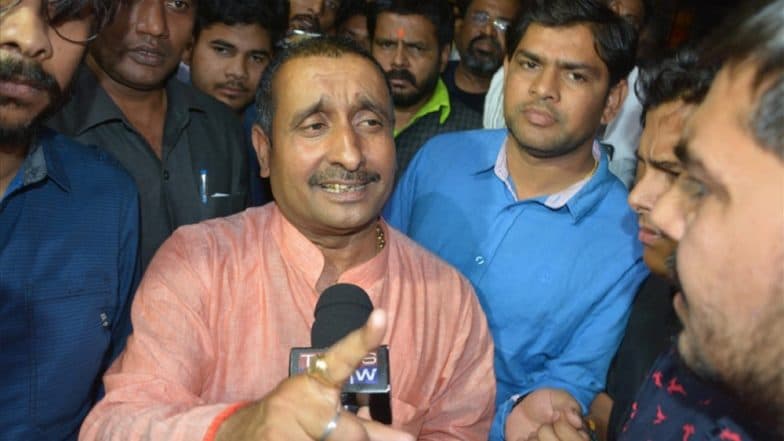 New Delhi, August 1: The Bharatiya Janata Party (BJP) on Thursday expelled Kuldeep Singh Sengar, the prime accused in the Unnao rape and accident case. The BJP expelled Kuldeep Singh Sengar a day after the Central Bureau of Investigation registered an FIR against him in connection with an accident that claimed two lives and injured two others including the Unnao rape survivor. Sengar is a four-time MLA, who represents the Bangermau constituency in the UP assembly.
Uttar Pradesh BJP president Swatantra Dev Singh recently said that the party had suspended Sengar long ago. "Sengar was suspended by the party earlier and there is no change in his status," Singh told PTI. "There is no change in the position of the party and the government, which is standing with the victim of the Unnao (rape) case," he added. The demand for Sengar's expulsion from the ruling BJP was led by Congress General Secretary Priyanka Gandhi. Unnao Rape Survivor Accident: Victim's Car Was Over-Speeding, Driver Panicked Seeing Truck Coming From Wrong Side, Finds CBI.
"For Gods sake, Mr. Prime Minister, divest this criminal and his brother of the political power your party is giving them," Priyanka Gandhi tweeted on Monday. "What is the BJP waiting for? Why has this man not been expelled from their party even when his name is in the latest FIR in the Unnao Rape Case?" she asked. Pressure started mounting on the BJP to expel Sengar after the rape victim, who had accused the legislator of raping her in 2017, met with a road accident. Truck Involved in Mishap Owned by Brother of Samajwadi Party Leader Nandu Pal.
On July 28, a truck rammed into the vehicle in which the Unnao rape survivor, her counsel and two aunts were travelling to Raebareli. While she and her lawyer sustained grievous injuries, her aunts were killed on the spot. The Unnao rape survivor's family filed a complaint alleging "conspiracy" behind the car crash. Jailed BJP MLA Sengar and nine others were booked on the charge of murder by the CBI.