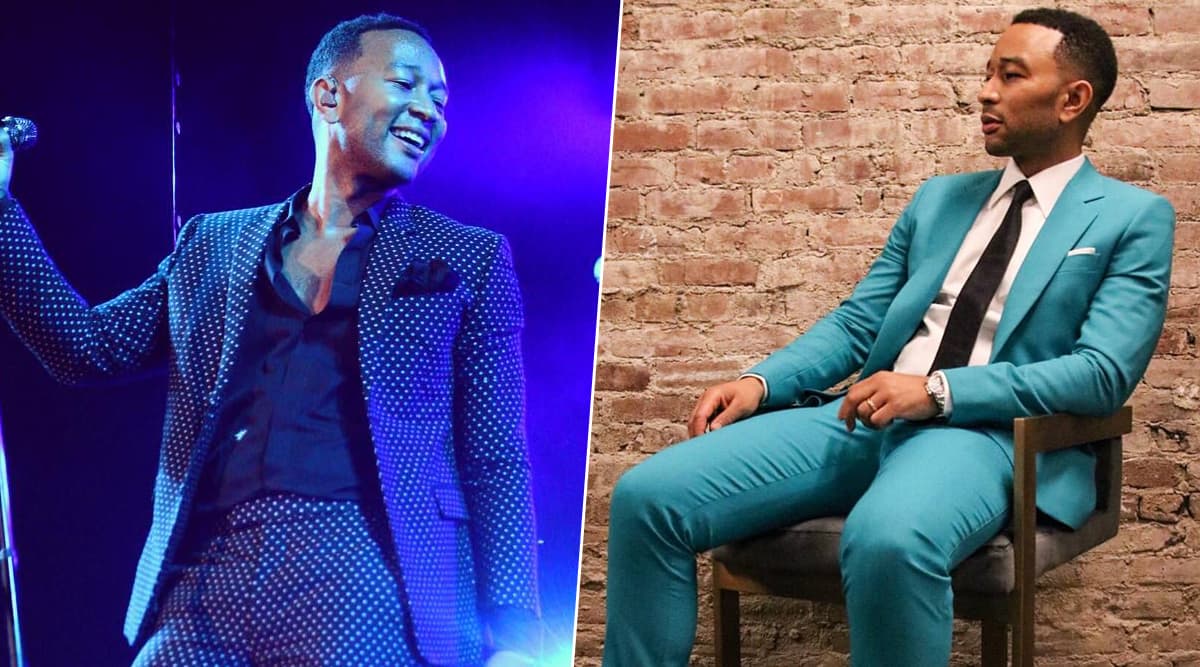 John Legend has officially been crowned People's Sexiest Man Alive 2019. The actor, singer, songwriter is one talented personality and also the youngest to have been awarded Emmy, Oscar, Grammy and Tony, all four honours. Legend is known for his humanitarian nature and is also considered to be one of Hollywood's nicest men. He's a loving husband to wifey Chrissy Teigen and a doting dad to their two kids. While Legend may not be the conventional "washboard abs sexy", there's something about the "All of Me" singer that is appealing. John Legend Crowned People's Sexiest Man Alive 2019 and Twitterati Believe Jason Momoa, Keanu Reeves Were Better Contenders.
While netizens are divided with this new decision, there are many who are thrilled to see Legend on that People magazine cover declaring him to be the sexiest man alive and we bet if you saw these pictures, you'd agree with them too. The singer boasts of a 11 million fan following on Instagram and if you happen to follow him, you will realise he has some of the coolest pictures. Here's looking at some of the sexiest pictures of Legend so far!
1. The Man Can Pull-Off Any Suit!
This is one of John Legend's Instagram pictures, clicked ahead of his performance at the Metropolitan Opera House in Philadelphia. Legend is seen looking all dapper in a turquoise suit and we bet no one else could carry that colour with so much elegance.
2. He's the Hottest Dad in Town!
View this post on Instagram
John Legend is one of those celebrities who is extremely close to his family and is often seen spending time with his wife and kids. Do you know what's the sexiest thing in a man? Well, his ability to be there for his family!
3. Find Us a Sexier Man on Stage!
Legend is one of those performers who enjoys himself on stage. He dons the perfect suits, flashes his million-dollar smile and sings the sweetest songs. And that's why he's the Sexiest Man Alive!
4. Is There Anything He Can't Do?
View this post on Instagram
It's hard not to get dazzled by all the achievements of John Legend and one hidden talent of his is also that he cooks. Chrissy Teigen Is 'Currently Sleeping with People's Sexiest Man Alive', John Legend and Is Proud of Having 'Boned' Him! We Can't Even...
5. Just In Case You Needed to See a Shirtless John Legend!
View this post on Instagram
There's much more to Legend than his bod and hence we rarely see him sharing his shirtless pictures. But this one with his wifey is surely a keeper!
6. Legend Looking Like a Legend!
View this post on Instagram
Anyone who's ever attended a John Legend concert will tell you that the man is pure magic on stage. He's surely got a sexy vibe!
7. The Red Carpet Hero!
View this post on Instagram
Legend is also one of those few celebrities who always manages to get it right when it comes to his red carpet looks. John is often seen going with the classics and sticks to the evergreen tuxedos when it comes to formal events.
If you were one of those people who were surprised to see John Legend's name as the Sexiest Man Alive 2019, we bet these pictures and his amazing personality have convinced you that he is the right choice!