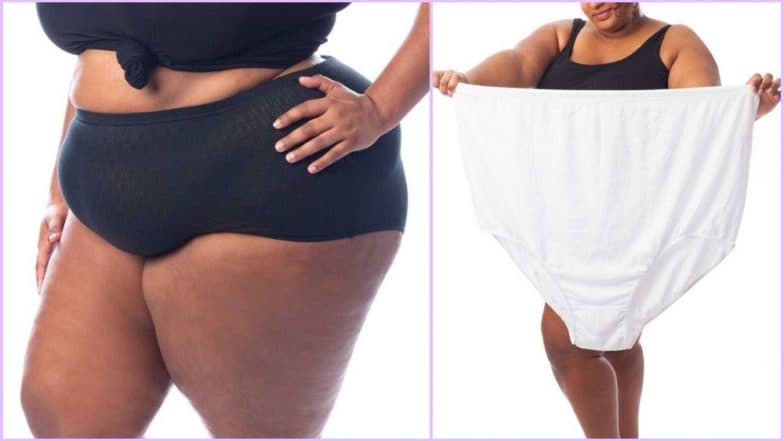 Let us all kick body shaming right out the door. It is really a treat to see fashion industries and companies alike in many parts of the world finally celebrating people as they are. Once again, shunning all stereotypes, a fashion firm, The Size Experts based in Penryn, United Kingdom (UK) has started selling the world's largest knickers for all the beautiful plus size women, who are loving and bracing them all. According to media reports, the company which sells bikini briefs for females up to 50 sizes has sold more than 1,000 pairs since its inception in the market. Bizarre Denim Panties worth USD 470 (Rs 32K) Go Viral on Instagram. 
Medical experts claim that the body shape of many women is changing due to many circumstances, but it nowhere means, they should compromise on comfy underneath! The company was founded by Laura Murray, who realised how hard it was to find 'super plus' underwear for women. Murray reportedly began to sell super-size underpants from a market stall in 2016, but decided to take it online as kickers that she ordered from the e-commerce sites were majorly not big enough. 5 Plus-Sized Body Positive Instagrammers Who Give Us Major Beauty Goals. 
Murray was quoted in media reports as saying, "All these retailers were saying they did really big-size knickers but, when I bought them, they were much smaller than the size advertised. Often they were entirely the wrong shape so in the end we decided to manufacture them." She further said that she wanted to focus only on bigger size undies because of which she offers sizes ranging from 18.
"I wanted to offer comfortable, well-fitting underwear designed for the specific physical and medical needs of super plus size women. Many customers have conditions that have caused them to gain weight, or part of their body to swell. They may have thin sensitive skin — so uncomfortable underwear is something they have learned to accept," she added.
The Size Experts is selling cotton knickers ranging from UK size 18 to 50, which have a waist size of 70 inches and a hip size of 80 inches. The online store is just six months old, and it has only gone from strength to strength. As per the company, the knickers promises sufficient fabric to accommodate plus size tummies, giving customers comfort and confidence to brace their body.