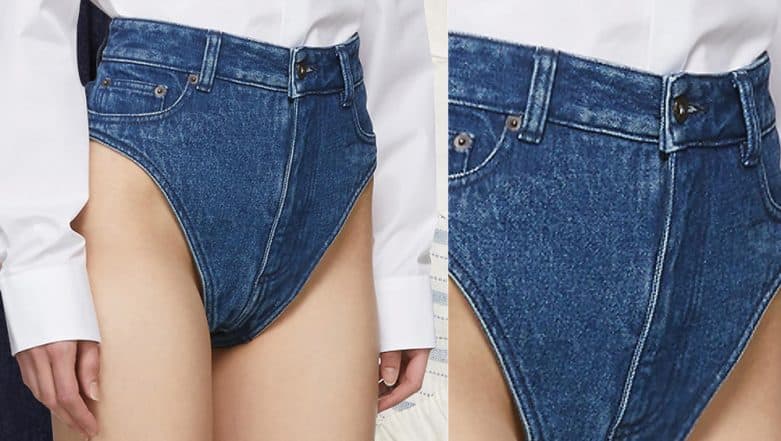 While there is nothing more creative and versatile as fashion, sometimes it is some of the quirky fashion pieces that go viral for all the unusual reasons. The most recent example of such crazy fashion item going viral is a pair of very short denim shorts that almost looks like denim underwears. A high-end fashion label Y Project has created this flesh-flashing denim underwear that is going viral for its unique design that is confusing the people. The extremely tiny shorts that leave very little for imagination costs a fortune. The barely-anything-out-there shorts costs about $470 which is about 32,526.82 Indian Rupee. Recently we also saw: See-Through, Butt-Flashing Combat Trousers Sold by British Fashion Biggie Is Being Mercilessly Trolled (View Pics.)
The denim underwear features a high-waist with frontal zip and button on the waist. The picture featured on an Instagram post by e-store SSENSE. And ever since the picture with a caption: 'Two words: Denim undies', has been uploaded Instagrammers cannot keep calm. The post is flooded with mixed comments. Some are negative, some positive while some cannot stop laughing.
Take a look at the pair of denim underwear:
"Two words: fuck no," commented someone disapprovingly. While one concerned commenter said, "Chafing is great." Somebody else said, "I'm getting these for summer." "Cool looking but would be uncomfortable no?" somebody else wondered.