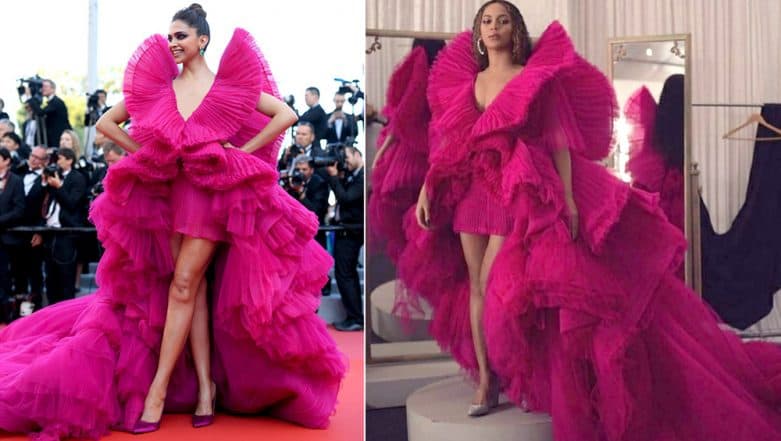 It's not a usual day when you see Beyonce seeking inspiration from other well-known celebrities! After all, the R&B sensation is known for making some stunning style statements that impress even the harshest of fashion critics. She's a diva and seeing her in your creation is a dream come true for every designer. While Hollywood seeks inspiration from this icon and her followers root for her every damn outing, it's surprising to see her pick an attire that's already nailed by another celebrity, Deepika Padukone in this case. Yea, DP fans, you have all the right reasons to rejoice currently. Deepika Padukone Makes for the Most Gorgeous Bride in These Pictures From Her Wedding Day - View Pics.
Remember the fuschia pink dress from Ashi Studio that Deepika wore for her Cannes outing this year? Yea the same one that was insanely trolled and was the newest fodder for meme makers. Well, of course, the Padmaavat actress looked stunning in her dramatic creation and extra brownie points to her for making it look so ravishing. But you know the outfit had some real impact when a fashionista or should we say an icon with an impeccable taste in fashion, takes a cue out of it and tries to nail it in a similar way. Beyoncé on Vogue Cover: The Icon Talks About A Rare Pregnancy Complication She Faced During Her Twin Pregnancy.
View this post on Instagram
Beyonce was quick to follow Deepika's footsteps and pick the same creation from the same brand for her recent outing. An outfit as remarkable as that is hard to ignore and difficult to omit from one's mind. The Pihu actress' Cannes outing was still so fresh in our minds when Beyonce stepped out wearing the same creation that left us equally mesmerised. We are scratching our heads to figure out who among these gorgeous ladies justified the outfit better? Was it Deepika or Beyonce? Nonetheless, we worship them wholeheartedly and it doesn't matter who nailed how. Yet, if you want to go ahead and rate their individual styling, you can always write your replies in the comment section below.