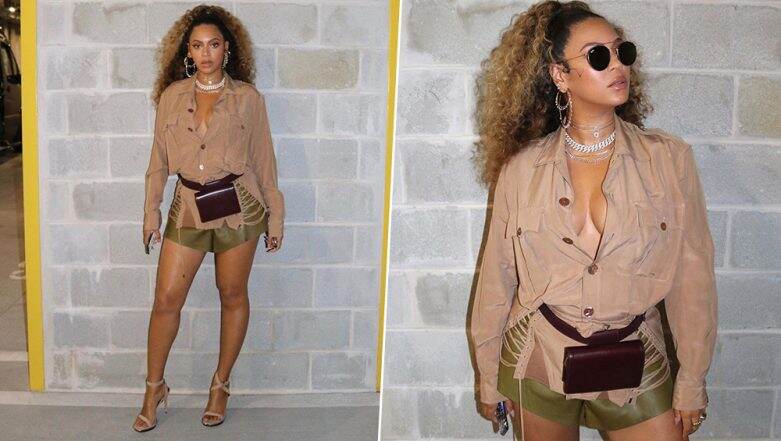 Beyonce celebrated her 38th birthday on September 4. The fans were excited and could not stop wishing bey on her big day, on every social media platform. Someone more excited than the fans was Jay-Z. Her hubby threw her a birthday party a day before to show his love and appreciation. Beyonce posted multiple pictures of her laughing and smiling while holding a cake in her hands. The huge cake looks bigger than her face but her glee still manages to catch everyone's eyes. Beyonce Birthday Special: 15 Hot Pics of Queen Bey That Prove She Can Rock Anything!
Beyonce knows when she posts on social media, the world goes wild. So, we can all imagine the Beyhive's reaction when the queen posted on her birthday, holding a gigantic cake and smiling. An early party thrown by her dear husband. While the internet can't stop complimenting her on her wide and beautiful smile, we can't help but notice her stylish ensemble. Her outfit just screams BEYONCE from top to bottom. Beyonce Birthday Special: From Halo to Crazy In Love, There's a Queen Bey Track for Every Mood (Watch Videos).
Beyonce's Outfit for Her Birthday Celebration
View this post on Instagram
The singer's style has evolved. Ever since Lemonade, Bey has been keeping her hair curly and natural. She simply puts it up in half updos. Her makeup game has also changed. Now we only see her with nude makeup, glowing skin and popping lipglosses. The outfit she chose for her birthday celebration could not get any better! She paired an oversized nude shirt with khaki shorts.
If that sounds plain and boring she added a ton of jewellery to the look. We're talking diamond hoops to gold braces. From basic to being extra! She dazzled up the look with thick chains on her neck and a gold braces. She kept the shirt unbuttoned just the right amount. In fashion, you either pick cleavage or legs. Beyonce took both and proved once again, she's the queen and nothing can look bad on her.