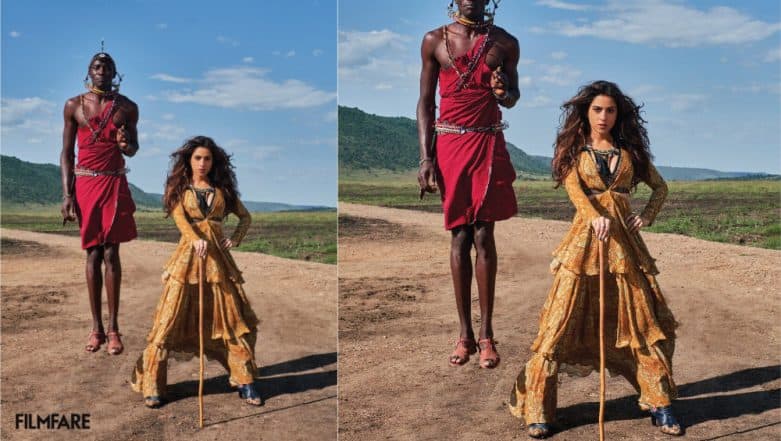 Sara Ali Khan's new photoshoot for Filmfare India is making noise for all the wrong reasons. Though the actress took her own sweet little time to choose the right magazine cover for her debut, guess, her decision wasn't really the perfect one. While her contemporary, Janhvi Kapoor posed for Vogue India, Sara decided otherwise. Maybe she wanted to break the rut and pick the one with the most innovative concept ever. However, if slamming her pictures on social media for 'photoshop' edit or disrespecting the culture wasn't enough, Diet Sabya had to offer its valid inputs that made complete sense. Did Sara Ali Khan's Latest Picture Deny Kenyan Man His Own Shadow? Here's The Truth Behind The Alleged Photoshop Blunder!
The online fashion police page trolled the actress and magazine for lifting the entire photoshoot concept from Maison Valentino's 2016 campaign. Yup, that's right. Filmfare borrowed or should we say was inspired by this Italian fashion brand's photoshoot concept that was innovated three years back. We wonder if the thought process behind an African model jumping in the air while a model poses and displays the range of attire is simply a coincidence or a classic case of plagiarism. We'd go with the second option any day. Sara Ali Khan Makes Her Debut on a Magazine Cover and Honestly, She Deserved Something Better!
Diet Prada exposes the reality of Sara's innovative fashion photoshoot
Diet Sabya is like an obedient student in every classroom who's eager to name all his 'cheating' friends to the class teacher. The page is known for criticising the fashion culprits and slamming them for blatantly copying international designs and concepts. A virtual fashion police that's giving our Indian designers some nightmares is how we'd ideally describe Diet Sabya to you.