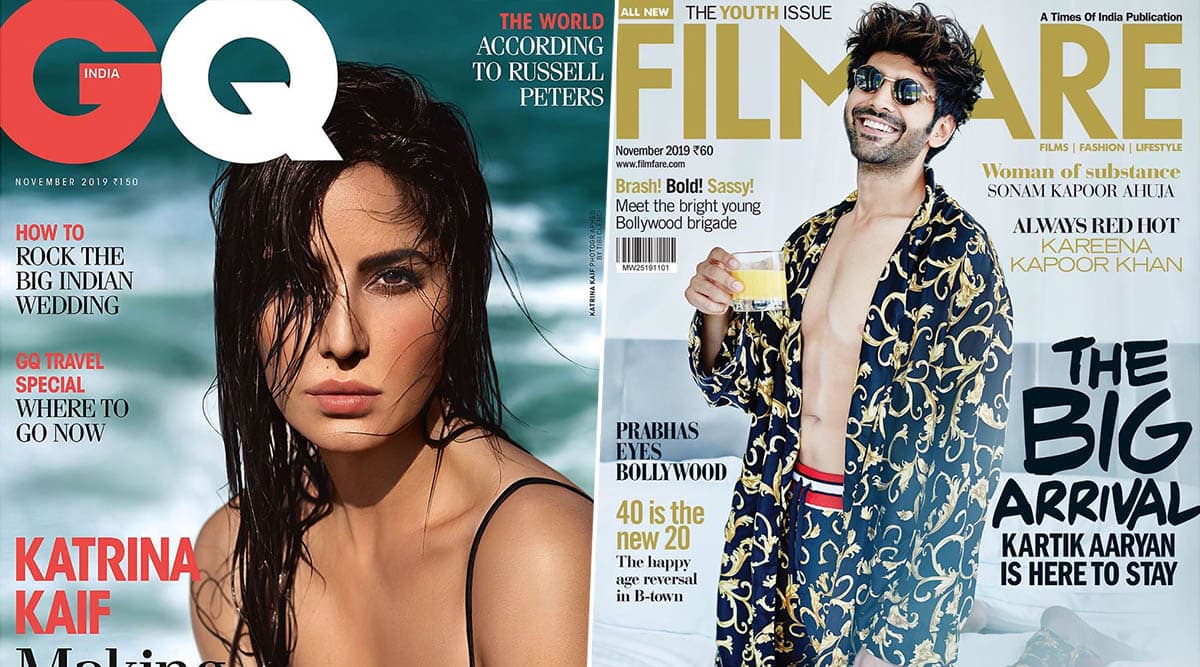 While October was filled with festivities, November was more about gearing up to witness the end of a decade. With so many publishing houses foraying into the world of fashion, it's an overwhelming feeling to see so many popular faces grace so many different magazines covers every month. While some are a visual spectacle and even woo us as a reader, others fail to evoke any 'wow' from us. Among the many fashion magazines that are in business these days, Vogue clearly prefers to stay ahead of its time. Deepika Padukone's Harper's Bazaar to Janhvi Kapoor's Cosmopolitan India - Let's have a Look at Best and Worst Magazine Covers of October 2019.
The magazine is known for flaunting its creativity. We would love to be a part of their brainstorming sessions that includes discussing different mood boards that go with the theme of that month. While Vogue literally rules the world of fashion, its contemporary like Filmfare is still struggling to find a base when it comes to this world. Of course, the magazine is popular and there are no two ways about it, yet their glamour quotient goes for a toss on some occasions. Speaking of which, let's have a look at different covers that we think were the best and the worst of the previous month. Disha Patani's New Magazine Cover is Equal Parts Sultry and Charming - View Pic. 
BEST MAGAZINE COVERS
Vogue India
Alia Bhatt turned into a water baby for Vogue India's November issue. Having an underwater photoshoot was a brilliant idea and oh, did we mention how her fluorescent green outfit made her look like the Queen of Atlantis!
Femina Wedding Times
Sonakshi Sinha's Femina Wedding Times cover was peculiar in its own way. The Dabangg girl looked like the brightest star in the sky and we are glad for her approach wasn't anything usual. With no typical outfits or poses, this one stood out for being different than the rest.
GQ India
Who hates Katrina Kaif? No ONE. Especially when her sultry eye expressions make you go weak in your knees. The cover is classic GQ and Kat's addition to it is making it look even better.
WORST MAGAZINE COVERS
Filmfare 
Yes, we do know how girls swoon over his charming smile but that's not the only trait we want to see, right? Cashing in on his most adored quality sounds fine but what's next? Posing on a hotel bed while sipping his morning juice and giving all 'I woke up like this' wala vibes is too mainstream and so cliche.
Brides Today
Why would anyone ruin Ananya Panday's gorgeous hair? What did they really accomplish by tanning her face and gelling all hair? A major disappointment from Brides Today team and even Ananya herself for passing this shot as the cover pic.
Man's World 
Asking Vicky Kaushal to dress up in a sherwani and posing for cameras is nothing brilliant. Even Manyavar has better concepts and ideas for its numerous photoshoots. Probably, they should take a cue or two from the apparel brand itself.
That's all for this month, we'll be back with a different list curated for the month of December. Toodles.