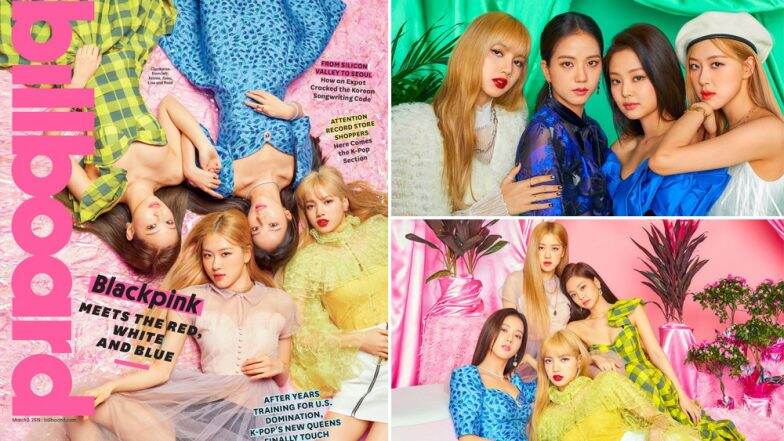 Blackpink, a popular South Korean all-girl band has made a significant mark as they make it to the special collectors' cover for the Billboard magazine in the US. Jisoo, Jennie, Lisa and Rose, the members of the band have featured on not one but 5 covers for the March 2019 issue. It is a big sign to show the K-pop genre entering the western side and growing popular over time. Blackpink now carries a huge hope for Korean music and artists of breaking out to the American K-pop box. BTS Makes K-Pop History by Presenting at the Grammy's; BTS Army Go Gaga over Korean Boys' Debut.
Blackpink is also going to tour North America later this year as they will be a part of Coachella 2019 in April. A first for any Korean girl group to be a part of the coveted music event. This multinational identity will definitely help them in giving a global appeal. In the issue, the girls talk about everything from their friendship as a 'girlband', how they evolved into a strong band, their struggles, hard work and even their future plans. BTS Member V's Adorable Dog Video Has Left All Fans Going Awww... Watch Cute Video of Tannie.
Check the Limited Edition Box Set of Blackpink With Billboard
Purchase our exclusive, limited edition box set, complete with all five versions of the #BLACKPINKxBILLBOARD issues. https://t.co/6XZnvGMdN0 pic.twitter.com/OfATFlBpKl

— billboard (@billboard) February 28, 2019
Check More Pictures of Blackpink's Shoot For Billboard Magazine
look at these beautiful girls 😭😭#BLACKPINKxBILLBOARD pic.twitter.com/DrRMQu8M5D

— 슈 (@intoblackpivk) February 28, 2019
[PICS] 190228 BLACKPINK for Billboard Magazine (1) #BLACKPINKxBILLBOARD pic.twitter.com/LM6imoZmCJ

— Girl Group Zone! (@girlgroupzone) February 28, 2019
Fans are already overwhelmed to see the girls making it on the popular magazine in the US. The collaboration is a delight to not just fans of the band but all K-pop listeners. All the girls are in their early twenties and haven't been born and brought up in Korea. But as Jisoo says, "You don't have to understand Korean to understand the music, the visuals, the vibe." Their songs do include some English words to add the element to it but they have hopes of recording full-fledged English tracks in the future. They are right now readying up for their debut after signing with US label Interscope Records. If this works wonderfully, it will open the doors of K-pop of getting investment in the future.