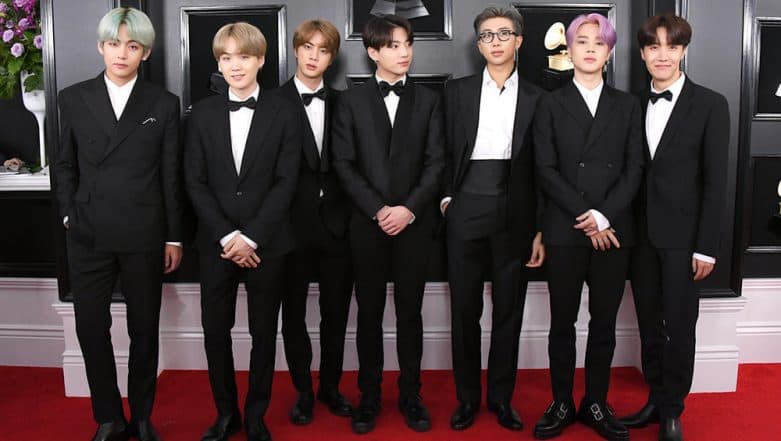 K-pop band BTS just made history and are breaking the internet as usual as they became the first K-pop group to present at the Grammy awards. The internet has been going crazy ever since the BTS Korean boys stepped on to the Grammy's red carpet on Sunday. The beyond favourite band members Suga, Jin, J-Hope, RM, Jimin, V, and Jungkook were seen sporting the classic black suit jackets with white shirts and in one of the interviews on the red carpet, RM said that the group had "never imagined" that they'd be at the Grammys and that they "still can't believe it." RM further added about the BTS ARMY saying that, "They made us. They gave the wings. They gave all the opportunities to us. So I'm sure they'll be proud. ... They're here with us," before saying: "We're so grateful." Twitter has been flooded with Tweets about BTS presenting at the Grammy's with popular hashtags: #TearItUpBTS #BTSxGrammys
Check out the tweet:
"They made us. They gave the wings. They gave all the opportunities to us. I'm sure they'll be proud." -RM talking about the #ARMY has us in actual tears. 😭 ❤️ #TearItUpBTS #GRAMMYs pic.twitter.com/EtU8HSxdRz

— Entertainment Tonight (@etnow) February 10, 2019
K-pop fame BTS band, however, is presenting at the Grammy's and its mere presence has taken social media by storm. Yes! BTS has become the first Korean band in history to attend and appear onstage at the Grammys.
Here's how fans and members of the BTS ARMY ruled the interned during the Grammy's:
Everyone's favourite RJ JoJo Wright.
Love you guys! Good luck presenting tonight @BTS_twt!#TearItUpBTS #GRAMMYs #JoJoOnTheRadio pic.twitter.com/d40dV7Wxm7

— JoJo Wright (@JoJoWright) February 10, 2019
True that
I'm so happy for you 😊🌻 #TearItUpBTS

— Luke Waltham (@lukewaltham) February 11, 2019
#TearItUpBTS
THIS IS NOT A DRILL! @BTS_twt on the #GRAMMYs stage! 💜 "Thank you to all our fans for making our dreams come true, and we'll be back." #TearItUpBTS pic.twitter.com/GtBylkBdyL

— 🌔Moon Pur 💜ple BTS 🐯🤟💜🤙🐰💜 (@DreamerBTSArmy) February 11, 2019
This.
Our biggest love and pride, BTS. pic.twitter.com/p0sTaO4Ksy

— fedlaen ♡ GRAMMYs (@_fedhr_) February 11, 2019
The CRAZE
Someone stop Namjoon from wrecking me, please. #BTS #GRAMMYs pic.twitter.com/Pz3O13gNPl

— Crystal Bell (@crystalbell) February 11, 2019
If you are not living under a rock, you probably know about BTS who have owned YouTube and other social media platforms since forever now. And for people who don't know about them, the K-Pop stars, BTS has been the "most tweeted-about in the U.S. in 2017 and "most tweeted-about celebrity" on the planet this year. Last night Twitter exploded with tweets after the starts K-pop stars appeared on the red carper. The super fans of the boy band BTS, AKA the BTS Army bombarded the group's red carpet appearance and interviews on social media and cannot have enough of them ever since.
BTS, however, did not perform at this year's Grammy's and neither did they take home any of the awards. Yet, they were nominated for the "Best Recording Package" for "Love Yourself: Tear." They lost to St. Vincent's "Masseduction."