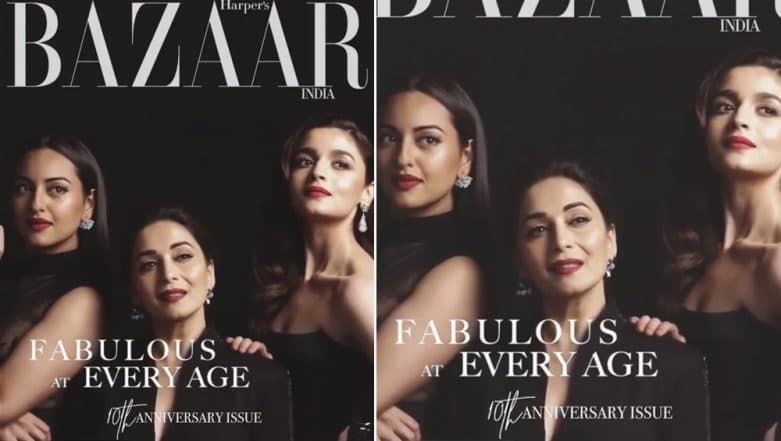 Even before the makers of Kalank decide to unravel the look of their leading ladies, here's an opportunity to see them shine together. The women of Kalank, Alia Bhatt, Sonakshi Sinha and Madhuri Dixit come together to pose for Harper's Bazaar's 10th-anniversary edition issue that's all about being fabulous at every age. The magazine's first-ever cover that features leading actors of different ages is dedicated to the quintessential women of today. With a subtle backdrop and extremely regal look, it proves why 'class' will always overshadow the 'mass'. Kalank First Look Out! Get Ready to Witness the Magic of '40s in Karan Johar's Dream Project.
A new teaser video of their new magazine cover shows Madhuri posing alongside Alia and Sonakshi like a terrific trio. Dressed in black attires with different tints of red lips, the marvellous ladies are giving all the vintage vibes and we can't wait to see more of their pictures from this classic photoshoot. The magazine pays tribute to Madhuri for being ever so graceful and to Alia for being brave with her movie choices and compliments Sonakshi for always being so comfortable in her own skin. Kalank First Look Out: Varun Dhawan's Kohl-Eyed Look as 'Zafar' Who Flirts With Life and Danger Is Intense.
Check out the new magazine cover of Alia, Sonakshi and Madhuri
Their next release, Kalank, is a period drama set in the '40s. It also stars Varun Dhawan, Aditya Roy Kapur and Sanjay Dutt in the lead roles. While the plot detail about the movie is not known yet, expect another masterpiece full of grandeur from Karan Johar's production house. Well, until you have a chance to see the magic of these ladies on the silver screen together, grab the opportunity and start ogling at their new photoshoot pictures that will be released shortly.