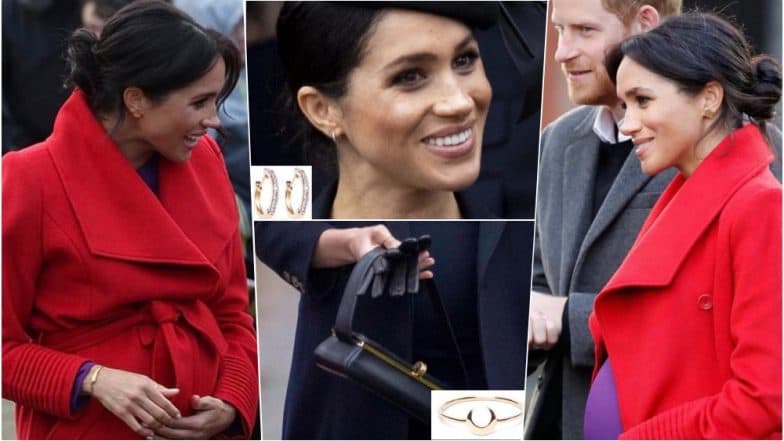 Washington D.C. [USA], January 27: It turns out that the Duchess of Sussex is making statements with jewellery like no other royal ever has. According to People, on a visit to Birkenhead last week, Meghan Markle was seen sporting three different jewellery designs, all of whom share contemporary values of sustainability and giving back. Meghan Markle Shows How To Rock Colour Block Style! See Pics of Six-Months Pregnant Duchess of Sussex Meeting Well-Wishers.
The mum-to-be was seen wearing Bar Jewellery's bracelet on one occasion. Bar Jewellery is a sustainable label that uses recycled silver and avoids chemicals in the manufacturing process. Speaking to People about it, Mckay said, "It's amazing that high-profile people like Meghan are promoting brands like mine." Fashion Searches on Google in 2018: 1980s Fashion to Meghan Markle & Kate Middleton, Here's Top-10 Trending Fashion Topics.
In addition to the elegant bracelet, Meghan re-wore a pair of gold earrings from her go-to ethical jewellery brand, Pippa Small. Furthermore, Meghan's Nosheen Stud Earrings are made by the artisans of the Turquoise Mountain Foundation, an Afghanistan-based charity set up by Prince Harry's father, Prince Charles. The foundation trains and employs young people within the arts and crafts industry in Kabul, providing stability and income for many families in the war-torn country. Meghan Markle's 'Blessed Dress' Crashes Australian Designer's Website; 5 Best Fashion Moments of The Duchess of Sussex.
Meghan Markle Wearing a Delicate Bangle from Bar Jewellery
Meghan Markle Wearing Pippa Small Earrings
Dutchess of Sussex Wearing Crescent Moon Ring From i+i Jewellery
Finally, the royal wore a delicate gold ring on her thumb by contemporary jewellery line i+i Jewellery. The ring is handmade in 14-karat gold. The founder, Kirsty Patterson, who trained under Mick Jagger's daughter, Jade Jagger, donates 10 per cent of all profits to the Indian charity Set Beautiful Free, an initiative that helps free women and children from sex slavery.