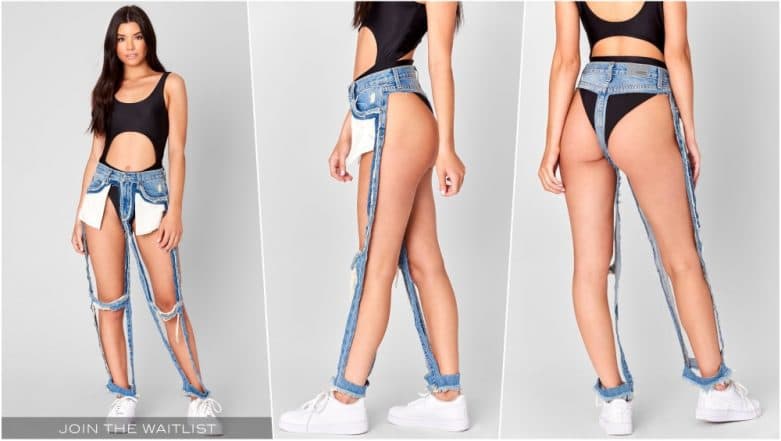 Remember Thong Jeans? Yes, the one launched under Japanese designer label, Thibaut last year at Amazon Fashion Week in Tokyo is a thing for real. You do not believe us, right? Well, here's a piece of news for you all – Thong Jeans are sold like hot cakes, so much so that it is in waitlist according to Los Angeles denim brand Carmar Denim. They introduced thong jeans as 'Extreme Cut Out Jeans' priced at USD 168 (equivalent to Rs 11,424 in Indian currency) – Yeah, freaking almost 12 grand for denim that is made up of pockets, waistband and an outline of the seam! People still having a hard time believing this crazy new fashion trend, then do take a look at the pictures of a model wearing thong jeans displayed on Carmar Denim website.
I always think fashion conversations with my mom are so futile because she just never understands the point of me wearing ripped jeans and how cool they are. But it looks like I am going to lose a lot of arguments with the introduction of these mother-of-all-ripped-denims aka thong jeans aka extreme cut out jean by LA brand Carmar. Just like me, internet simply lost their calm when the brand showcased their 'new' sartorial revolution.
So how does the denim brand say about their latest denim type? "Extreme Cut Out Pant is a high rise pant with large statement cutouts on front and back," is what's written on their website. 'Statement Cutouts' mean your butt and front will be all exposed if you do not wear decent undies. The model showcasing the jeans in the catalogue has worn these thong jeans with black bodysuit to avoid exposing her hoohaa!
EXTREME CUT OUT JEANS aka THONG JEANS by Carmar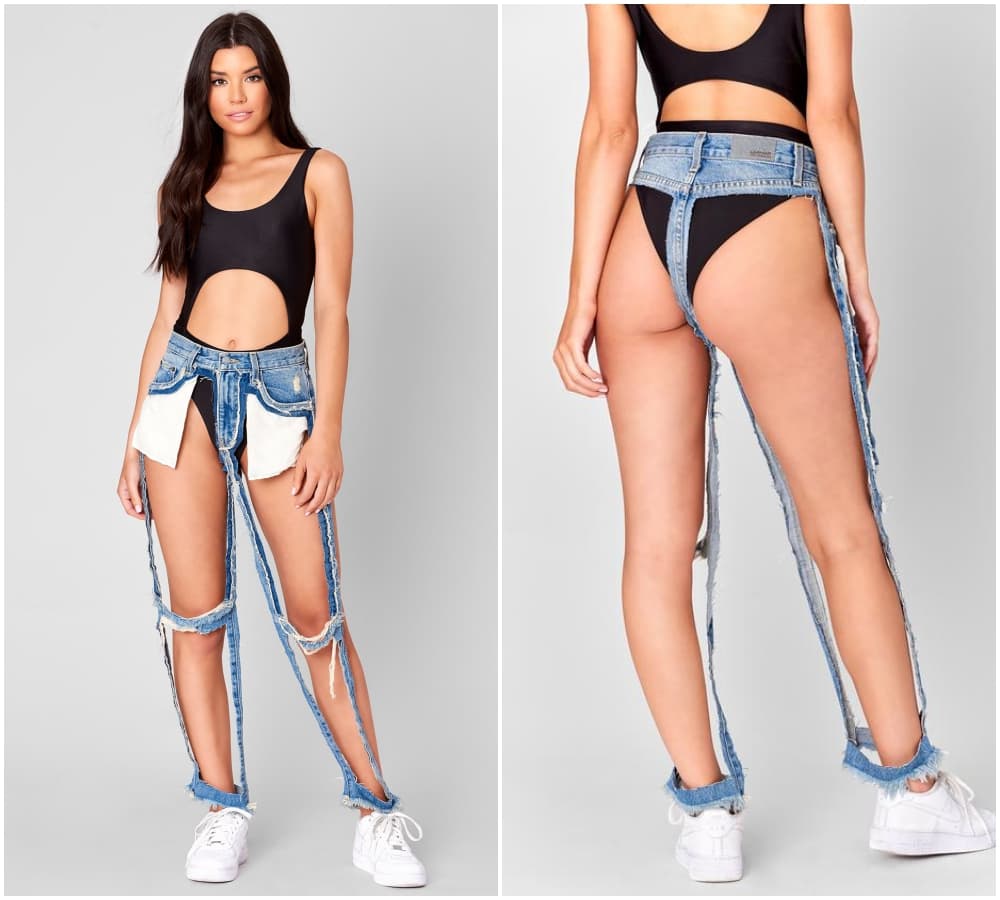 For people like me, the denim brand has listed down all features of the thong jeans and trust me; it is funnier than the actual denim. Here goes to features list: Relax fit, high rise, Extreme cut outs, Non-stretch (100% Cotton), Full Front Zip, Waist: 27", High Hip: 32.5", Low Hip: 34.5", Rise: 10.4", Inseam: 28", Leg Opening: 12.75", Front Zipper: 10.5", Hand wash cold, Lay flat to dry and Made and Finished In LA.
More Closeups of the New Denim Waiting to Occupy Your Wardrobe (NOT)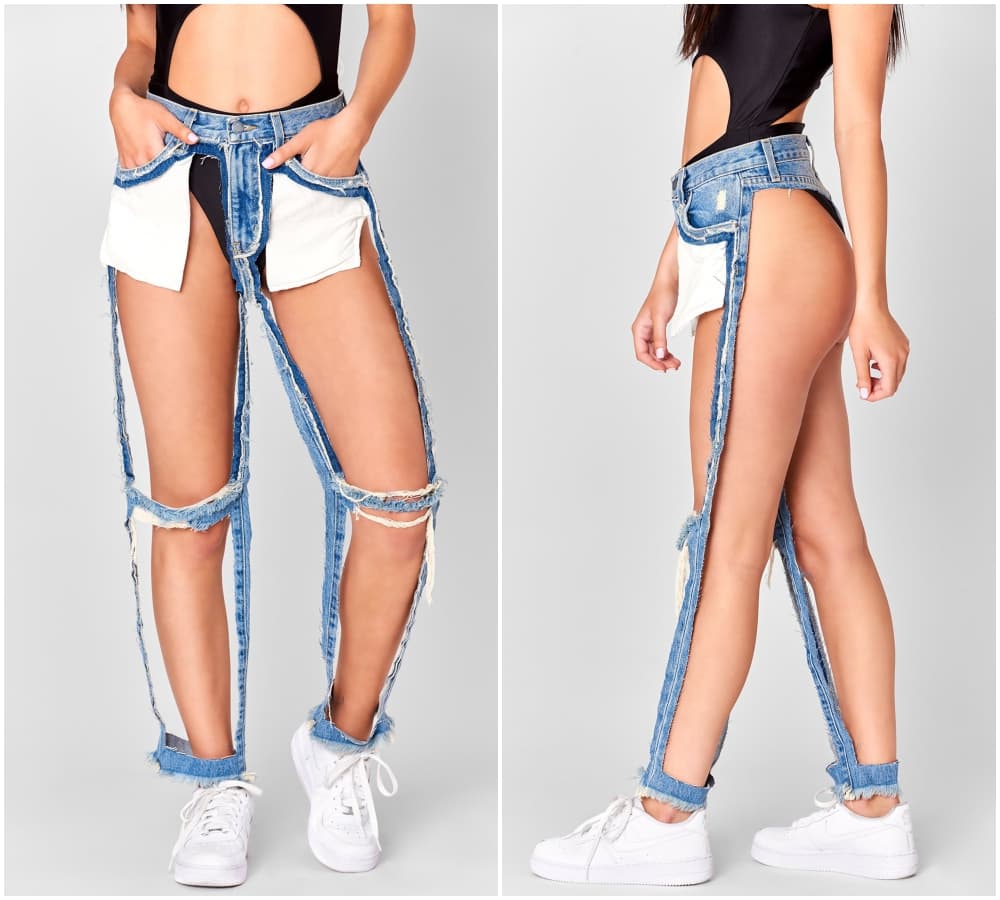 However, what really surprised the internet is the unbelievable, sky-rocketing expensive price label put up by the denim brand. It is $168 for these thong denim. Yes, the same which can be created with a pair of old denim and scissors are available for such a bomb price.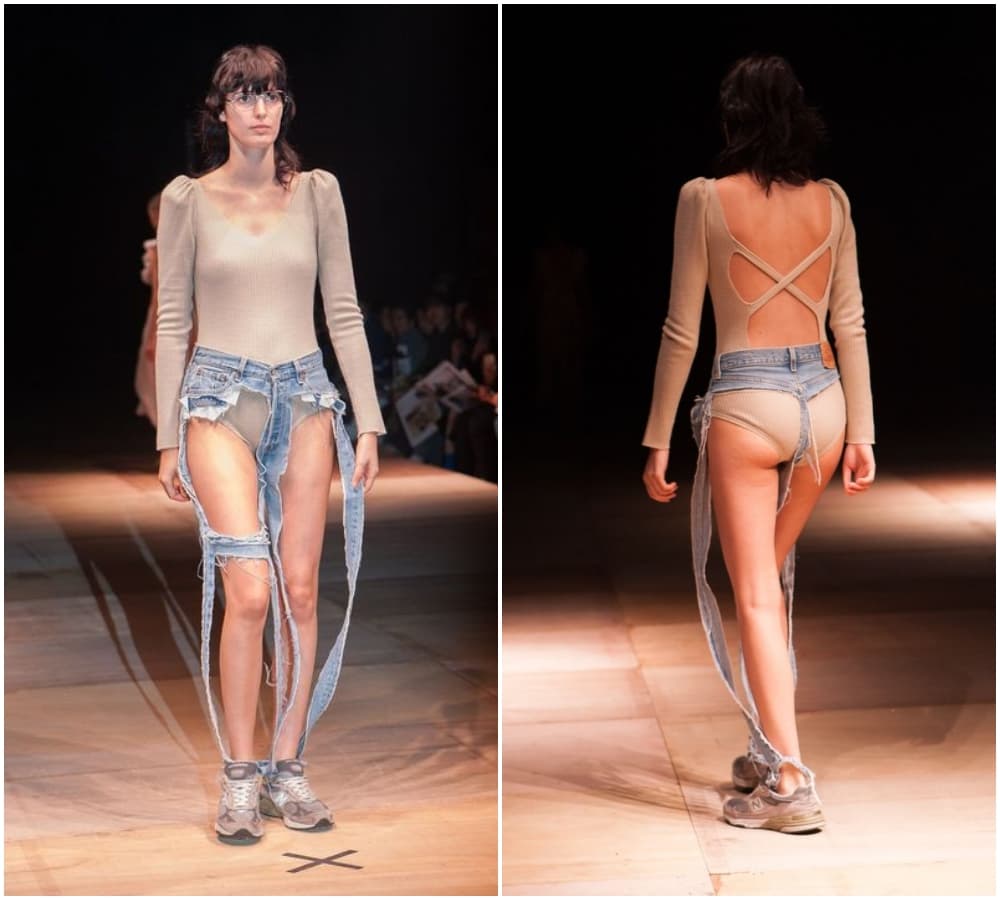 Owning a pair of perfect jeans is no less than mission impossible. It begins with getting the right size, which fits you wonderfully around your waist and thighs. You know it is no exaggeration when we say getting our hands on right jeans is like a hitting the jackpot. But with changing fashion trends, from skinny to ripped to thongs, buying a pair of good jeans is becoming a difficult task.