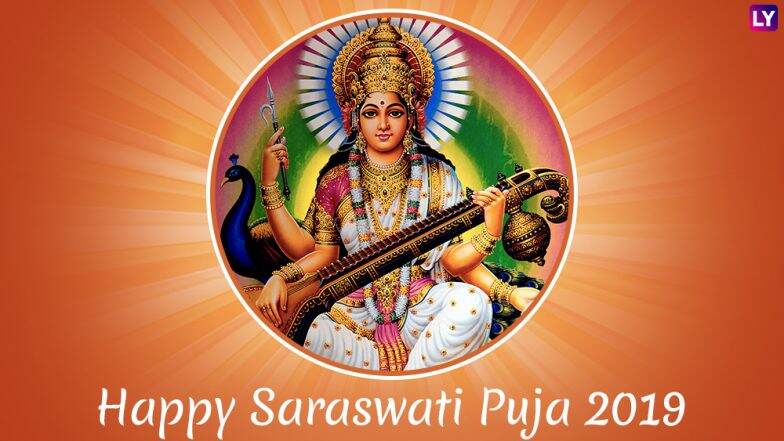 Vasant Panchami also known as Basant Panchami is celebrated on February 10, 2019 (Sunday) marks the arrival of spring. While It flags off the preparations for Holi, Vasant Panchami during Magh (January-February) is popular for the celebration of Saraswati Puja. Devi Saraswati is the Hindu goddess of knowledge, music, art, wisdom, and learning. This festival is especially celebrated with much enthusiasm by students who seek Goddess Saraswati's blessings to excel in their studies. They also wish their friends, Happy Saraswati Puja 2019 and Vasant Panchami 2019 on this wonderful day. This is why we bring to you beautiful Saraswati Puja Images, Vasant Panchami HD Wallpapers, Basant Panchami GIF along with Basant Panchami 2019 WhatsApp Stickers. We have an excellent collection of free messages, wishes, quotes, photos, greetings, and wallpapers that are available for free download. Basant Panchami 2019 Date and Significance: Saraswati Puja Tithi Timings, Mantra and Story Attached to the Hindu Spring Festival.
Vasant Panchami is the fifth day of spring. It is also the fifth day of Maghi Navratri, the first of four Navaratri celebrated in India. On this day, Goddess Saraswati is evoked and venerated with full faith and devotion. This festival is thus known as Saraswati Puja or Saraswati Jayanti. She is the one who grants knowledge and wisdom to everyone. Young kids learn to write first alphabets on this day, while students seek blessings from her to fulfil all their dreams and make them successful.
Saraswati Puja is the most popular festivity taking place during Basant Panchami. On this day people worship Maa Saraswati at home or visit temples. Not only Hindus in India, but also in Nepal, as well as Jains, revere the Goddess of Knowledge. Few also observe fast in honour of the divine one and break it only after worshipping her. Basant Panchami tithi begins on February 9 while Saraswati Puja 2019 will be held on February 10. As a part of modern-age celebrations, people send Basant Panchami messages and SMS, Vasant Panchami greetings to wish their friends and family. They also share Saraswati Puja images and HD wallpapers on Facebook and Instagram along with quotes and wishes as captions.
Happy Basant Panchami Images and Saraswati Puja Photos
The search for Vasant Panchami and Saraswati Puja images and greetings is very high as in the present times, exchanging wishes on WhatsApp and Facebook is the first thing that we do on a festival day. These are the searches with keywords such as Basant Panchami messages in Hindi, Vasant Panchami images HD, Saraswati Puja  images HD, Saraswati Puja images download, Basant Panchami wishes, Basant Panchami images, Vasant Panchami images Shayari, Vasant Panchami wallpaper free download, Basant Panchami images in Hindi, Basant Panchami images 2019, Basant Panchami images with quotes, Basant Panchami images download free, Basant Panchami wallpaper free download, Basant Panchami images HD, Vasant Panchami pictures download, Vasant Panchami 2019 images HD, Saraswati Puja images with quotes, Saraswati Puja images wishes, Saraswati Puja wallpapers free download, Saraswati Puja wallpaper photos, and more.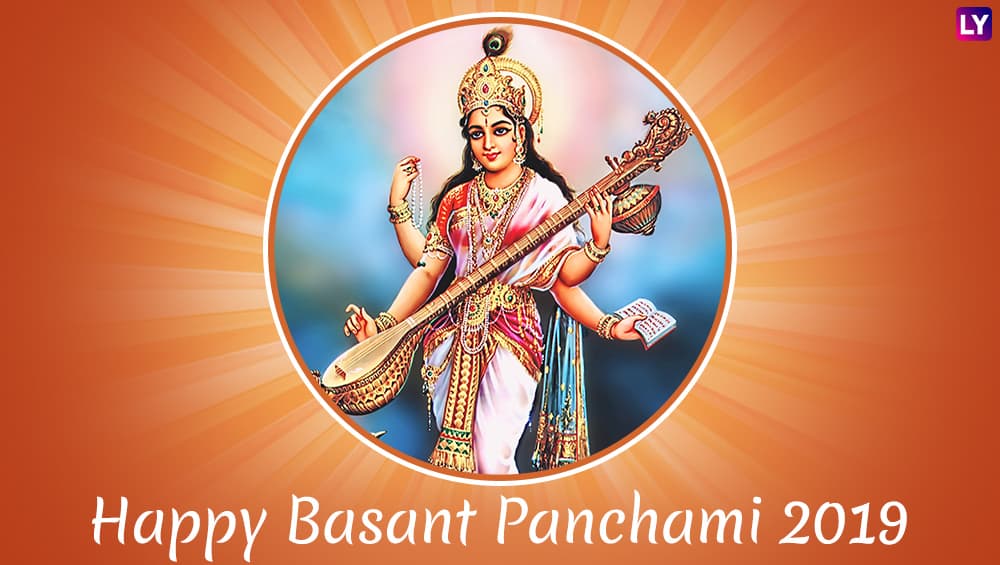 WhatsApp Message Reads: No greeting card to give, No sweet flowers to send, No cute graphics to forward, Just a carrying heart wishing u. Happy Basant Panchami 2019.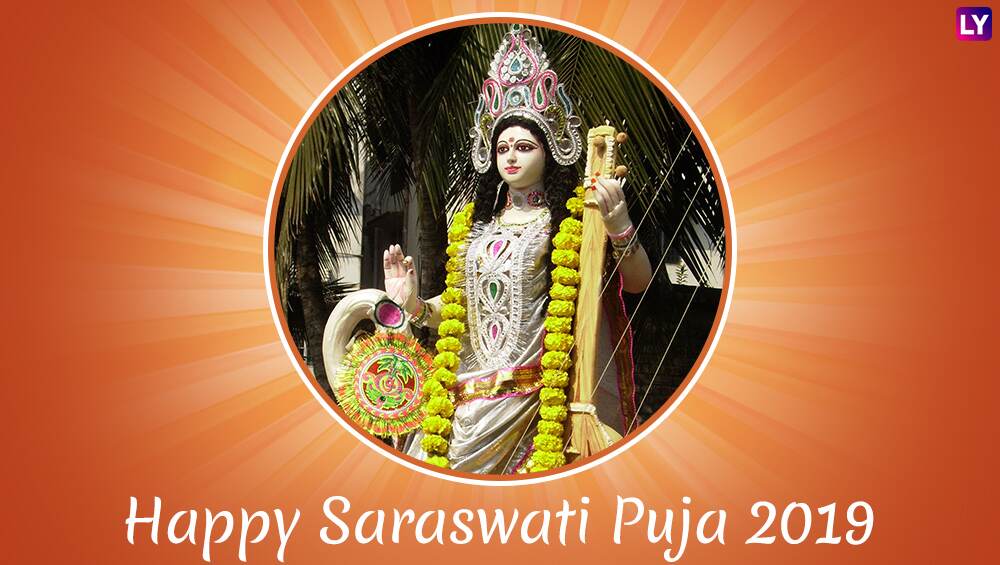 WhatsApp Message Reads: May you rise each texting day with fully charged cell phone in your hand, inspiring message in your mind, me in your heart, and a clear signal all day long. Have a Happy Basant Panchami Day!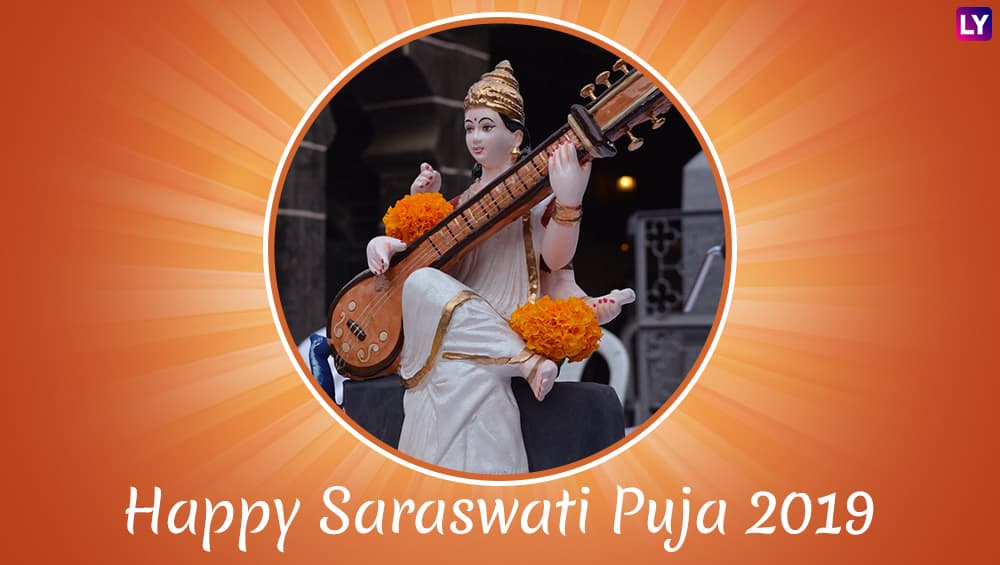 WhatsApp Message Reads: Saahas Sheel Hriday Mein Bhar De, Jeevan Tyaag Tapomar Kar De, Sanyam Satya Sneh Ka Var De, Maa Saraswati Aapke Jivan Mein Ullas Bhar De. Happy Basant Panchami…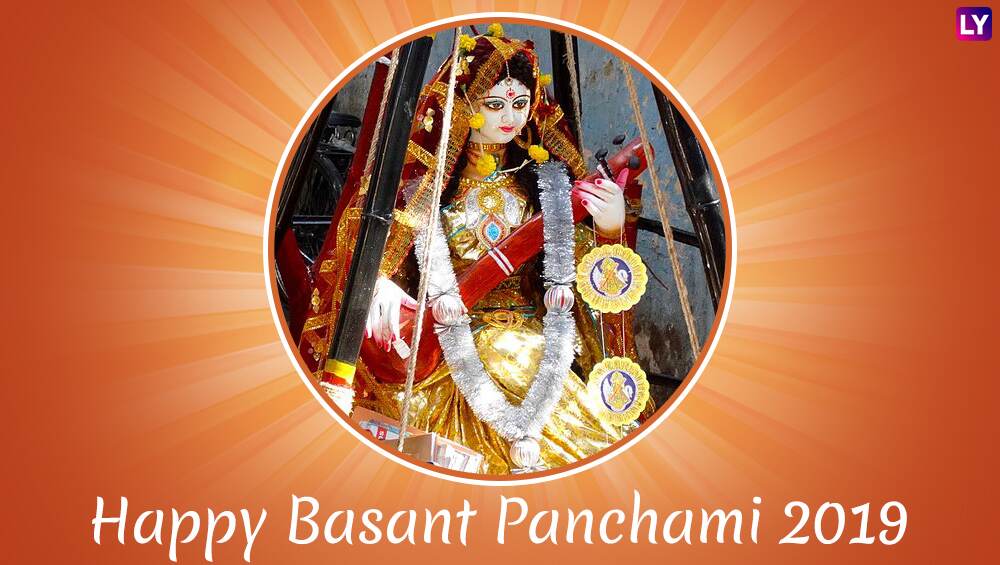 WhatsApp Message Reads: इस वसंत पंचमी मां सरस्वती आपको हर वो विद्या दे जो आपके पास नहीं है, जो है उस पर चमक दे जिससे आपकी दुनिया चमक उठे। वसंत पंचमी और सरस्वती पूजा की शुभकामनाएं.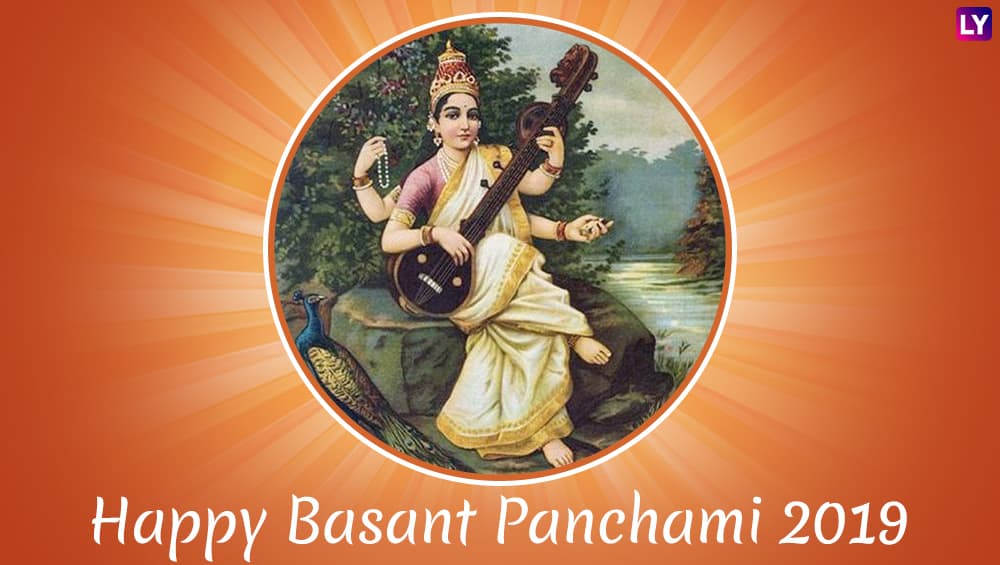 WhatsApp Message Reads: Is Se Pahle K Sham Ho Jaye, Mera SMS Auron Ki Tarha Aam Ho Jaye, Aur Sare Mobile Network Jam Ho Jaye, Apko Basant Panchami Ki Shubhkamnaye … Happy Basant Panchami 2019.
Sarawasti Puja and Basant Panchami HD Wallpapers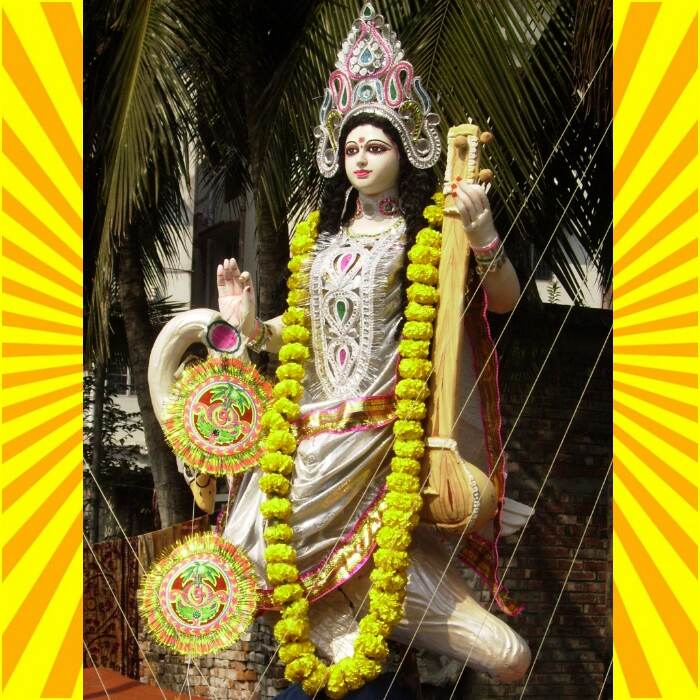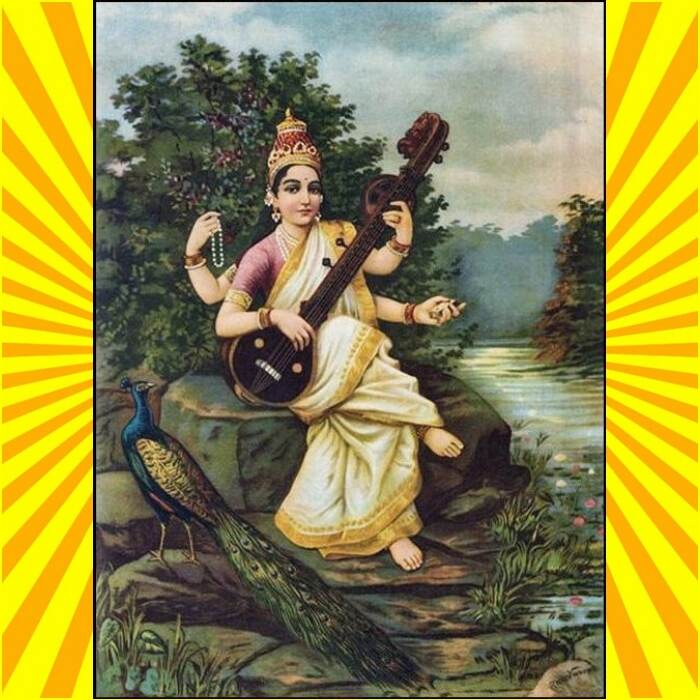 Download Basant Panchami 2019 WhatsApp Stickers
Religious festivals and significant events are incomplete without exchanging a wide range of beautiful WhatsApp Stickers since the Facebook-owned messaging app launched this new feature in 2018. Basant Panchami or Sarawasti Puja is no different as Play Store is full of different packs of special stickers. You can download Basant Panchami 2019 WhatsApp Stickers, Saraswati Puja Basant Panchami WhatsApp Stickers, Vasant Panchami Photo Frames from Play Store right here.
Happy Basant Panchami and Saraswati Puja GIF Greetings
WhatsApp Message Reads: वीणा लेकर हाथ में, सरस्वती हो आपके साथ में, मिले मां का आशीर्वाद आपको हर दिन, हर वार मुबारक हो वसंत पंचमी का त्योहार | वसंत पंचमी की हार्दिक शुभकामनाएं।
WhatsApp Message Reads: On This Day, Goddess Saraswati Is Worshipped in Various Names and Fames – Badal, Arts and Science, and Supreme Knowledge. Happy Basant Panchami.
WhatsApp Message Reads: To Go With the Mustard Flower's Bloom, Let's Flaunt Our Dresses in Yellow Hues, Worship Goddess Saraswati With All Divinity, and Share Yellow Sweets With All the Swoon! Happy Basant Panchami!
We wish everyone celebrating Basant Panchami (Vasant Panchami) or Saraswati Puja, a great festival ahead. May Goddess Saraswati fill your lives with knowledge, intelligence, intellect and wisdom. May Saraswati bless you with high intelligence quotient (IQ) and emotional quotient (EQ). Most importantly, she should bless us with the light of knowledge that will eradicate the darkness of ignorance.