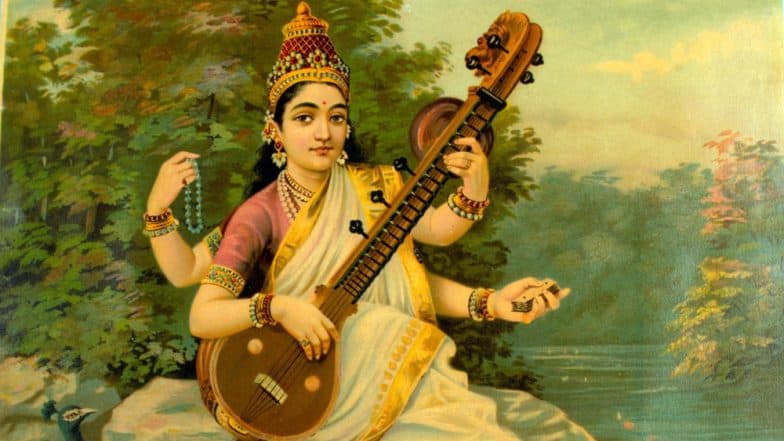 Basant Panchami also known as Vasant Panchami falls on February 10 this year. The festival marks the arrival of spring and is observed across the country with varied celebrations. Saraswati, the Goddess of prosperity and knowledge is worshipped on this day. Special prayers dedicated to Goddess Saraswati are conducted as per Vasant Panchami Saraswati Puja Muhurta on this day. The festival is mostly celebrated by Hindus in Indian and Nepal.
This year Vasant Panchami pans over two days- February 9 and February 10. Vasant in the Hindi language means 'spring' and Panchami refer to the 'fifth day'. It is called so as it falls on the fifth day of the bright half of the Hindu lunisolar calendar month, Magha. In the Gregorian calendar, it falls either in the month of January or February. Traditionally, Sikhs and people in the south also observe the day. While celebrations and customs change across states, the essence of the festival is the same everywhere. Saraswati Puja 2019 Wishes in Hindi: Basant Panchami WhatsApp Stickers, GIF Image Messages, Quotes and SMS to Send Happy Vasant Panchami Greetings.
Vasant Panchami Saraswati Puja Muhurta (timings)
Panchami Tithi begins: 12: 25 pm on February 9, 2019
Panchami Tithi ends: 2:08 pm on February 10, 2019
Vasant Panchami Mantra
या कुन्देन्दुतुषारहारधवला या शुभ्रवस्त्रावृता
या वीणावरदण्डमण्डितकरा या श्वेतपद्मासना।
या ब्रह्माच्युत शंकरप्रभृतिभिर्देवैः सदा वन्दिता
सा मां पातु सरस्वती भगवती निःशेषजाड्यापहा॥
Vasant Panchami story
According to a mythological story attached to Vasant Panchami, Lord Shiva's wife Parvati approached Kama to wake up her husband from meditation since Maha Shivaratri. Kama accepts Parvati's request and helps Shiva bringing him back to Parvati. Kama shoots arrows made of flowers and bees from a sugarcane bow which awakes Shiva. This event is observed as Vasant Panchami by Hindus in Maharashtra, Madhya Pradesh, Chhattisgarh and Uttar Pradesh. Saraswati Vandana Mantra Video With Lyrics on Basant Panchami 2019: Recite This Devotional Song for Art, Knowledge and Wisdom.
People believe Vasant Panchami to be auspicious and hence many new ventures begun on this day. Saraswati puja is performed within Panchami Tithi following which people start with their work. In several different cultures, there is a ritual of initiating children to education. Basant Panchami Images & Saraswati Puja HD Wallpapers for Free Download Online: Wish Happy Vasant Panchami 2019 With WhatsApp Sticker Messages and GIF Greetings.
Akshar-Abhyasam or Vidya-Arambham/Praasana puja is performed in pujas in the morning to seek blessing from Goddess Saraswati. Students worship their books and keep in front of Saraswati idols at homes. It is a special day for those in the field of music and arts who seek blessings from Goddess Saraswati. In some cultures, people wear yellow clothes and decorate their houses with yellow flowers. They also wake up early in the morning and worship the Sun God.