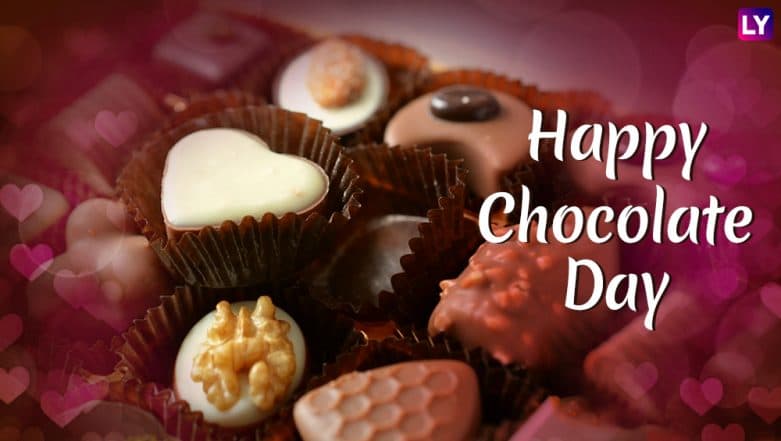 Valentine's Day is almost here and couples have already started planning celebrations. Valentine Week observed a week ahead of February 14 has begun and people can't keep calm. After Rose Day and Propose Day, Chocolate Day will be celebrated on February 8th this year. Couples gift chocolate, a loved dessert as an expression of their love on this day. People also send Chocolate Day messages, wishes, quotes, greetings, stickers and GIFs portraying their love for each other. Valentine Week 2019 Calendar PDF Download Online: List With Dates of Valentine's Day, Rose Day, Chocolate Day, Hug Day, Kiss Day to Celebrate the Festival of Love!
You can send your Chocolate Day messages through these WhatsApp Stickers, Instagram Quotes, GIF Images to make it more special. While one doesn't need a day to gift chocolates, couples prefer to exchange the sweet. You can either customise a box of chocolates according to your partner's preferences or give a twist to the idea and present something quirky but related to chocolate. Or simply open a box of chocolates to create memories and fun-filled moments. Happy Chocolate Day 2019: 5 Gift Ideas to Present Your Girlfriend/Boyfriend This Valentine Week.
As Chocolate Day will be celebrated tomorrow, we have compiled a list of Chocolate Day messages you can send your loved one. You can either text these messages to your lover or attach it as a note on the box of chocolates you are planning to gift or simply say it to the person. You can also use these Chocolate Day messages to profess your love to your crush or maybe initiate to go on a date with the person.  Happy Chocolate Day 2019 Wishes: WhatsApp Stickers, Instagram Photos, GIF Image Messages, SMS to Send Chocolate Day Greetings This Valentine Week.
Chocolate Day Messages and Greetings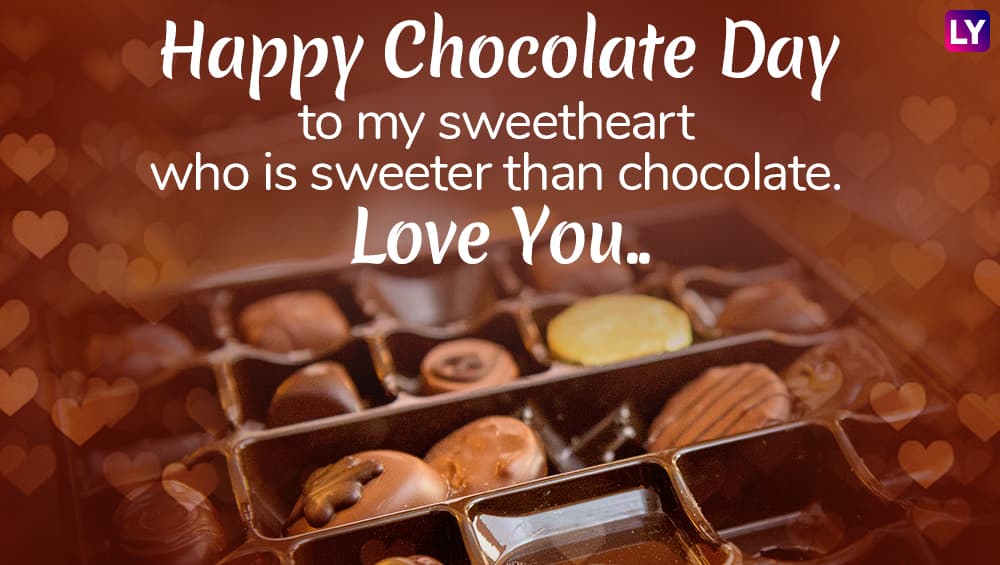 Message reads: Happy Chocolate Day to my sweetheart who is sweeter than chocolate. Love you!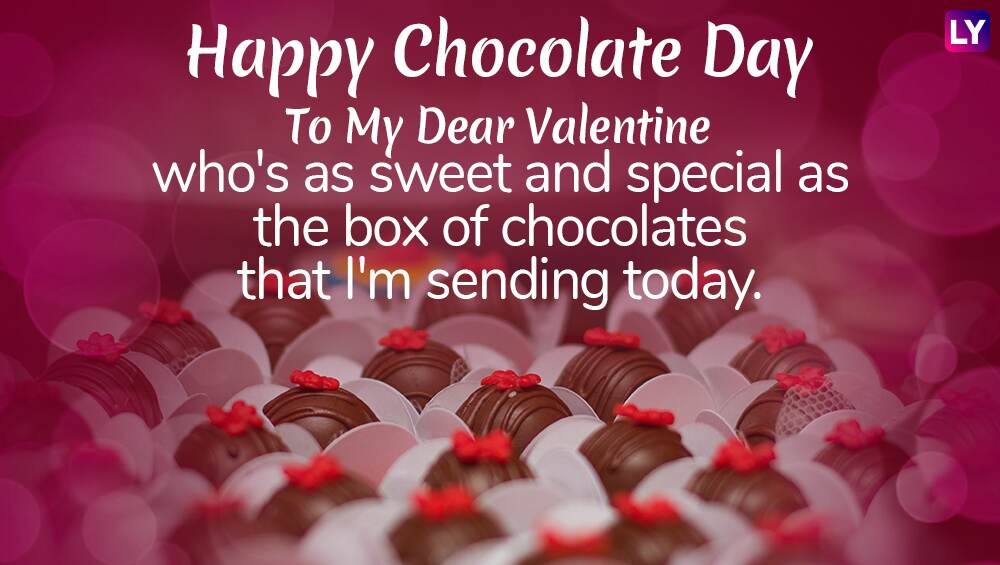 Message reads: Happy Chocolate Day to my dear Valentine who's as sweet and special as the box of chocolates that I'm sending today.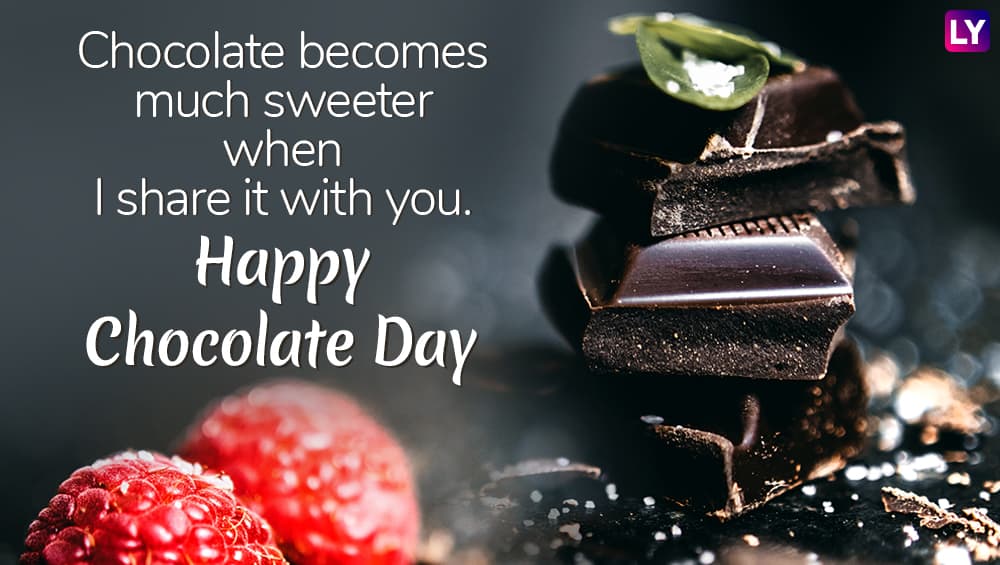 Message reads: Chocolate becomes much sweeter when I share it with you. Happy Chocolate Day!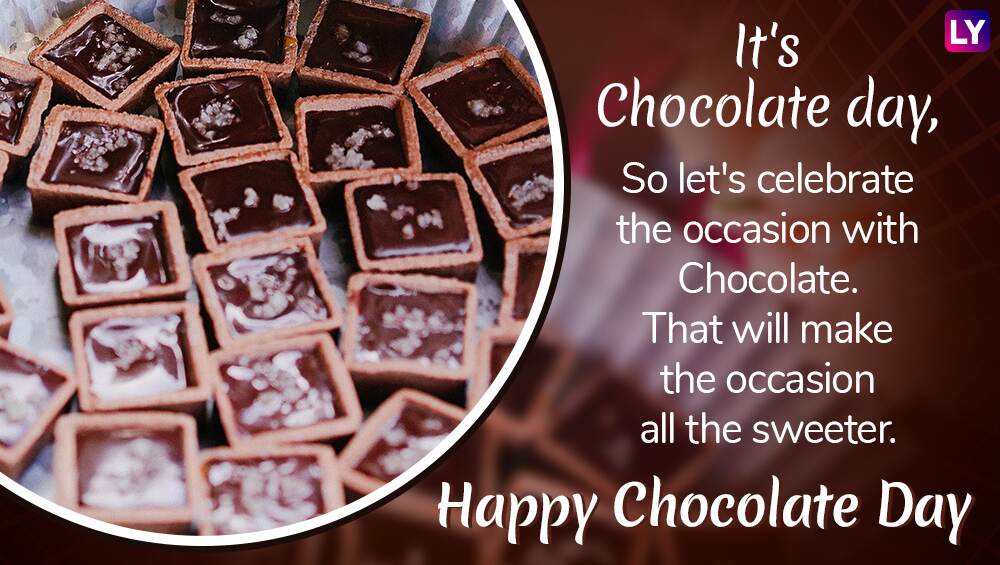 Message reads: It's Chocolate day, so let's celebrate the occasion with chocolate. That will make the occasion all the sweeter.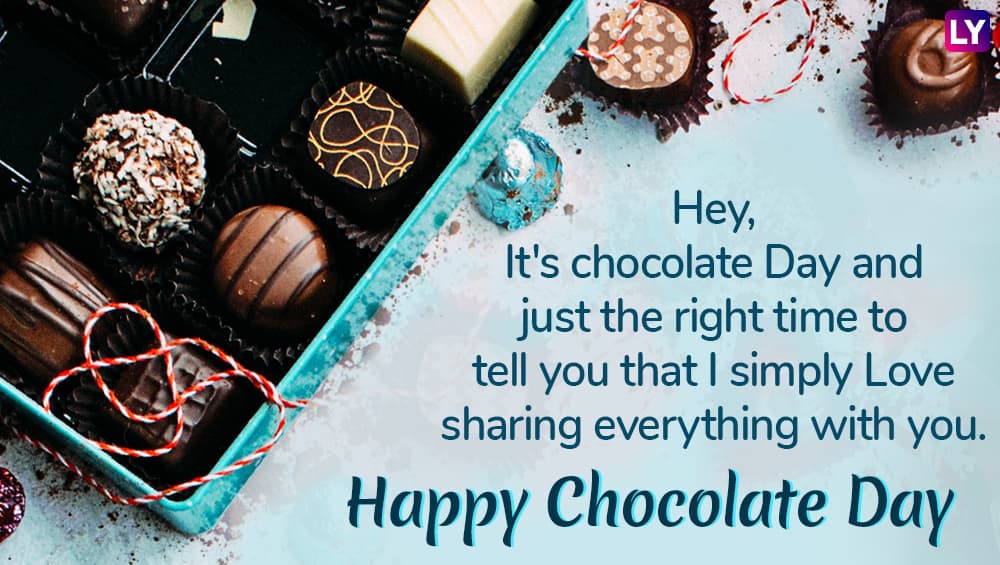 Message reads: Hey, It's chocolate Day and just the right time to tell you that I simply Love sharing everything with you.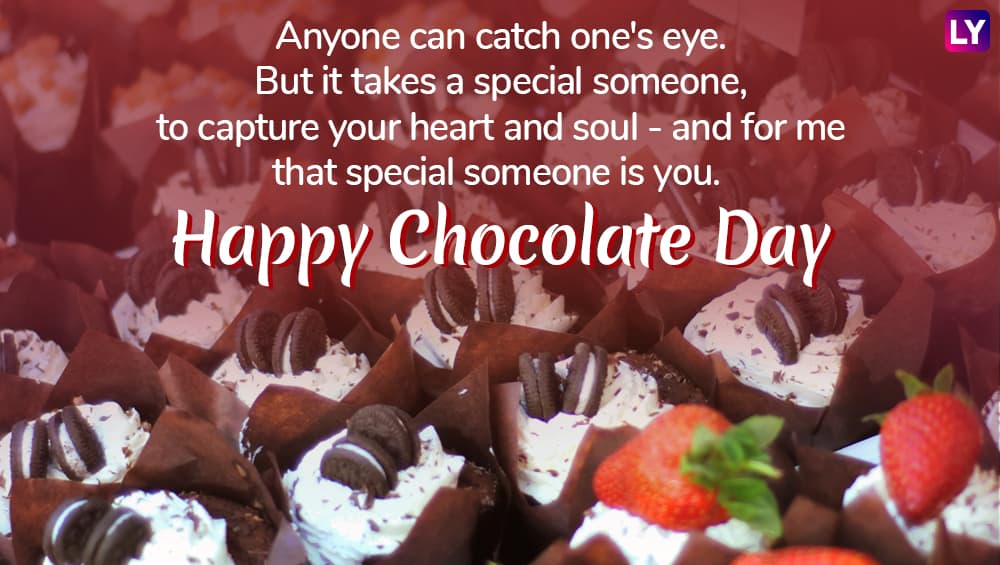 Message reads: Anyone can catch one's eye. But it takes a special someone, to capture your heart and soul - and for me that special someone is you. Happy chocolate day!
Chocolate Day GIF
Let this Chocolate Day help you add more sweetness to your relationship. Also, chocolates come with a lot of health benefits and other uses, so stop worrying about those extra carbs for a day. We hope you find the best chocolates that can light up your relationship this festive season. We wish you have a great Chocolate Day!