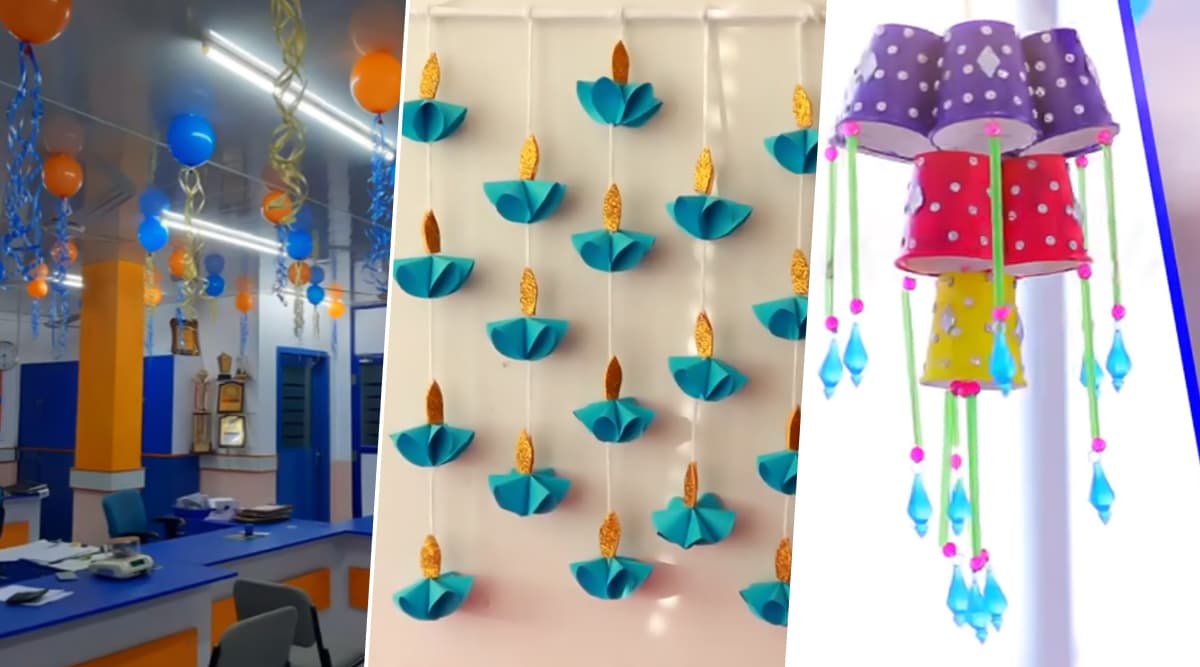 Diwali is around the corner and Indian households across the world are preparing for the festival. Diwali 2019 celebrations will begin later this week and meanwhile, decorations and other arrangements are in the pipeline. People also celebrate Diwali at workplaces with large scale celebrations. Offices arrange various festivities during Diwali encouraging employee engagement. People dress up in traditional clothes and celebrate the day together. Corporates arrange bay decoration competition for staff where different teams have to deck up their desks collectively. As Diwali 2019 approaches, we have compiled a list of simple Diwali bay decoration ideas which you can use to beautify your workplace. From balloons, ribbons, lanterns and lamps, you can choose from an array of objects to decorate your office. Easy Rangoli Designs for Diwali 2019: Simple Rangoli Patterns With Colours and New Pookalam Designs With Marigold Flowers for Deepavali (Watch DIY Videos)
You can choose to be eco-friendly and use items that do not cause damage to nature. Some of the things which can be used in the decoration include coloured paper, cardboard, thread, decorative items, paper cups, glitter and similar stationaries. You can also choose to keep electric lamps to bring in the traditional essence. Office administrations generally make rangoli art adding on to the festivities. Diwali 2019 Decoration Ideas: Brighten Up Your House With Diyas, Lanterns, Fairy Lights and Candles This Deepavali.
1. Simple And Easy Diwali Decoration Idea:
This is one of the easiest ways to decorate your desk at the office. With a set of coloured paper, you can easily make it and stand out from the rest at work.
2. DIY Diwali Decor Using Paper Cups:
All you need to make this DIY Diwali decor are paper cups, used plastic straws and small pieces of decorative items for beautification. This being a unique idea is sure to earn you praises for your decoration.
3. Beautiful Wrapped Balloon Lampshades:
While this may look a little time consuming, these wrapped balloon lampshades look beautiful in the end. Light up your workplace with these beautiful yard balloons.
4. Office Balloon Decoration:
Adding balloons are the easiest ways to brighten any place. It is simple and lights up any space instantly. All you have to do is tie a bunch of colourful balloons and tie them up together.
While these are some of the simple ideas to decorate your office, you can add or reduce items depending on your availability of time. You can stick greeting cards to your desk and give it to people who visit you. We wish you all a Happy Diwali in advance.