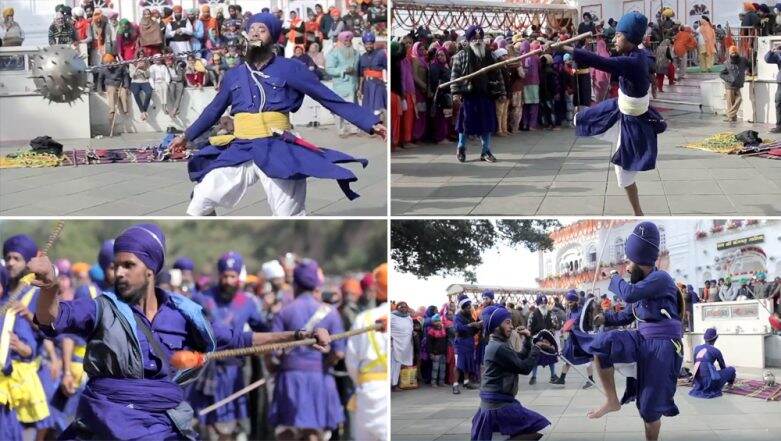 Hola Mahalla is a Sikh festival celebrated on the first of the lunar month of Chet and takes place in the month of March. It follows the Hindu festival of Holi. This year the Hola Mahalla will be celebrated on March 21. The festival was founded by Guru Gobind Singh, the tenth guru of Sikhs. On March 7, 1701, Guru Gobind Singh started a new tradition by overseeing a day of mock battles and poetry contests at Lohgarh Fort. Since then the tradition spread from the town of Anandpur Sahib to other Gurdwaras. After the mock drills, colours were thrown by the participants. Holi Recipes 2019: How to Make Gajar Ki Kanji? Easy Steps to Prepare This Healthy and Tasty Fermented Beverage With Black Carrots.
Hola Mahalla is an occasion for the Sikhs to demonstrate their martial skills. Word 'Mohalla' means an organised procession in the form of an army column. On the occasion of Hola Mohala three-day fair is organised every year at Sri Anandpur Sahib. Mock battles, exhibitions and display of weapons are held followed by Shabad Kirtan. Pilgrims are also served langars. Brij Holi 2019 Dates and Calendar: Know The Schedule of Holi Festival Celebrations in Religious Towns of Mathura and Vrindavan in UP.
Pilgrims gather in large numbers at Anandpur Sahib to witness a very impressive and colourful procession of Nihangs who are the members of the Khalsa army known for their distinctive blue traditional robes and decorated dumalas.  The martial arts exhibited by the Nihangs display their skills and traditions to the visitors. The Nihangs are today divided into several groups, each with its own cantonment, but they are loosely organised into two Dals (forces) - Buddha Dal and the Taruna Dal.
Meanwhile, this year, Holi will be marked with Holika Dahan on March 20, also known as Choti Holi. The following day is called the rangwali Holi which sees people immersing in colours and water as a part of the festivities.