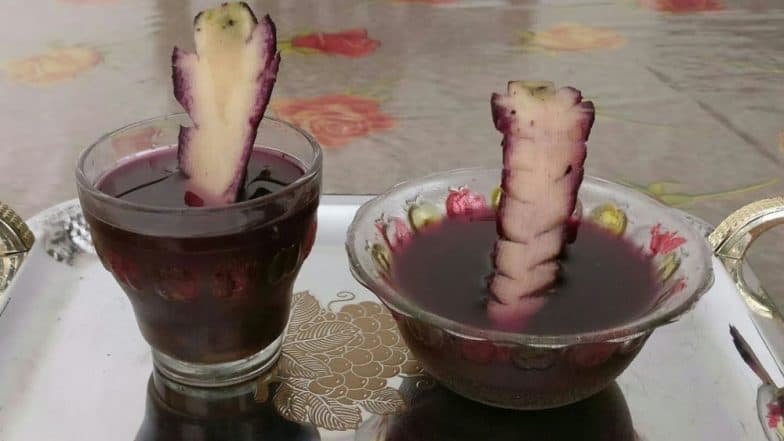 Holi this year falls on the 21st of March followed by Holika Dahan(burning of demon Holika) or Chhoti Holi that will be celebrated on the 20th of March. The festival of colours is also known as Basanta Utsav, Rangwali Holi, Dhuleti, Dhulandi, or Phagwah, is one of the most fun festivals celebrated in India with great enthusiasm, lots of colours, great food and bhang (an intoxicating drink made from cannabis.) The festival has even crossed broader many other countries apart from India also celebrate Holi. Usually, in India, especially the north part of it prepares a set of traditional holi foods for the celebration of this festival of colours. These generally include, ghujiya, malpua, dahi vadas and others. However, in Rajasthan and other parts of North India, a special drink called gajar kanji or sometimes kali gajar ki kanji is extremely popular during Holi. This special fermented drink made out of carrots, mustard powder and other spices, is not just delicious but also great for your stomach health. Holi 2019 Recipes: Here's How You Can Make Delicious Ghujiyas at Home to Celebrate the Festival of Colours!
Here's an easy recipe to make Gajar ki kanji at home:
Ingredients
Carrots - 4-5 (cut in finger shape)

Beetroot - 1 (cut in sliced)

Mustard Seed (rai) -2,1/2- tbs

Turmeric Powder -1tbs

Red Chili Powder -1/2tbs

Ginger juice - 1ts

Sugar -1ts

Asafoetida (Hing) 1pinch

Salt - to taste

Water - 1liter.(light warm)
Method:
Take 1liter light warm water in a jar and mix all ingredients.

Cover the lid tightly and put the jar in sunlight for 4-5 days for fermentation.

After 4-5 days it is ready. Stir and serve in a glass with pieces of carrots.

If you don't like Dahi vada, you can also try Kanji vada this Holi. It is both healthy and a great way to eat kanji.
Here's a video of how to can make Gajar ki kanji:
Here's how you can make another version with black carrots:
Here's how you can make Kanji Vada:
This Holi spread smiles and break barriers. Eat healthy, eat good and celebrate the day with your loved ones. Have and hearty and healthy Holi!