Palm Sunday 2023 images and HD wallpapers: The day that Jesus went back to Jerusalem is known as Palm Sunday. He entered the city on a donkey, signifying that he was a peaceful monarch. Palm leaves were placed in front of his route by his devoted. Jesus' followers showed they believed in him by presenting palm fronds in front of him as a sign of their acceptance. Jesus would be tried, crucified, and betrayed in the days that would come before his heavenly rising. Here's a collection of Palm Sunday 2023 photos, Happy Palm Sunday 2023 greetings, Palm Sunday images, Holy Week 2023 images, Holy Week wishes, WhatsApp messages and quotes to observe the first day of Holy Week. Holy Week 2023 Calendar: From Palm Sunday to Easter Sunday; List of Important Days And Dates of The Catholic Holy Week.
On the last Sunday of the Christian religious season of Lent, which starts on Ash Wednesday and ends with Easter, Palm Sunday, the first day of Holy Week, occurs. For Palm Sunday, every community and religion has its customs. Before the start of service, parishioners frequently receive palm leaves from Catholics. The palm fronds are often saved, dried, and braided by believers. The following year, the braided leaves are replaced on a crucifix displayed in their house. Additionally, to make the ashes used on Ash Wednesday, the church preserves the palms and burns them the following year.
For many Christian holidays, spring is a crucial season. The days before and after Easter are all significant events in the bible, and Palm Sunday is no exception. Holy Week, one of the most important times in the Christian calendar, begins on Palm Sunday, a Christian feast day. Palm Sunday was primarily a day of collective worship and adoration for Jesus. During this holiday, palm leaves represent the leaves that cleared his way and brushed his shoulders as he landed in Jerusalem. We have Holy Week Palm Sunday 2023 messages, and HD wallpapers to send. Check out Holy Sunday Images, Psalms, Bible Verses, WhatsApp Pics & Telegram Photos To Observe The Day: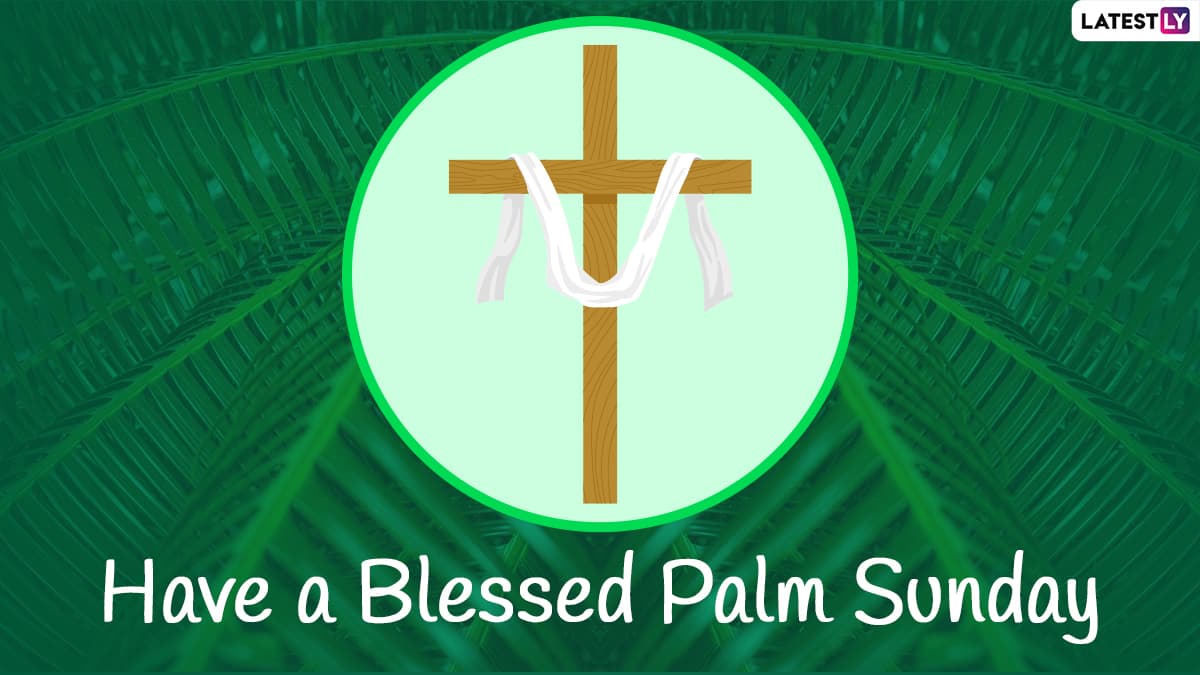 WhatsApp Message Reads: My Best Prayers for You on Palm Sunday. I Hope That God Grants Each of Your Wishes and Always Keeps You Safe.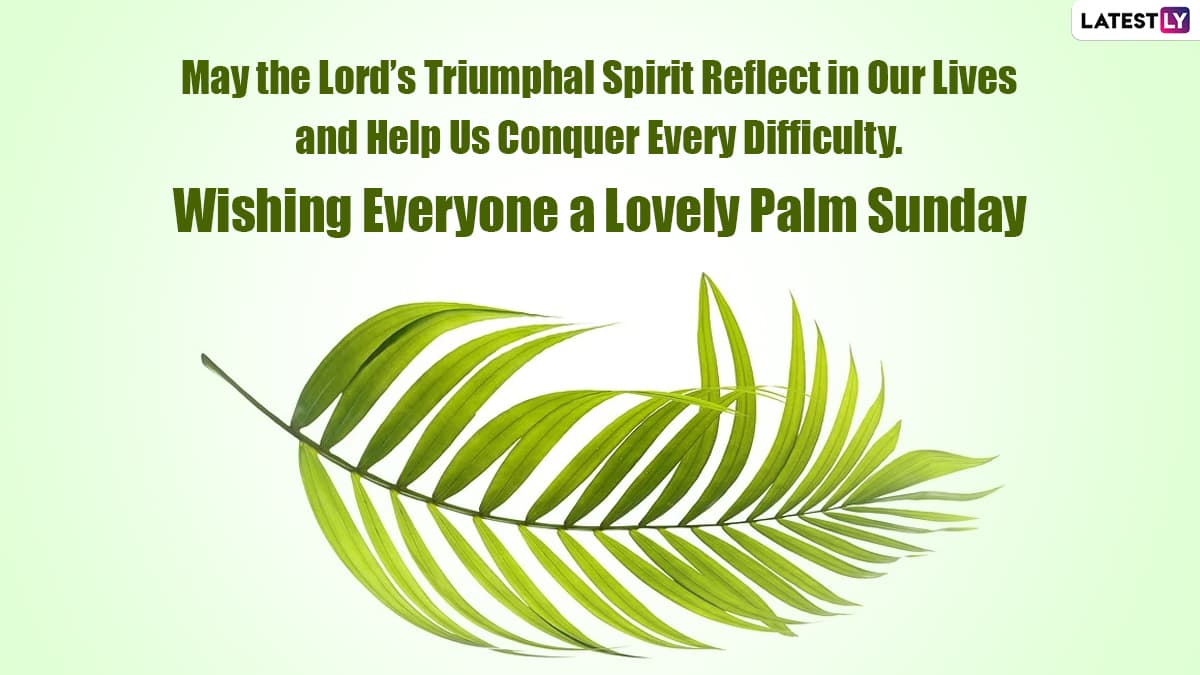 WhatsApp Message Reads: May the Lord's Triumphal Spirit Reflect in Our Lives and Help Us Conquer Every Difficulty. Wishing Everyone a Lovely Palm Sunday.
WhatsApp Message Reads: Today, We Have Been Blessed With the Arrival of Another Holy Week. Happy Palm Sunday!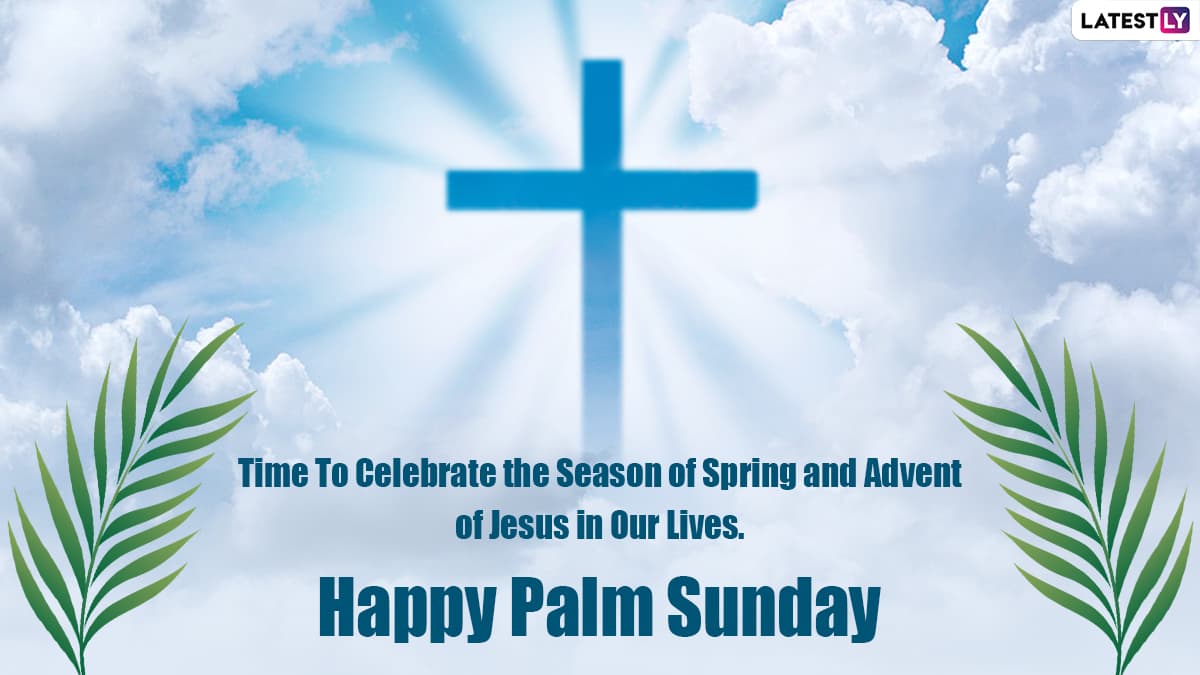 WhatsApp Message Reads: Time To Celebrate the Season of Spring and Advent of Jesus in Our Lives. Happy Palm Sunday.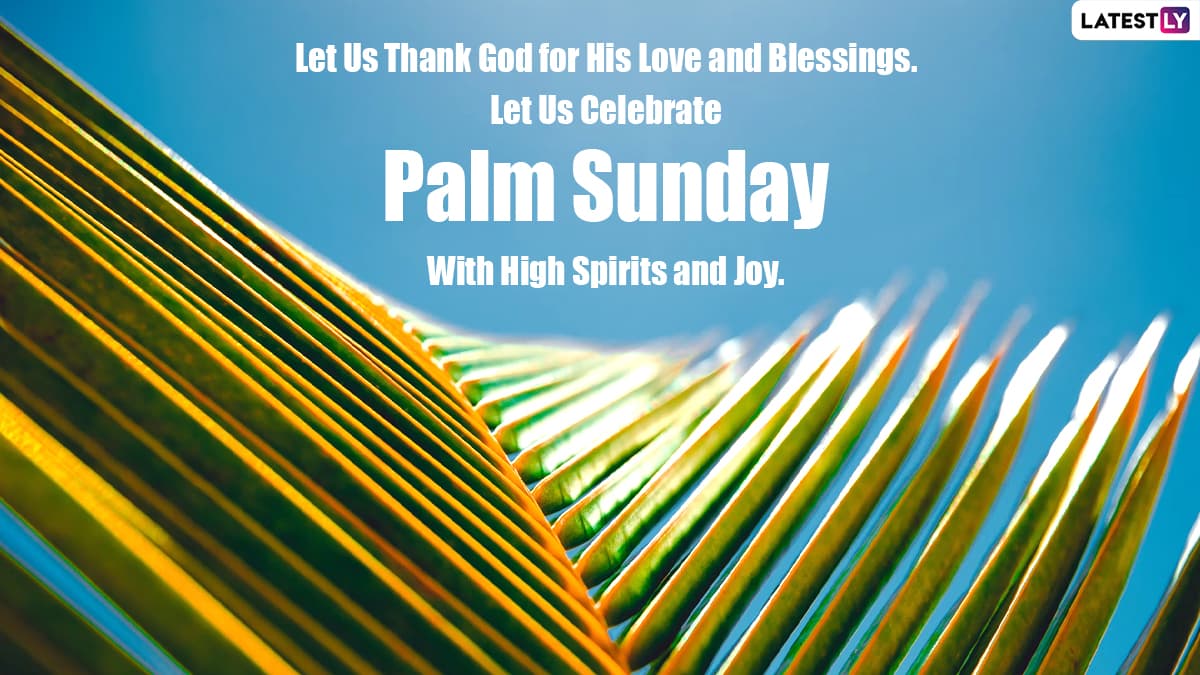 WhatsApp Message Reads: Let Us Thank God for His Love and Blessings. Let Us Celebrate Palm Sunday With High Spirits and Joy.
WhatsApp Message Reads: Never Let Negativity Empower Your Positive Thoughts. Be a Fighter! Happy Palm Sunday.
WhatsApp Message Reads: Let Us Shout Out Loud to the God To Thank Him for All His Blessings and To Wish Him on the Occasion of Palm Sunday.
The Last Supper is remembered on Maundy Thursday; Jesus' crucifixion is remembered on Good Friday; the vigil kept by Jesus' followers outside the tomb is remembered on Holy Saturday; and the resurrection of Christ is remembered on Easter Sunday.
(The above story first appeared on LatestLY on Apr 01, 2023 10:55 PM IST. For more news and updates on politics, world, sports, entertainment and lifestyle, log on to our website latestly.com).