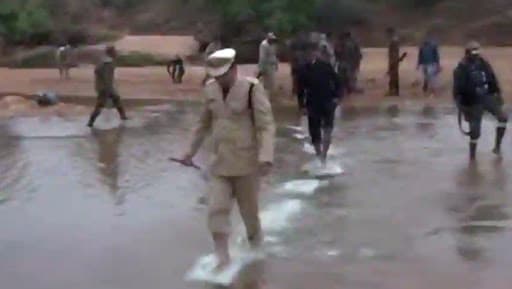 Raipur, January 26: India is celebrating its 70th Republic Day on Saturday, and the villagers in Maoist-hit Bastar region of Chhattisgarh have found a new reason to feel proud. To honour a slain village head and set a message to the red brigade, the state authorities reached the village by crossing the river on foot to celebrate Republic Day.
A team of police and district administration officials did something worth rememberable on the 70th Republic Day. The officials waded through water to hoist the Tricolour on the banks of river Indravati, to pay to respect the village head who was killed six months ago by Maoist. The village head was killed the Maoists for demanding a bridge be constructed across the river. Republic Day 2019 Celebrations: ITBP Jawans Hoist National Flag at 18,000ft in Minus 30 Degrees in Ladakh (Watch Video).
Briefing more about it, a senior official said, as The Hindustan Times reports, "We came early morning to hoist the flag here. To convey the message that the people and the police will rule the forests, not Naxals."
It is to be known that Bastar is one of the Maoist-affected regions of Chhattisgarh, where any development work by the government has to face the diktats of rebels. Even construction of essential amenities like roads, schools and bridges have been halted for years.