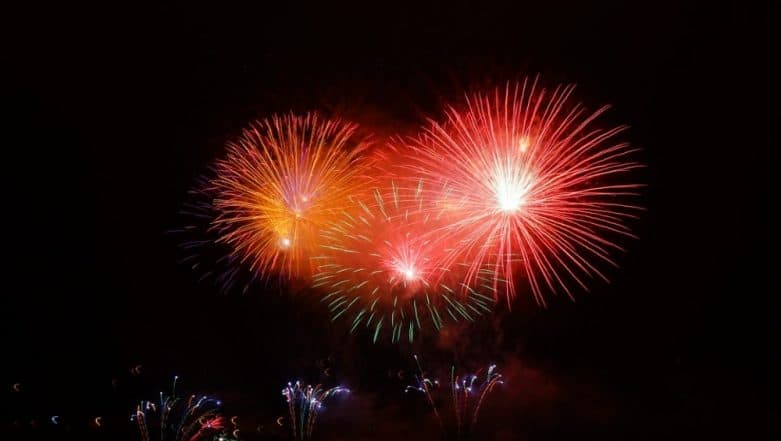 Thrissur Pooram is an annual temple festival of Kerala which will take place on May 13 this year. It takes place at the Vadakkunnathan Temple in Thrissur district every year on the day of Pooram Nakshatra in the Malayalam calendar month of Medam. The festival attracts thousands of visitors to witness the large scale celebrations that begin about a week in advance. One of the important aspects of the celebrations is the Sample Vedikettu, which sees a great display of fireworks. The Sample Vedikettu for Thrissur Pooram 2019 took place on May 11 and social media is flooded with beautiful videos of the same. Thrissur Pooram 2019 Date: History, Significance, Celebrations, Controversies Related to Kerala's Largest Temple Festival.
It is a time when devotees gather to pay their respects to Lord Vadakkunnathan (Lord Siva). About ten temples unify to celebrate this grand celebration of Thrissur Pooram. With each temple and its devotees participating together in the procession, the festival grew into a massive celebration, or rather the biggest temple festival in Kerala. The celebration of Thrissur Pooram begins after a flag hoisting ceremony. And on the fourth day after flag hoisting is the display of fireworks also called the Sample Vedikettu. It is a one-hour show presented by Thiruvambady and Paramekkavu Devaswoms. Videos from the same have been shared on social media. Thrissur Pooram 2018: Fireworks Adorn Kerala's Grand Temple Festival Attended by Thousands (Watch Video).
Watch Sample Vedikettu Thrissur Pooram 2019 Celebrations in Kerala:
#WATCH Kerala: Sample fireworks show conducted ahead of the Thrissur Pooram festival. (11.5.19) pic.twitter.com/QNBgd0zIe9

— ANI (@ANI) May 11, 2019
Sample fireworks at the Thrissur pooram festival in Kerala today!!! 👇👇👇 pic.twitter.com/q1rUYzz4pi

— Tarun Sareen (@TarunnSarreen) May 11, 2019
Massive celebrations!
Thrissur pooram sample..... pic.twitter.com/wWazsaTJ3k

— Anujith V (@AnujithV3) May 11, 2019
Both the temples organise their fireworks display competitively. But it is done under strict guidelines. Two rounds of fireworks display take place and the main round is held on the day of Pooram.