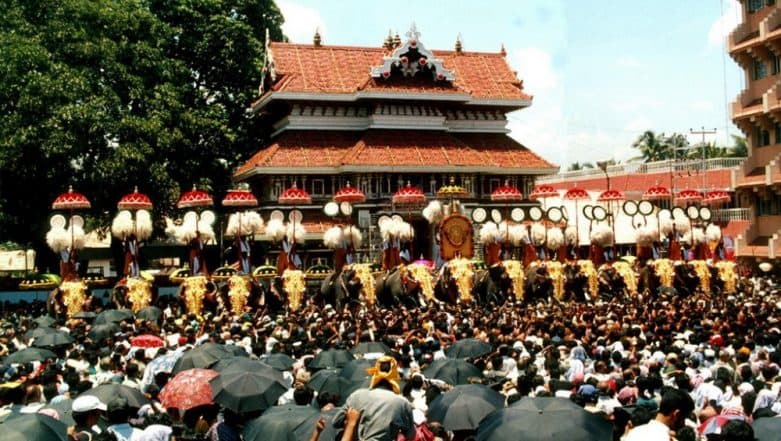 Thrissur Pooram is an annual Hindu temple festival held in Kerala that attracts thousands of visitors. It is held at the Vadakkunnathan Temple in Thrissur district every year on the Pooram Nakshatra in the Malayalam calendar month of Medam. According to the Gregorian calendar, Thrissur Pooram 2019 will fall on May 13, 2019 (Monday) and May 14, 2019 (Tuesday). Large scale celebrations that can be witnessed at that temple ground include colourful fireworks, Panchavadyam (an orchestra of five instruments), the parading of elephants among other cultural, traditional and customary programmes. Thrissur Pooram is known for being the largest temple festival in Kerala and famous among all poorams held in the state. Thrissur Pooram 2019 Live Streaming: Watch Live Telecast of Kerala's Largest Temple Festival.
History and Significance of Thrissur Pooram
Thrissur Pooram was introduced by Raja Rama Varma, famously known as Sakthan Thampuran, the 17th-century ruler of the Kingdom of Cochin in Kerala. Before Thrissur Pooram became to be celebrated on such a grand scale, it used to be a one-day festival held at Aarattupuzha in Thrissur and was known as Arattupuzha Pooram. The festival used to be attended by temples in and around Thrissur. However, once, while the celebrations were in progress, due to heavy rains, a few temples participating in the Arattupuzha Pooram reached late and were denied entry. Miffed temple authorities went to their King and narrated how they had to face embarrassment.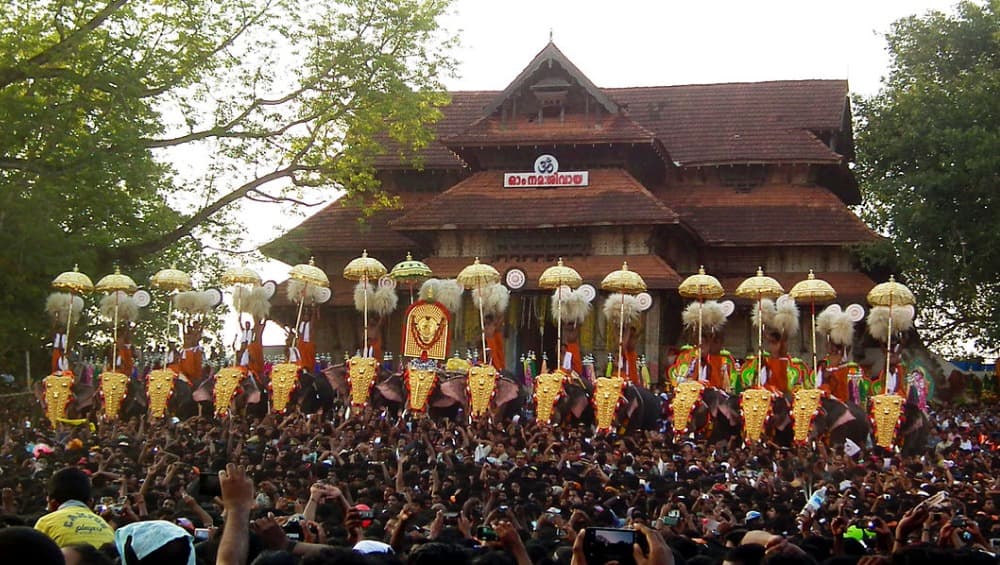 Empathising with the sentiments of his people,  Raja Rama Varma, declared a decree that they would have a much bigger temple festival of their own which was named as 'Thrissur Pooram'. Ten temples situated around Vadakkunnathan Temple were unified to organise Thrissur Pooram. Authorities of all 10 temples were invited with their deities to pay obeisance to Lord Vadakkunnathan (Lord Shiva). Thus, these temples started sending their procession to Vadakkunnathan Temple, which became a major event. Over centuries, Thrissur Pooram's grandeur grew enormously grabbing eyeballs internationally.
List of the major events in ascending order
1. Flag Hoisting
Thrissur Pooram kick starts with the flag hoisting ceremony called Kodiyettam which is held seven days before the festival actually begins. The ceremony is conducted by three different ways include Padahadi, Anguradi and Dhwajadi.
2. Display of fireworks (first round)
On the fourth day after hoisting the flag, the first round of display of fireworks is held. Large crowds gather to see the display of fireworks in the night sky. The fireworks show is presented by Thiruvambady and Paramekkavu temples. It starts at 7:15 pm on Swaraj Round road in Thrissur.
3. Display of caparisons
Elephant caparisons are paraded on the fourth and fifth day before the main day of Pooram. The venue for the event changes every year.
4. Main pooram
On the main day of pooram, special prayers are held early in the morning following which celebratory events begin in the temple premises. Processions of different temples enter the temple and competitively display their works. Kudamattom which is a display of colourful umbrella is one of the most loved events that attract hundreds of people.
5. Display of fireworks (main round)
Fireworks on the main day of Thrissur Pooram main fireworks (Vedikettu) are attended by thousands of spectators. The firecrackers are lighted in the early morning of the seventh day which is attended by thousands.
6. Farewell ceremony
The seventh day of the Pooram also known as Pakal Pooram is the last day of Thrissur Pooram celebrations. The farewell ceremony is the last event held at Swaraj Round during which idols of temples who participated in the events are taken back to their respective temples. It is followed by a round of fireworks in the daylight.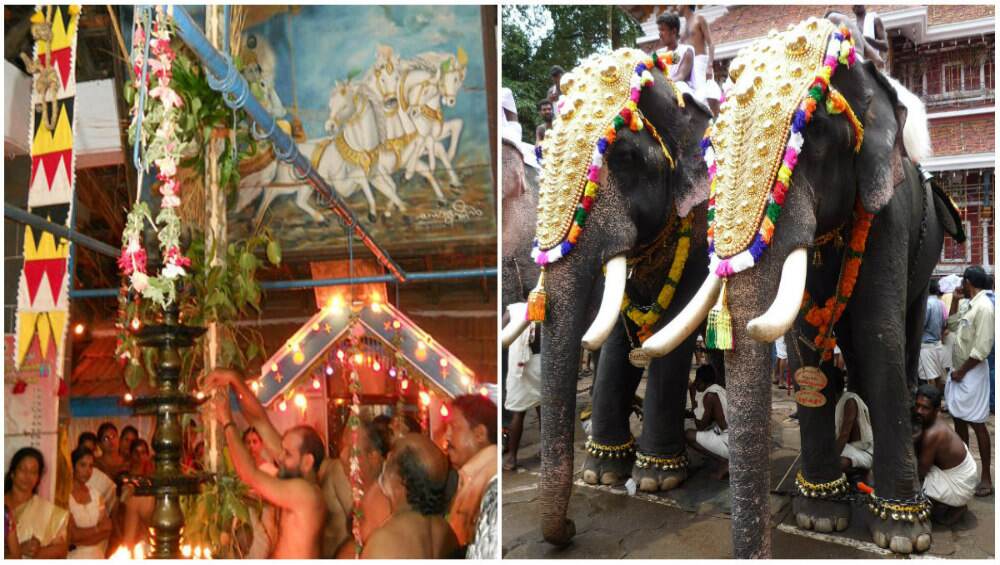 Controversies Attached to Thrissur Pooram
Elephants
Elephants are an integral part of temple rituals in southern India, especially in Kerala, where they are an everyday visitor at temple grounds. However, preparations are in full swing, Thrissur Pooram like the few years in the past, is again being questioned on the usage of elephants in the parade. While a section of animal lovers and activists wants a ban on elephants at the celebratory events, organisers are no mood to nod yes to that. Thrissur Pooram 2019: Elephant Thechikottukavu Ramachandran Arrives at Vadakkumnathan Temple After Being Deemed Fit And Kickstarts Festivities (Pics And Videos)
Thechikkottukavu Ramachandran, celebrity elephant is with a mass fan following is the centre of the cultural festival. However, this jumbo has killed 13 people including a mahout other than three other elephants. Ramachandran is the tallest captive elephant in India. The 65-year-old animal's presence at the temple festival is doubtful this year as the local administration has banned Ramachandran from being paraded at the event. The city police also said that the elephant is easily provoked and considering its past records can attack people. The move has angered the elephant owners who have threatened to boycott the event.
Fireworks are another concern at Thrissur Pooram over past incidents of mishaps. Last year, after much debate and discussion, temple authorities received permission for the fireworks. And viewers were advised to restrict to 100 meters from the display of fireworks. While talks and debates continue to surround the event, people of Thrissur are eagerly waiting for the festival which is one of the most joyous occasions in Kerala.