Tulsi Vivah is a widely observed Hindu festival. It is celebrated to commemorate the marital union of Lord Vishnu with a Tulsi plant, which was originally a woman named Brinda. The plant is believed to the incarnation of Goddess Lakshmi. The marriage is celebrated on the twelfth day of the Shukla Paksha in the Hindu month of Kartik. The ceremony is observed in a time phase between Pabodhini Ekadashi and Kartik Poornima. People wish each other at the festival by saying Happy Tulsi Vivah. You can also wish those celebrating by sending them Happy Tulsi Vivah messages and wishes. As Tulsi Vivah 2019 approaches, we have compiled a list of Tulsi Vivah HD Free Download Images, Wallpapers, Pictures and Greetings. Tulsi Vivah 2019 Wishes: WhatsApp Stickers, Facebook Greetings, GIF Images, SMS And Messages to Send on The Festival.
Tulsi Vivah is based on a Hindu mythological story where Tulsi was originally a woman named Vrinda. She was married to Asura King Jalandhar who was extremely powerful and evil. While he committed heinous acts, his wife's devotion to Lord Vishnu made him invincible. After seeing his ways, Lord Vishnu went to Brinda in the form of her husband and took away her celibacy. Following which, Lord Shiva killed Asura king Jalandhar in a battle. On knowing the incident Brinda was overcome by anger and grief. She cursed Lord Vishnu who became stone named Shaligram and immolated herself on her husband's pyre. Using his powers, Lord Vishnu then converted her soul into a Tulsi plant and promised to marry her. Their marriage is called Tulsi Vivah. On the festival, you can wish those celebrating with these beautiful Tulsi Vivah HD Images, Wallpapers and Pictures. Tulsi Vivah 2019 Date: Significance, Mythology, Puja Muhurat Related to Ceremonial Marriage of the Goddess Tulsi to Lord Vishnu.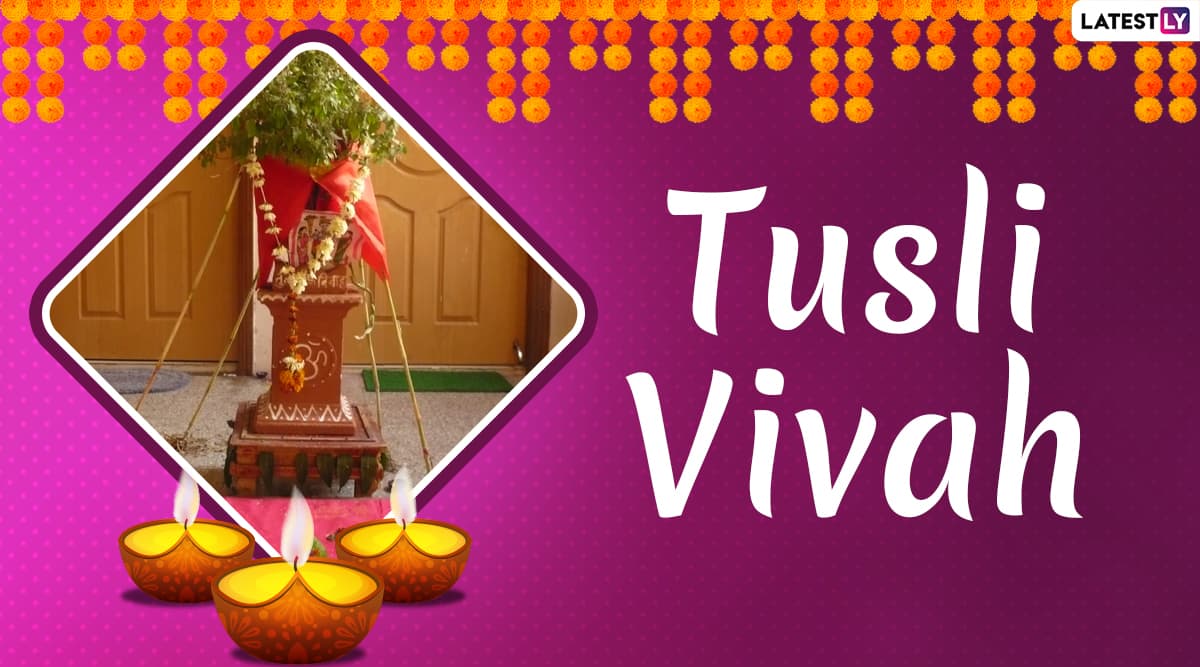 Tulsi Vivah WhatsApp Message Reads: Sabse Sundar Vo Nazara Hoga, Diwar Pe Diyo Ka Mala Hoga, Har Angan Me Tulsi Maa Virajengi Aur Apke Liye Pahla Wish Hamara Hoga. Happy Tulsi Vivah!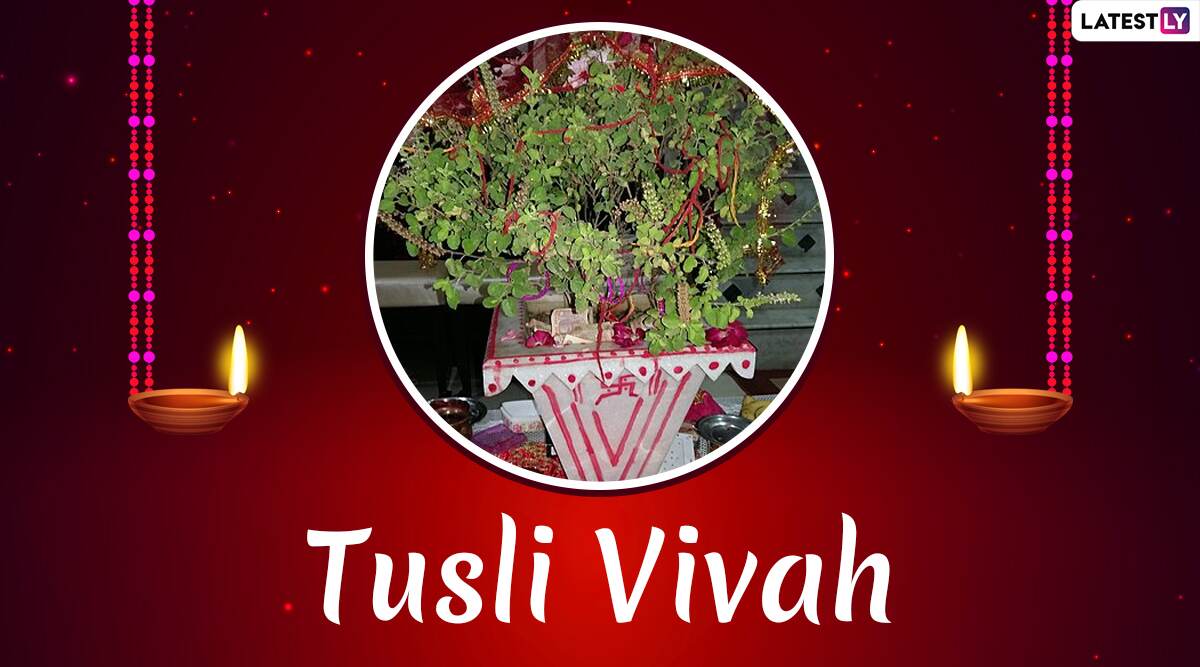 Tulsi Vivah Facebook Greetings: Tulsi Sang Saligram Vyahe, Saj Gai Unki Jodi. Tulsi Vivah Sang Lagan Shuru Hue, Jaldi Le K Aoo Piya Doli
Shubh Tulsi Vivah! Tulsi Vivah Ki Hardik Shubhkamnaiye. Happy Tulsi Vivah.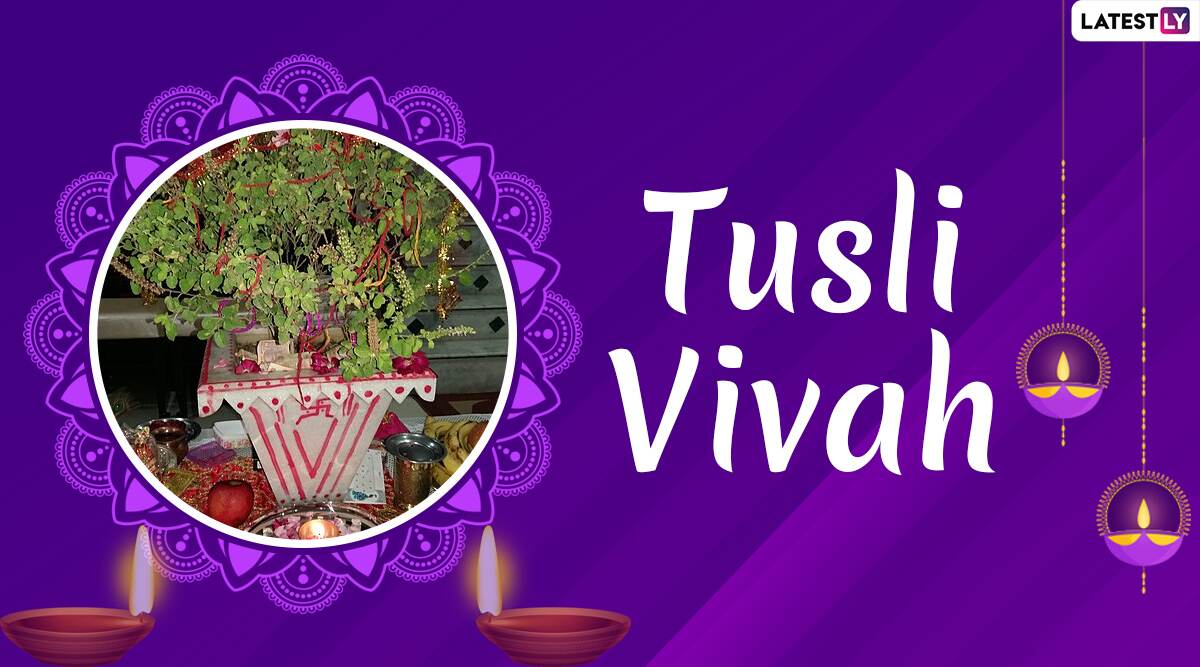 Tulsi Vivah WhatsApp Message Reads: Happy Tulsi Vivah!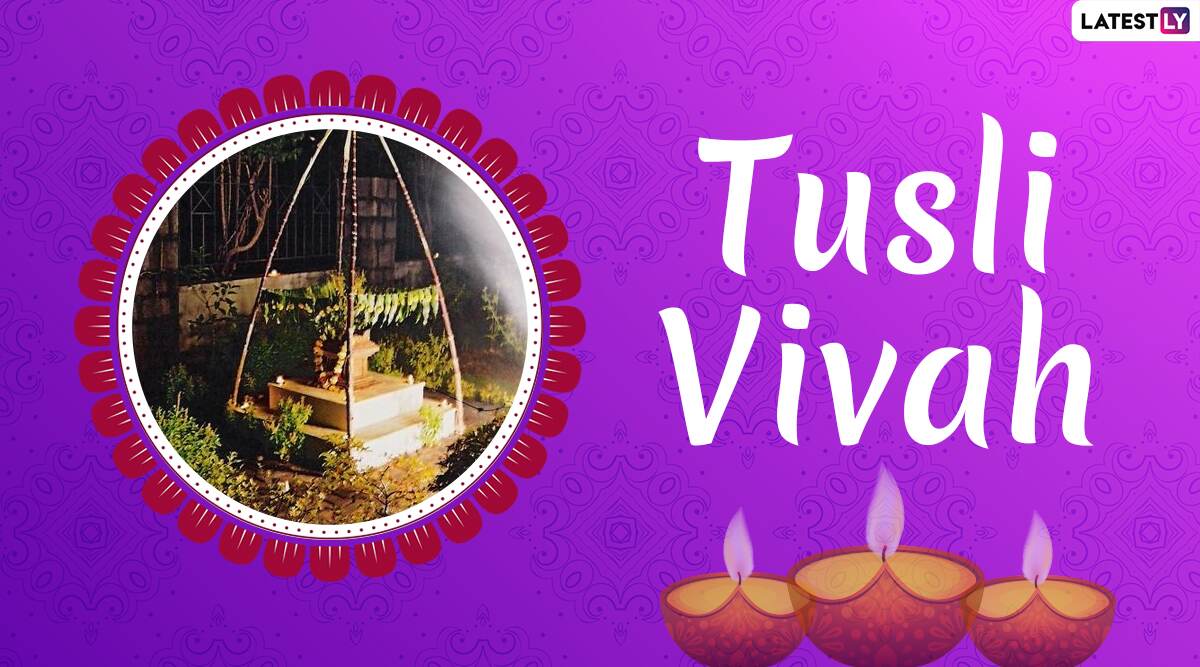 Tulsi Vivah WhatsApp Message Reads: Har Ghar Ke Angan Me Tulsi, Tulsi Badi Mahan Hai, Jis Ghar Main Ye Tulsi Rehti, Wo Ghar Swarg Saman Hai, Happy Dev Uthan (Tulsi Vivah) aur Ekadashi Ki Dhero Subhkamnayein!
Tulsi Vivah is performed on the day when Lord Vishnu wakes up from his four-month-long sleep. It is believed the day is auspicious to conduct ceremonies and events. The Hindu wedding season also starts on this day. Devotees wake up early in the morning and observe fast on an entire day. They meditate and chant hymns to Lord Vishnu. A special sweet dish called Singhara is prepared on this day.