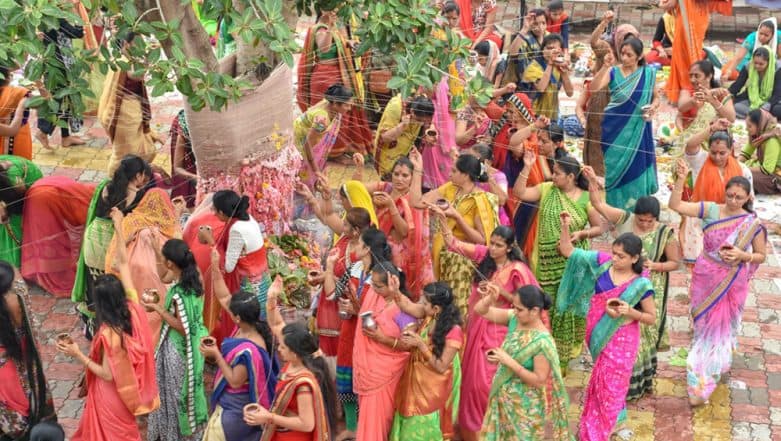 For the married women in the country, June 16 is a very important day, as it marks the Vat Purnima Vrat. A few days ago, women in the Northern part of the country celebrated the Vat Savitri Vrat. The Vat Purnima Vrat is similar to Vat Savitri Vrat which is observed by women for the well-being and long life of their husbands. Women in the central parts of India will mark the Vat Purnima Vrat on this Sunday, June 16. This day is also called as Jyeshtha Purnima Vrat. The dates of Vat Purnima and Vat Savitri are different because different lunar calendars are followed in different parts. Vat Savitri Images & Savitri Vrat HD Wallpapers for Free Download Online: Wish Happy Vat Purnima 2019 With GIF Greetings & WhatsApp Sticker Messages.
The Northern states follow the Purnimanta calendar while the rest of states have the Amanta calendar. So according to Amanta calendar, Vat Purnima Vrat will be marked this weekend. The Vat Savitri Vrat, which is also called as Vat Purnima Vrat, is observed during Jyeshtha Purnima. Married women in Maharashtra, Gujarat and southern Indian states will observe this fasting. Women keep a day-long fast for their husbands and tie a sacred thread around the Banyan tree, hoping for the same husband in their next lives.
History and Significance of Vat Purnima Vrat
The legend behind this Vrat dates back to the age of Mahabharata. Savitri daughter of King Asvapati is very beautiful but her intimidating presence leaves no guy for her to marry. The king then tells her to find a man on her own. Savitri sets out on a pilgrimage to find a man for marriage and comes across Satyavan, the son of a blind king named Dyumatsena. When she returns to her father, Sage Narada tells that he is a bad choice. Although Satyavan is perfect, he is destined to die exactly a year later. But Savitri chooses to marry him.
As Satyavan is on his deathbed, Savitri takes a vow to fast and vigil under a Banyan tree. But he passes away resting on her lap. When Lord Yama (God of Death) comes to take away Satyavan's soul, Savitri follows him. She praises him and gets a boon from him. Savitri asks back for her husband's life and Yama grants her, her husband.
So, women follow a Vat Savitri or Vat Purnima Vrat to pray for the long life of their husbands. Women thus pray to Savitri and tie a sacred thread to the bark of the Banyan tree. They observe fast and offer special prayers. Some women keep a fast for three days just like Savitri did. Each woman winds the white thread around a banyan tree seven times as a reminder of their husbands.