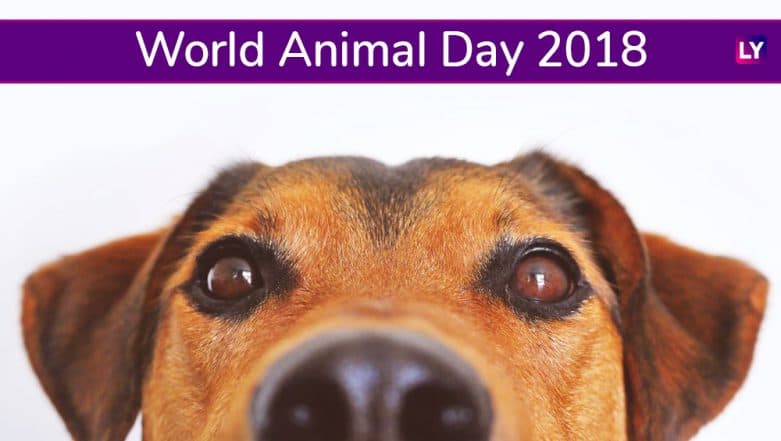 October 4 every year is celebrated as World Animal Day. The day is celebrated to mark actions for animal rights and welfare. The date of October 2 also marks the feast day of Saint Francis of Assisi, who was a patron of ecology and animals. The very first celebrations of the day began in the year 1925 but in the month of March. From the year 1929, it was October 4. The first celebrations were held by Heinrich Zimmermann a German writer. Around 5,000 people had attended the inaugural.
The aim of celebrating this day is to raise the status of animals and improve their welfare standards around the globe. It also brings together several animal welfare movements for creating a global force, with a promise to make it a better world for the animals. Every country celebrates it differently and strives to create awareness about animal rights and that they deserve equal regard in terms of welfare. There is also an awareness created about the endangered species in the world.
Check how people on Twitter wished for World Animal Day
Animals make our lives better
🐨🐼🐔🐧🐤🐸🐢🐬🐟🐙🐜🐝 IT'S WORLD ANIMAL DAY! Here at RSPCA NSW we believe in animals because they make our lives better & remind us what it is like to live humanely. This #WorldAnimalDay we want to celebrate animals of all shapes & sizes 🐵🐶🐱🐯🐴🐮🐷🐘🐭🐰🐞 pic.twitter.com/8ksOjnahci

— RSPCA NSW (@RSPCANSW) October 4, 2018
The history of World Animal Day
Heinrich Zimmermann organized the 1st #WorldAnimalDay on 24 March 1925. The mission of @worldanimalday is to raise the status of animals in order to improve welfare standards around the globe. #ThisDayInHistory #AnimalDay pic.twitter.com/aOw2PZ1ueV

— HISTORY TV18 (@HISTORYTV18) October 4, 2018
Animals need equal humanity
'Humanity means being kind to all living beings.'#WorldAnimalDay pic.twitter.com/52etyq5Lz6

— Smile Foundation (@smilefoundation) October 4, 2018
Cute doggo has a wish too
Happy #WorldAnimalDay from one of our good doggos PD Tank! Shout out to all the animals who work side by side with our police officers every day. 🐶🐴🐱👮‍♀️👮‍♂️ pic.twitter.com/o68MoOfaxH

— South Australia Police (@SAPoliceNews) October 4, 2018
Putin has a message too
happy #WorldAnimalDay #WorldAnimalDay2018 #Putin pic.twitter.com/Un7ecC4FFl

— アダム・ヴィルゴ (@adamvirgo) October 4, 2018
Animal advocates around the world organise movements and create awareness. Some organise camps and volunteer for adoption drives. We humans need to create a compassionate environment to help our fellow beings on Earth. Animal Day need not be just for the pets and domestic animals but those in the wild need equal attention, rather more. World Animal Day is thus an important day for not just animal lovers but every other human being.