Zero Discrimination Day is observed on March 1 and it aims to address the issue of discrimination faced by people across the world. The day further intend to achieve equality before law throughout all member countries of the UN. The theme for Zero Discrimination Day 2019 is 'Act to change laws that Discriminate'. This Zero Discrimination Day campaign encourages people to ask themselves "What if …" and to think about their own actions. For example: 'What if your neighbour had tuberculosis? Would you stop to chat?' You can support the day and its causes by tweeting, using the hashtag #zerodiscrimination. TISS to Start a Gender-Neutral Hostel in Order to Promote Inclusion and Diversity.
Zero Discrimination Day was launched by UNAIDS Executive Director Michel Sidibé on February 27, 2014, with a major event in Beijing. It was celebrated for the first time on March 1 the same year. The day points at countries that treat certain sections of people differently, excluding them from different services by implying various restrictions on them. The discrimination could be based on their sexual preference, a disability, health issue or disease. The days aims to tell people that nobody should be differentiated based on their HIV status, age, sex, gender identity, race, ethnicity, language, geographical location or migrant status.
Stop Discrimination!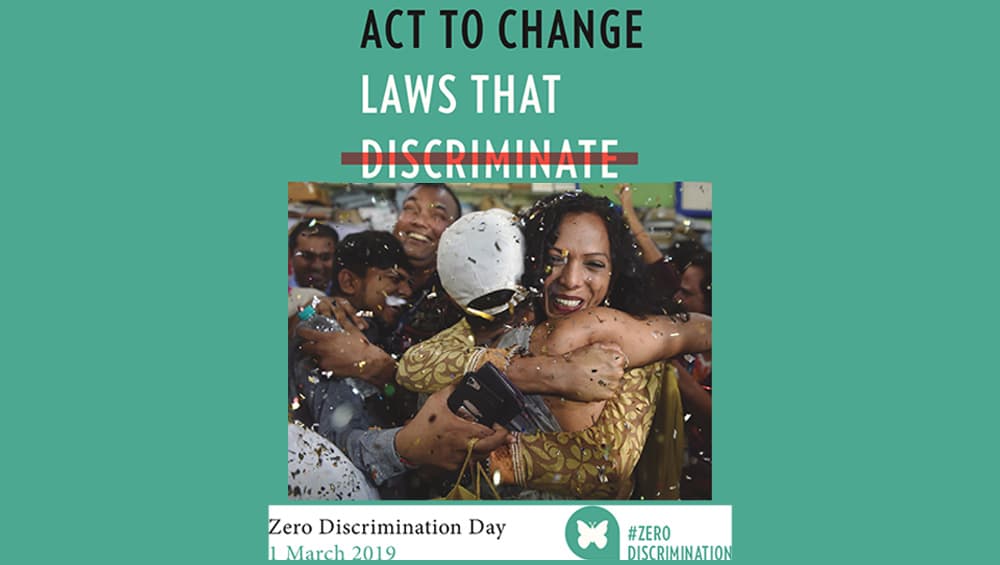 States have a moral and legal obligation to remove discriminatory laws and to enact laws that protect people from discrimination under the Universal Declaration of Human Rights, human rights treaties, the 2030 Agenda for Sustainable Development and other international obligations. The day is vastly observed by organisations like UNAIDS which speaks against discrimination against towards those living with HIV/AIDS. Dr Ivan F. Camanor, Chairman of the National AIDS Commission of Liberia said, "HIV related stigma and discrimination is pervasive and exists in almost every part of the world including our Liberia." In 2017, the UNDP also paid tribute to LGBTI people with HIV/AIDS who face discrimination.
Check out UNAIDS Executive Director Michel Sidibé's message on Zero Discrimination Day 2019:
In February 2017, UNAIDS called on people to 'make some noise around zero discrimination, to speak up and prevent discrimination from standing in the way of achieving ambitions, goals and dreams.' UNAIDS states that while one in five people living with AIDS avoids getting treatment due to the fear and stigma associated with their HIV status. Zero Discrimination Day tries to show how one can help bring awareness on such issues and take a stand towards fair society. It proposes specific actions which individuals, civil society organizations, parliamentarians and donor organizations can take to change discriminatory laws. It can be by helping someone affected by a discriminatory law to join an organization for the cause or call for reviews of legislation.
(The above story first appeared on LatestLY on Feb 28, 2019 04:33 PM IST. For more news and updates on politics, world, sports, entertainment and lifestyle, log on to our website latestly.com).