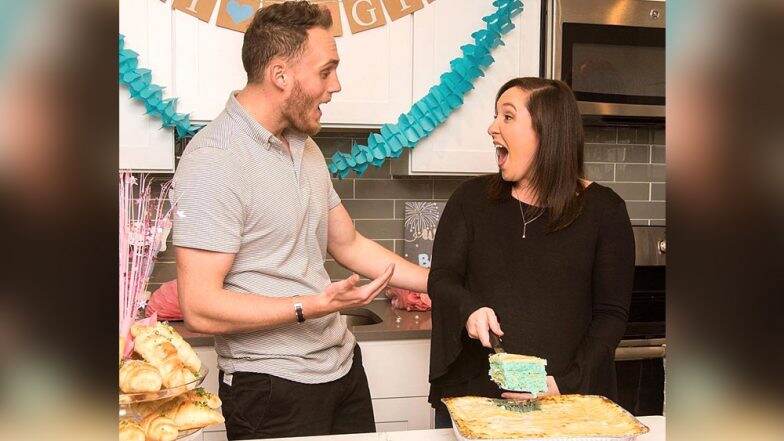 Gender reveal parties in recent times has taken over the internet. Many of you must have speculated that the idea would fade away. But it is not and instead getting weirder with each passing day. A New Jersey-based restaurant chain Villa Italian Kitchen has introduced to the world—the gender-reveal lasagne. The restaurant has taken the idea of announcing your unborn child's gender to another level. By cutting open a lasagna, parents can reveal the gender by the colour of the ricotta and mozzarella cheese filling inside, which will either be pink or blue. It also comes with garlic rolls and salad for the expecting mothers and their friends. While it's different than balloons and cakes, the lasagna gender reveal doesn't redeem itself from the sexist trend that promotes blue-pink gender stereotypes. This Video on Gender Dysphoria Featuring India's First Transsexual Model Nikkiey Chawla Is a Must Watch. 
In a news release, the company said, "Available now, the Gender Reveal Lasagna Catering Package features one cheese lasagna with a secret pink or blue interior, a tray of Villa Italian Kitchen's famed garlic rolls and a choice of either a garden, Caesar or Greek salad for just $139.99." Apparently, the colour connotation or Pink and Blue branding was not enough, and now it needed a savoury way to unveil your child's sex. This Pakistani Spice Mix Ad Breaks Gender Stereotypes in The Most Heartwarming Way. 
Why is gender-reveal lasagna as ridiculous as any other pink & blue branding?
Like we said, gender reveal parties are not new. Parents-to-be have popped balloons, cut into cakes while sharing, "It's a boy!" or "It's a girl!" news. But the idea is not helping at all. First of all, why we need to build suspense with a pink or blue stuffing inside to announce the baby's gender? Why are these colours associated with gender at all? Secondly and most significantly, your child might surprise you in the future by choosing the gender as they identify themselves and not what you or your doctor assigned to them. Let your child dictate what their gender means.
Finally, the dish's cheese—dyed pink or blue in the lasagne looks more like cake frosting than cheese.
This saucy twist did not really impress the Twitter users.
Ahh yes my biological gender: blue cheese

— Eli Ricke (@wild_liberal) January 23, 2019
done w this world, just let me die and bury me inside a

gender

reveal

lasagna pic.twitter.com/nB7ngKQrMR

— Rachel Sanders (@rachelysanders) January 22, 2019
I just got an email line with the subject "Gender Reveal Lasagna?!"

Go home, 2019. You're drunk.

— Maggie Gordon (@MagEGordon) January 22, 2019
The lasagne-makers on the other hand, are extremely happy about their absurd recipe and do not really care what it means for the trajectory of our society. After sharing the photographs on their Instagram page, the restaurant chain reported that website crashed for a while. However, to your utter dismay, the site has been restored, and the company reported to receive many orders for their infamous gender-reveal lasagne.