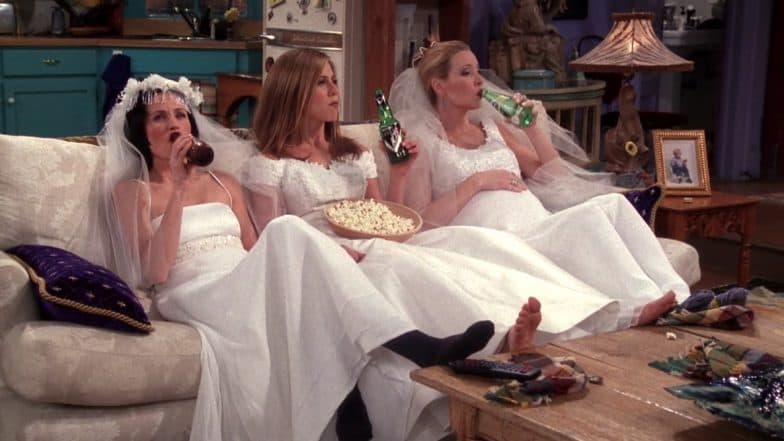 It has been 25 years since the first time our favourite show Friends was aired on NBC. We cannot thank the creators David Crane and Marta Kauffman enough for giving us such a fantastic sitcom that we can never get bored of. The 90s hit had a successful ten years of running and continues to impress a whole new generation that loves watching the show. Be it Chandler's sarcasm or Joey's love for food, Ross' multiple divorces or Rachel's love life, Phoebe's weird songs or Monica's OCDs,  our favourite show has enriched our lives with laughs. Comedy aside, Friends has also never shied away from emotionally engaging the audience. Especially the way the American sitcom handled pregnancy for Rachel, Monica and Phoebe is awesomely empowering. On the show's 25th anniversary special, let us recall their lessons in motherhood and why they were ahead of their time. Google's Easter Eggs for Friends' 25th Anniversary Celebration are Easy to Find! Here's How you Can Spot Them. 
When Phoebe Agrees to be a Surrogate for Her Brother
Remember "The One with the Embryos," episode? The 12th episode of Friends fourth season is where Phoebe (Lisa Kudrow) agreed to become a surrogate mother for her brother Frank Jr (Giovanni Ribisi) and his older wife Alice Knight (Debra Jo Rupp). It was a significant move for her and the audience of the show.
Our school textbook might have just explained the technical definition of surrogacy, but Friends made it so much more real. We lived through Phoebe's ups and downs, her madness and her mixed emotions about giving the triplets away. But it all ended so beautifully, and she remained the kids' cool Aunt Phoebe!
Rachel Decides to Have a Child Out of Wedlock
"The One after the I Do," the first episode of Friends eighth season, when Rachel (Jennifer Aniston) discovered that she is pregnant. Do you remember the girls cheering for her? But all her friends were still figuring out who the father was, until the mystery of the red sweater's owner was solved.
Each detail of the storyline was beautifully portrayed. Rachel was at the peak of her career when she decided to have the baby out of the wedlock. Ross (David Schwimmer) and Rachel having a child showed us the realities of challenging social norms. It taught us that it's ok to not have things figured out, but it is alright to take that risk. We also rooted for Rachel as she dealt with the challenges of being a new parent.
Monica Found Out She Had a "Hostile Uterus"
Monica (Courteney Cox) and Chandler (Matthew Perry) continued to try and conceive but somehow it just did not happen. On the 21st episode of Season 9, "The One with the Fertility Test." Due to the low motility of Chandler's sperm and Monica's inhospitable environment (uterus), the two were unlikely to conceive kids naturally.
They discussed everything from sperm donation to surrogacy, but settled to adopt. The entire journey of the two is emotional, despite the many laughs on the way. One of the most poignant moments is where Chandler asked the birth mother (Anna Faris) to give him a chance to become a good father, because Monica was already a mother—just without a baby. It couldn't be explained any better.
Despite being a perfect couple, the two had to deal with infertility, a topic which even people in 2019 hesitate to talk about. Friends Stars Lisa Kudrow, Courteney Cox, David Schwimmer and Matt LeBlanc Thank Fans While Celebrating the Show's 25th Anniversary. 
Most shows are afraid to introduce topics like pregnancy into the storyline because, at times, it can affect their popularity. But Friends took the opposite approach. The show dealt with sensitive topics such as motherhood, and in so doing, gave us all life lessons in motherhood.  It had three female lead characters, and each had a story. It is not easy to convey the emotions of infertility, surrogacy, and being a single parent. Friends did an amazing job doing justice to such socially-relevant, emotional topics, all the while giving so much for the audience to laugh about.