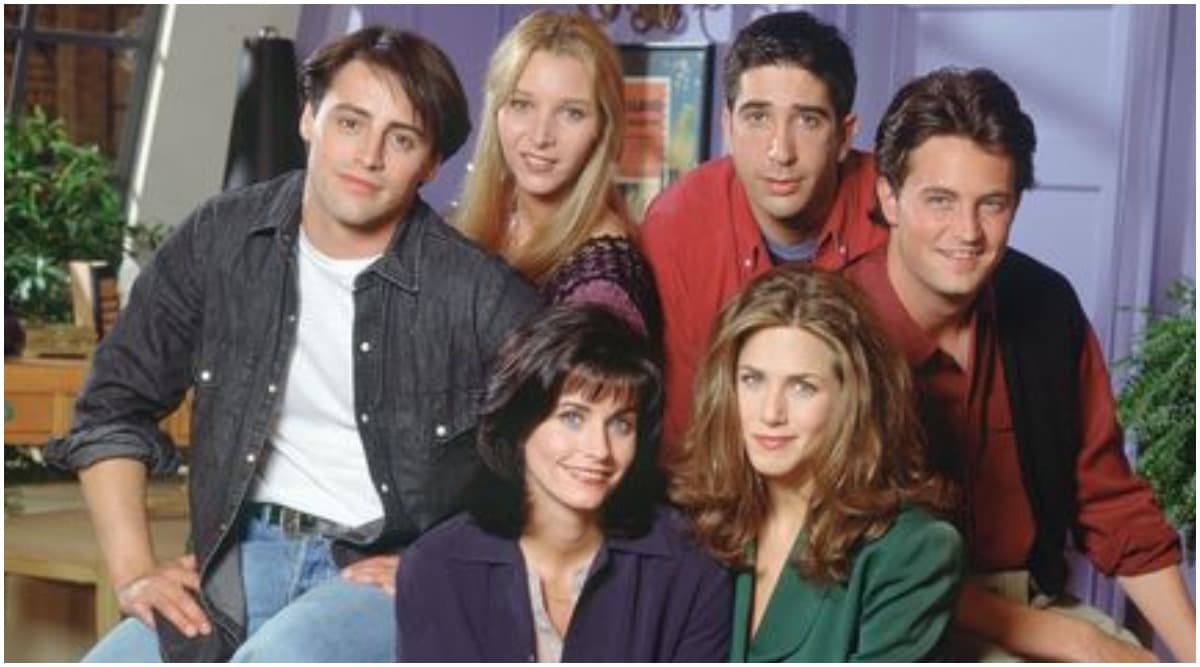 The iconic series of the 90s, Friends celebrates its 25th anniversary in a couple of days and fans have all the good reasons to binge-watch it on Netflix. While the show's stars. Lisa Kudrow, Matt LeBlanc, Courteney Cox and David Schwimmer are already taking a trip down the memory lane, Google too has decided to pay a tribute in its own way. The Search Engine giant has planned its anniversary celebration with seven special Easter eggs for fans to find.
No, please don't get worked up on how to spot these essential Easter Eggs as they are damn easy to spot. All you need to do is type the character's name from Friends on Google and click on its information panel for a reference to one of the funniest moments of the show. Still confused? Let's elaborate. Courteney Cox Celebrates her Birthday with Jennifer Aniston and Lisa Kudrow and Their Friends Reunion is Giving us Happy Tears - View Pic.
Ross Geller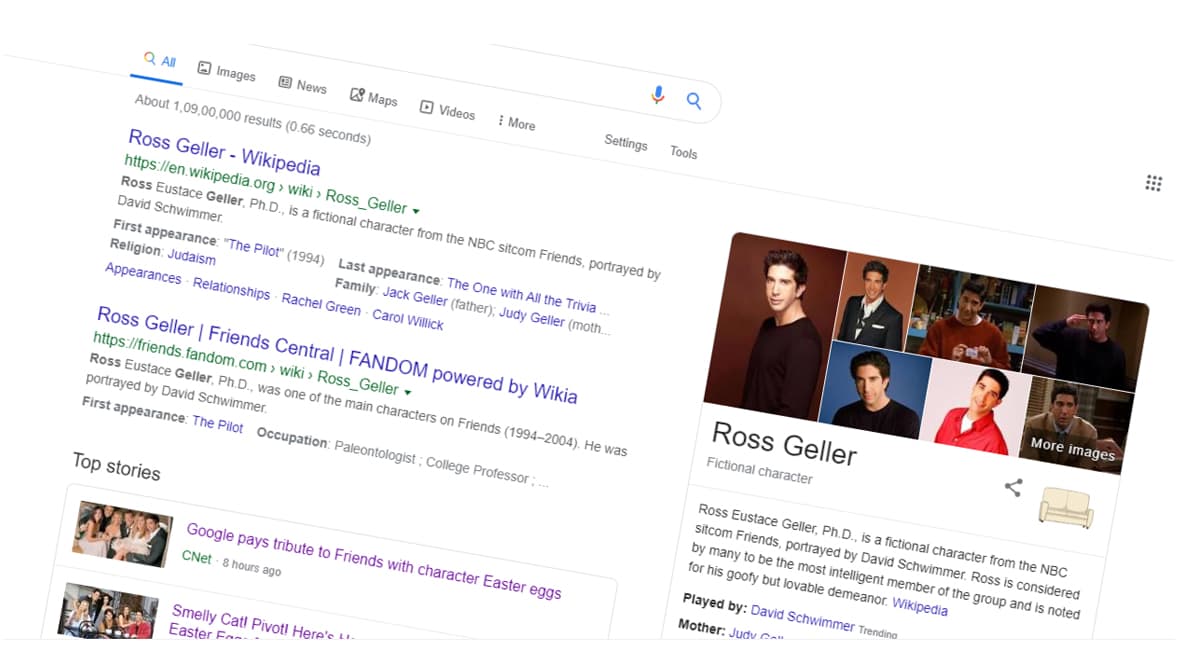 If you type Ross Geller on Google, you can see a beige couch in the corner of his information panel. Click on it and you can hear 'Pivot' in Geller's voice. Oh, that's not the ned, the screen will even tilt to give you the right feeling (if you know what we mean).
Monica Geller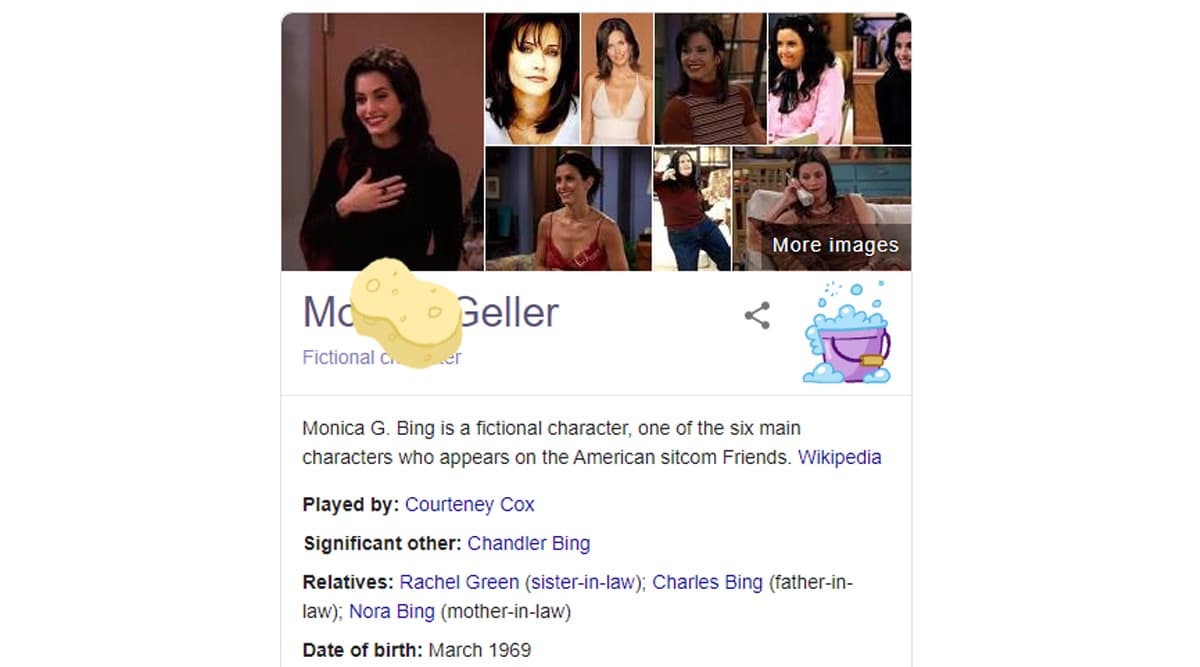 Being the cleanliness freak that she was inside the show, her Easter Egg revolves around the same fascination. A simple click on the bucket on her panel reveals a sponge that proceeds to wipe down your page.
Joey Tribbiani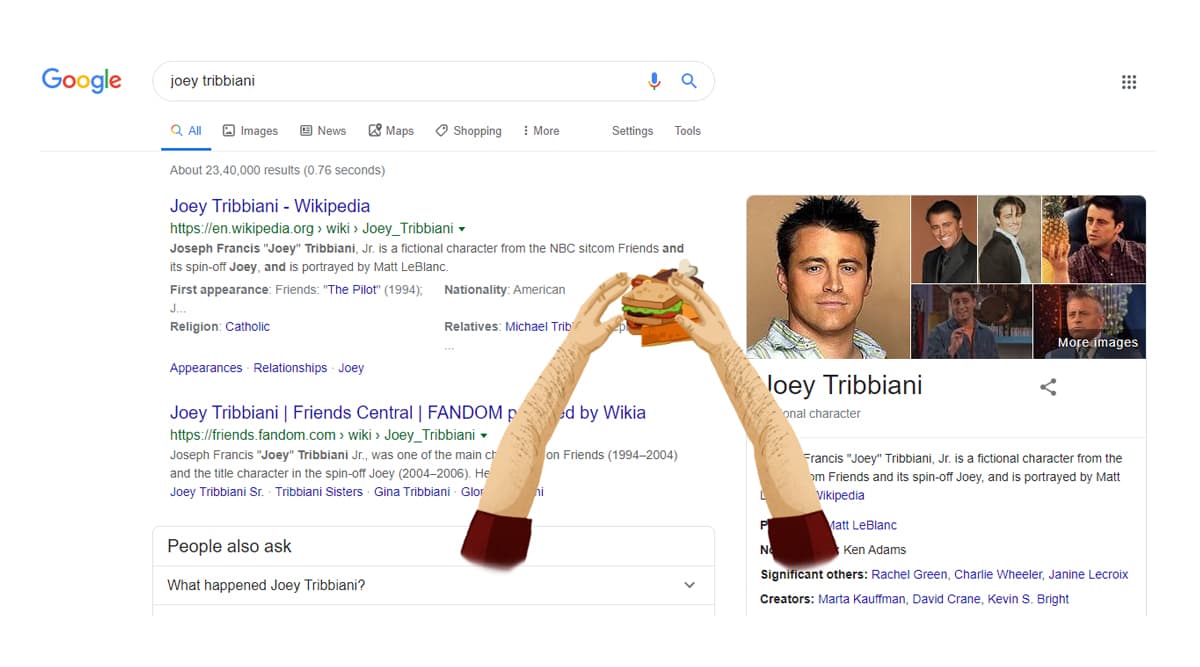 Joey doesn't share his food, right? Well, you can thank Google for reminding you of that. A click on the pizza reveals a pair of arms reaching out to grab different food items along with his iconic line 'Joey doesn't share food.'
Chandler Bing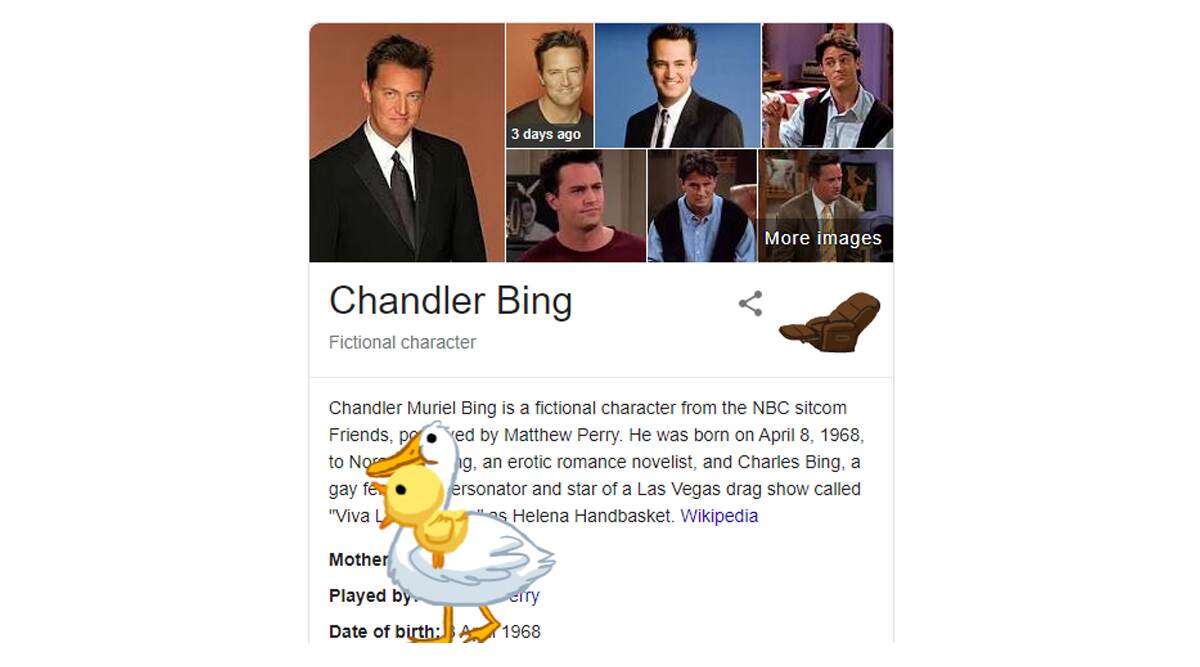 Chandler loved his recliner and Google decided to honour the same fondness. A click on his iconic chair will introduce you to Yasmine and Dick, the chick and duck from Chandler and Joey's apartment.
Phoebe Buffay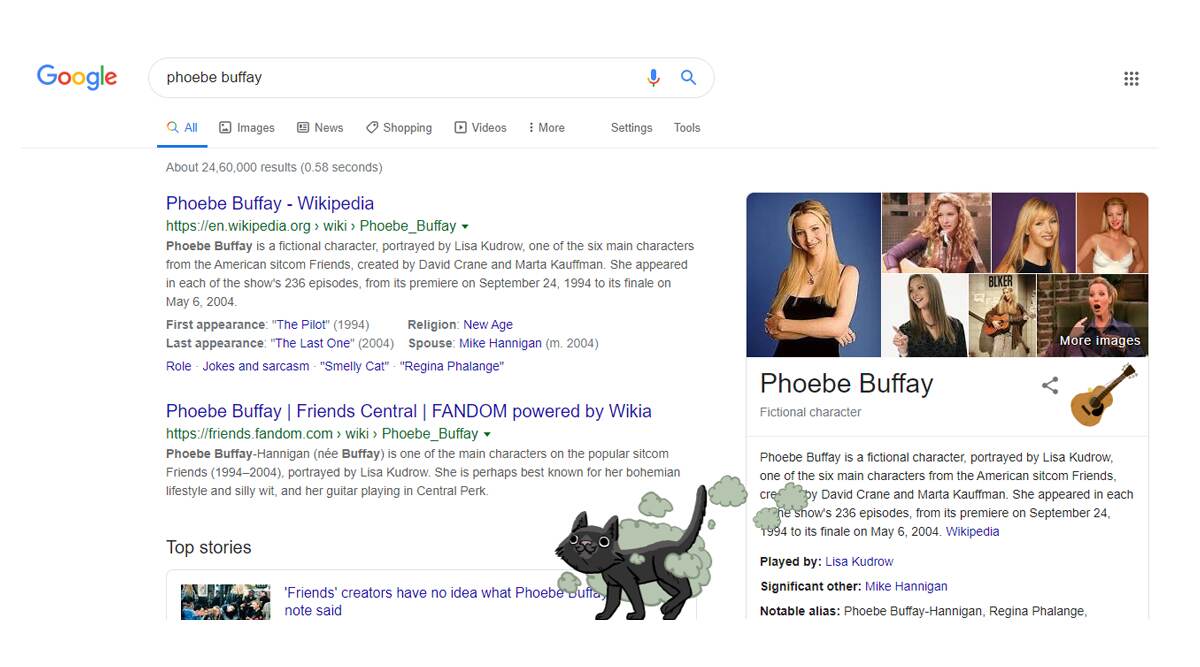 Phoebe's name is synonymous with her 'smelly cat' song and what better way to reminisce her than hear the same song. A click on her guitar icon will make a black cat appear on your screen and you can hear the iconic song playing in the background.
Rachel Green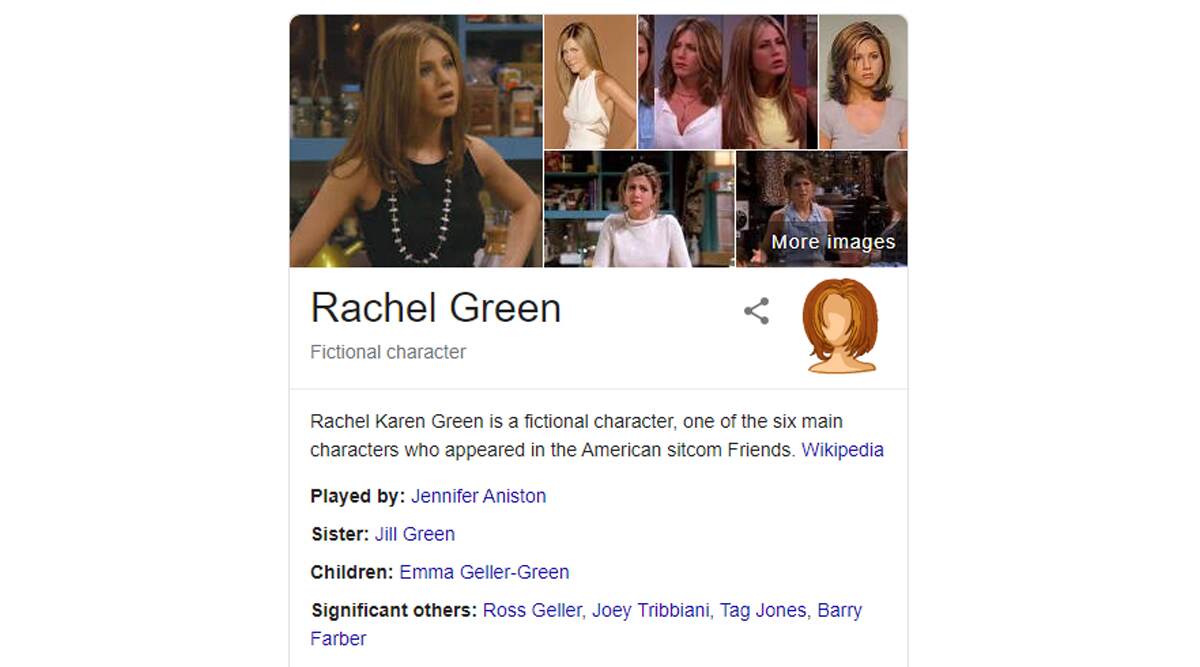 Rachel's hairstyle was a huge rage back then and girls wanted to ape her style. When you click the wig's icon, you will be taken to a page that has a collection of her pictures in the same look. A visual delight truly!
Friends Glossary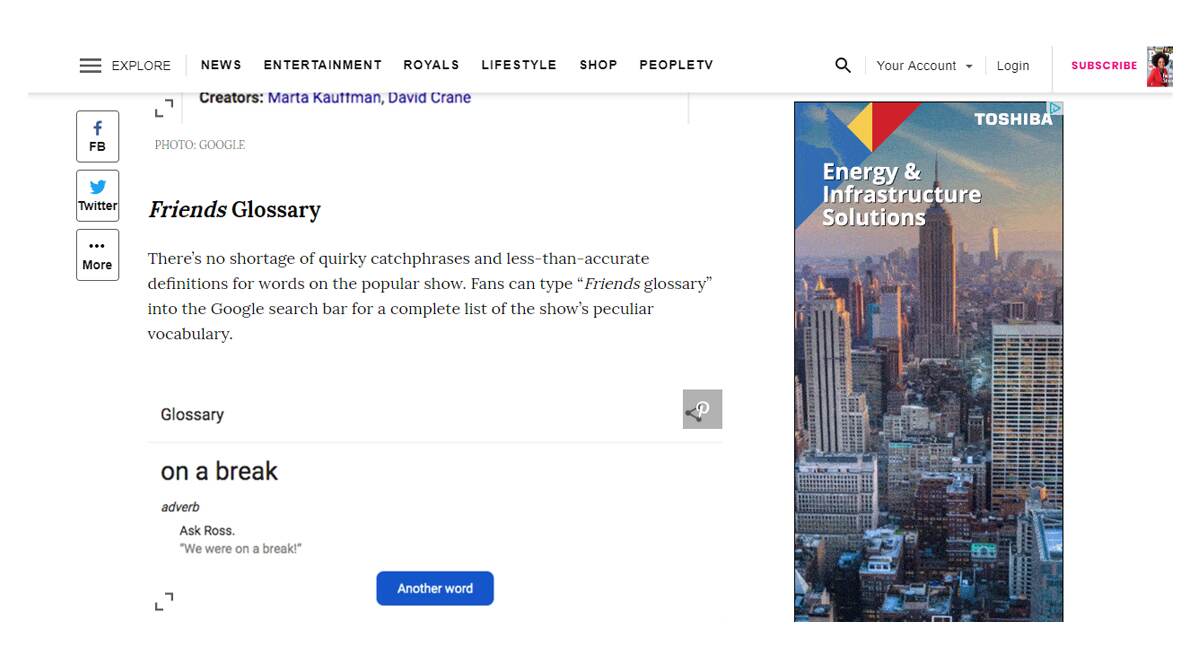 Want to find all the catchphrases and words that were made popular on the show? You can type Friends Glossary to get a list of the same.
The first episode of Friends aired on September 22, 1994, and since then we are busy enjoying their camaraderie and so many hilarious moments. As Matt LeBlanc said, 'It just feels like yesterday.'