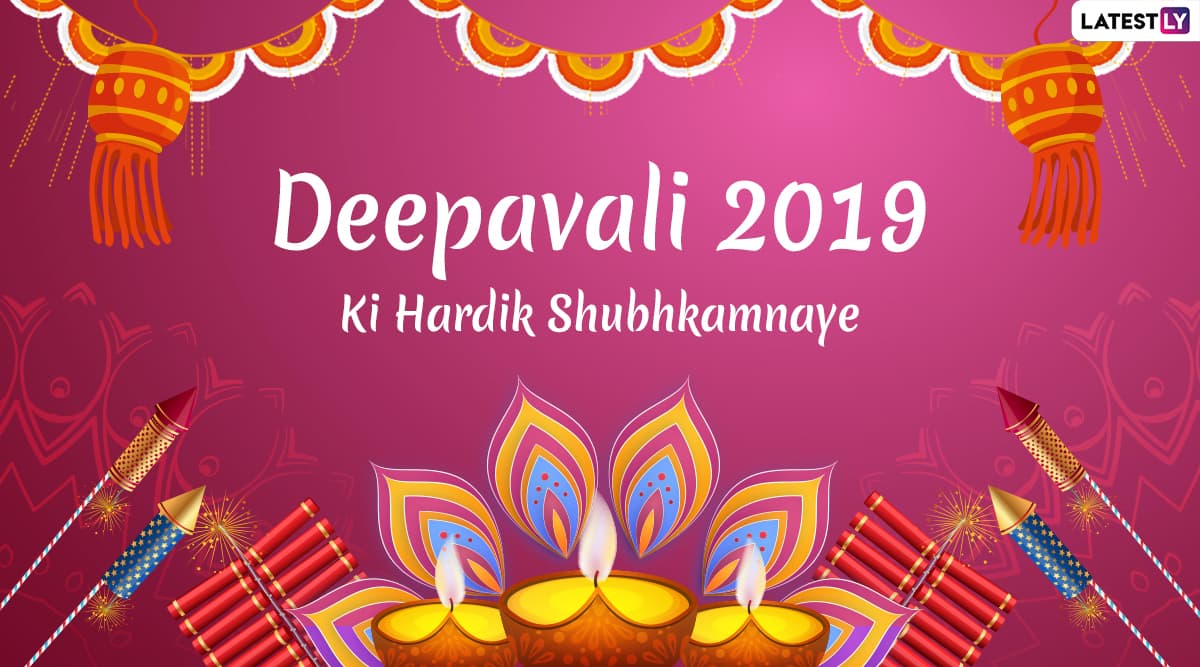 Diwali 2019 will be celebrated on October 27 and if you are searching for wishes, images, greetings and messages, you will find it all below. Diwali also is known as Deepavali is one of the most prominent Hindu festivals that witnesses a grandeur celebration across the country. People love to greet during the festival, making the demand for photos and text messages go up. Search engines like Google, Yahoo and even video streaming platforms such as YouTube are flooded with requests for Happy Diwali greetings, Shubh Deepavali WhatsApp messages, new Diwali photos, Lakshmi-Ganesh HD wallpapers, Laxmi Pooja photos and so much more. This is why we bring you a collection proving you Diwali 2019 messages in Hindi, Shubh Deepavali 2019 greetings, Diwali WhatsApp Stickers, Deepavali Hike GIF messages, and more, all available for free download. Happy Diwali 2019 Greetings & HD Images: WhatsApp Stickers, Deepavali GIF Videos, Hike Messages, Lakshmi-Ganesh Photos, Facebook Wishes, SMS & Quotes to Celebrate Badi Diwali.
Diwali, the biggest festival in Hinduism is celebrated by Hindus, Jains, Sikhs and some Buddhists as well. This festival falls on the Amavasya or new moon day in the Hindu month Kartik and is often referred to as the festival of light. In the days leading to Diwali, people often indulge in deep cleaning their homes, preparing special home-made Diwali snacks and sweets and some indulgent shopping to put on their most festive avatar on this grand festival. Diwali celebration in most of India revolves around the return of Lord Rama to Ayodhya after killing Ravana and rescuing Goddess Sita. Diwali 2019 HD Images to Send Greetings in Advance: Best WhatsApp Stickers, Hike Messages, Deepavali GIF Photos and Wallpapers For Free Download to Send Wishes Online.
Let us quickly get hold of some beautiful and sparkling Diwali greetings 2019. As informed earlier, the collection includes everything from Diwali messages to Deepavali photos, Lakshmi-Ganesh wishes to Happy Diwali wallpapers and more. In addition to these, here's a link to download Happy Diwali 2019 WhatsApp Stickers from the Play Store app.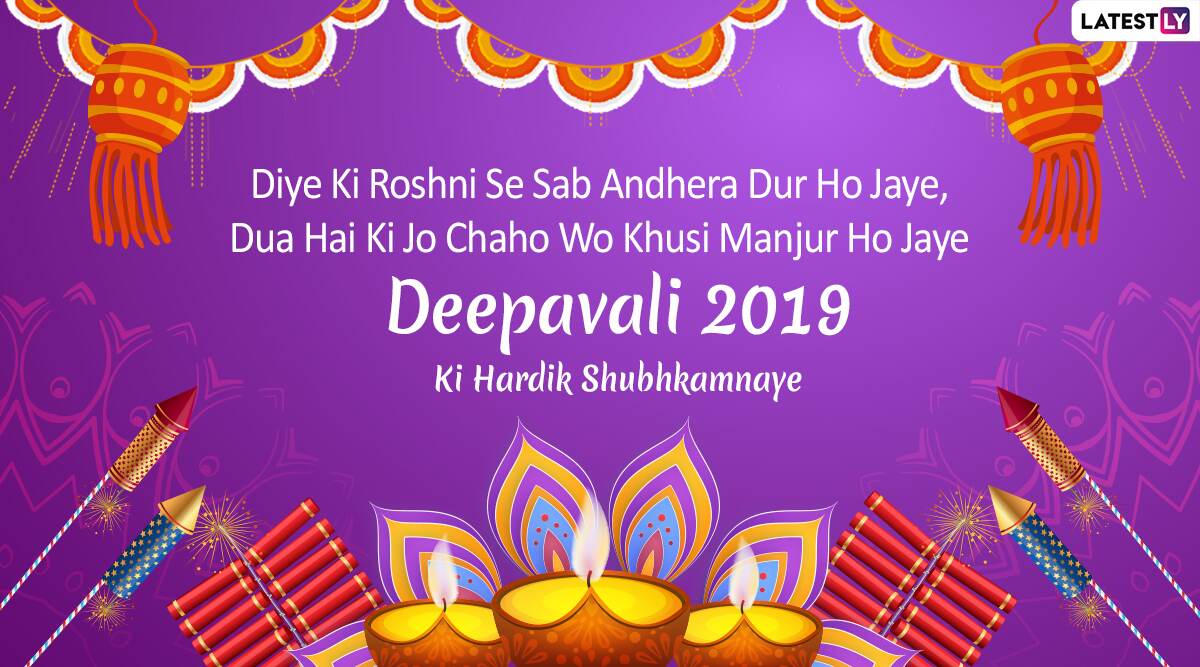 WhatsApp Message Reads: Diye Ki Roshni Se Sab Andhera Dur Ho Jaye, Dua Hai Ki Jo Chaho Wo Khusi Manjur Ho Jaye! Deepavali 2019 Ki Hardik Shubhkamnaye!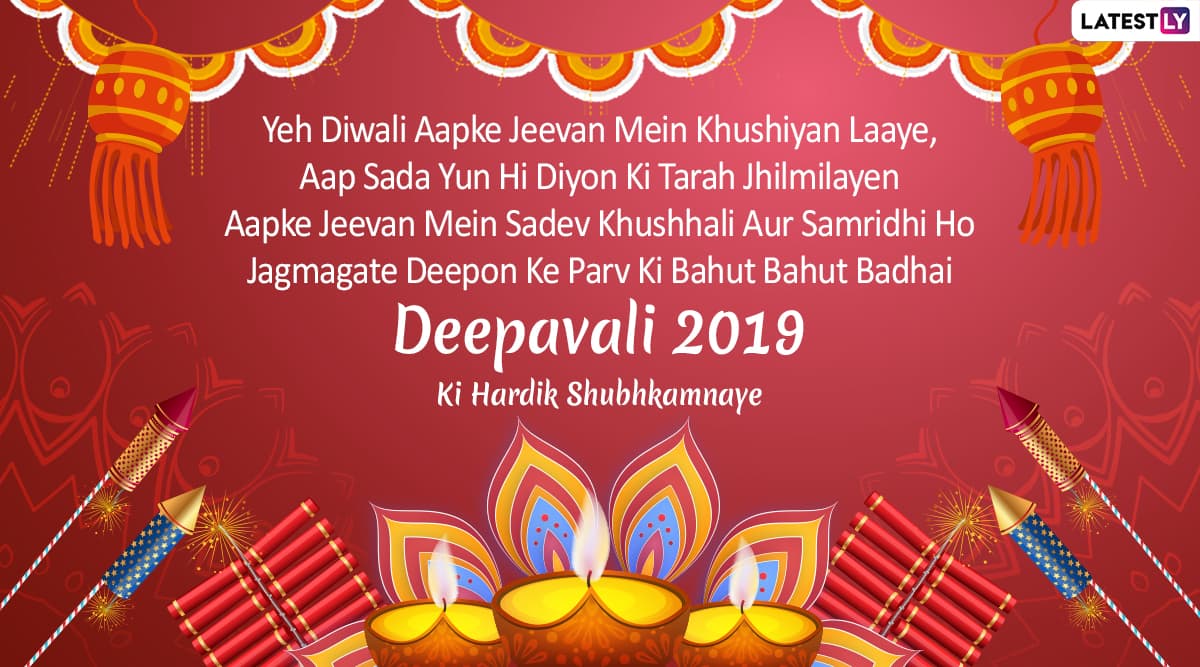 WhatsApp Message Reads: Yeh Diwali Aapke Jeevan Mein Khushiyan Laaye, Aap Sada Yun Hi Diyon Ki Tarah Jhilmilayen, Aapke Jeevan Mein Sadev Khushhali Aur Samridhi Ho, Jagmagate Deepon Ke Parv Ki Bahut Bahut Badhai, Deepavali 2019 Ki Hardik Shubhkamnaye.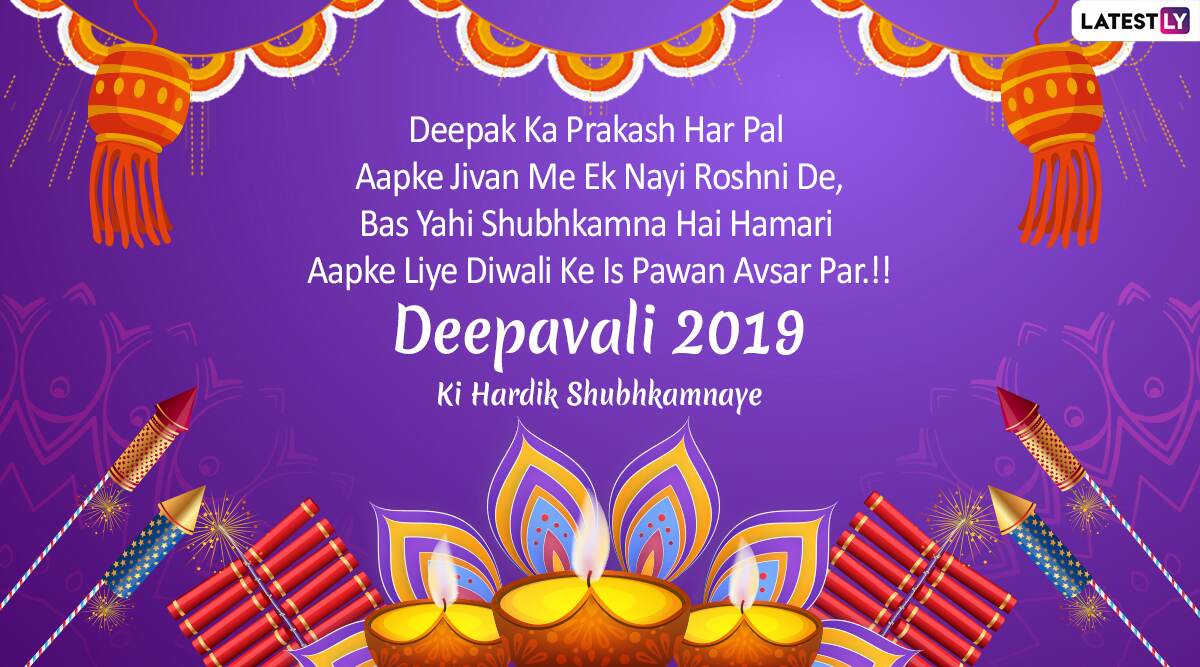 WhatsApp Message Reads: Deepak Ka Prakash Har Pal, Aapke Jivan Me Ek Nayi Roshni De, Bas Yahi Shubhkamna Hai Hamari, Aapke Liye Diwali Ke Is Pawan Avsar Par.!! Deepavali 2019 Ki Hardik Shubhkamnaye.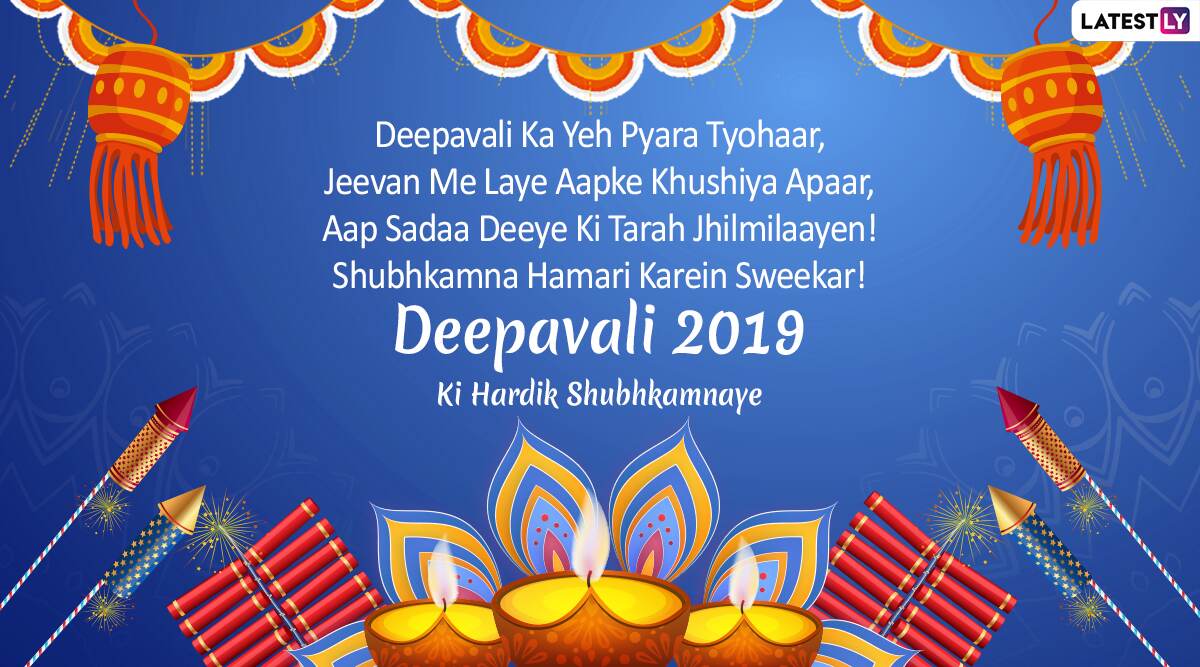 WhatsApp Message Reads: Deepavali Ka Yeh Pyara Tyohaar, Jeevan Me Laye Aapke Khushiya Apaar, Aap Sadaa Deeye Ki Tarah Jhilmilaayen! Shubhkamna Hamari Karein Sweekar! Deepavali 2019 Ki Hardik Shubhkamnaye.
Diwali celebrations include everything from dressing up in new clothes and enjoying some much-needed family bonding time, indulging in some festive Diwali gifting and of course the infamous Diwali Parties. As we prepare to celebrate this festival of lights in all its glory, we are happy to present you with a few Happy Diwali Wishes and Messages in Hindi, Diwali 2019 WhatsApp Stickers and Shubh Diwali Facebook Status Pictures to share with your friends and family. We wish all of you a very Happy Diwali 2019.