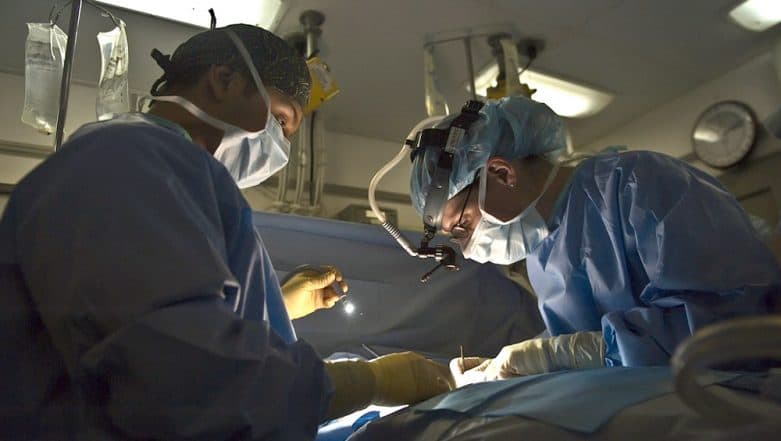 A 25 kg tumour was removed from the ovary of a woman in Russia. Doctors found huge tumour growing in her abdomen after she experienced severe pain and difficulty in breathing. The operation was conducted by Dmitry Aryutin led by a team of surgeons who helped in removing the growth from the 59-year-old's body. A picture clicked inside the operation theatre shows a surgeon throwing a big growth into a bin.
Aryutin takes it in his arms and puts it in the trash. The ball of tumour which was the size of a beach ball weighed around 25kg. Ovarian tumours often grow huge in size and are difficult to pin down. In some cases, patients may only realise when the growth becomes large enough to press on their bladder or kidneys. According to the Department of Gynecologic Oncology at the University of Colorado, "In some women, the tumour is so undetectable that it eventually grows large enough to cause pelvic or abdominal discomfort by encroaching on nearby organs." Indian Man With 'World's Largest Brain Tumour' Let It Grow Because He Was Scared of Surgery: How to Check If Your Tumour Is Cancerous or Benign.
These tumours cause difficulty in urinating and pain in the abdomen and lower back. Staff at Moscow City Clinical Hospital who were part of the operation in a Facebook post said, "The case is not unique – our surgeons often come across similarly large tumours. The reason is often a delay in seeking medical help and the neglect of the patient's health. Such (tumours) press on the intestines, stomach and diaphragm, causing discomfort and pain, but patients believe that everything will go away by itself." In a video taken inside the operation theatre, Aryutin can be seen celebrating the victory of the surgery. Reportedly, the patient is recovering in the hospital.
Doctors have removed tumours which are bigger than this in the past. Last year medics in Connecticut removed an ovarian growth weighing a whopping 60kg from a 38-year-old patient. Last year, a 44-year-old Oman woman's leg was saved from getting amputated after doctors performed a rare surgery and removed a football-sized tumour at Apollo Cancer Institute in Chennai.