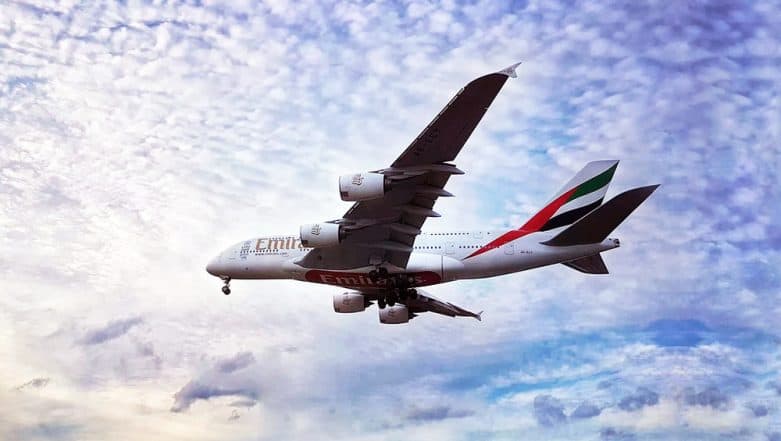 Abu Dhabi, February 27: In an announcement which is bound to leave dozens of tourists and expats stranded, the United Arab Emirates (UAE) has cancelled all flights to and from Pakistan in wake of the latter's escalating tensions with India. The flight operations will remain discontinued till the Pakistan airspace remains shut, said the statement issued by Dubai Airports.
The decision to suspend inbound and outbound Pakistan flights comes hours after the nation was locked in an aerial engagement with India at the Line of Control (LoC). New Delhi has charged the Pakistani Air Force of violating the Indian airspace, which prompted them to launch a retaliation striking down two of their planes. #SayNoToWar Trends on Twitter as Tensions Escalate Between India And Pakistan.
The tensions are bound to escalate as Pakistan claims to have taken into custody two Indian pilots, who went missing following the aerial engagement between the two neighbours.
Here's the Statement  Issued by Dubai Airports:
Dubai Airports confirms flights to and from Pakistan have been impacted until further notice due to the closure of Pakistani airspace. We are working closely with airlines, control authorities & air traffic controllers to minimise operational impact and customer inconvenience.1/2

— Dubai Airports (@DubaiAirports) February 27, 2019
Dubai Airports will continue to closely monitor the situation. Passengers on affected flights are advised to check with their respective airlines for updates. 2/2

— Dubai Airports (@DubaiAirports) February 27, 2019
Separately, the UAE's leading carrier Emirates Airlines also issued a statement announcing that it has suspended some of the flights to Pakistan and Afghanistan for the next two days, whereas, the schedule of others have been rejigged.
"Due to the closure of Pakistani and Afghanistan airspace, a number of Emirates flights to/from Pakistan and Afghanistan on 27 and 28 February have been cancelled. The latest flight schedules can be found on emirates.com. Affected passengers are requested to contact their booking agent or Emirates reservations to rebook their flights or make alternative travel arrangements," said the statement issued by the carrier.