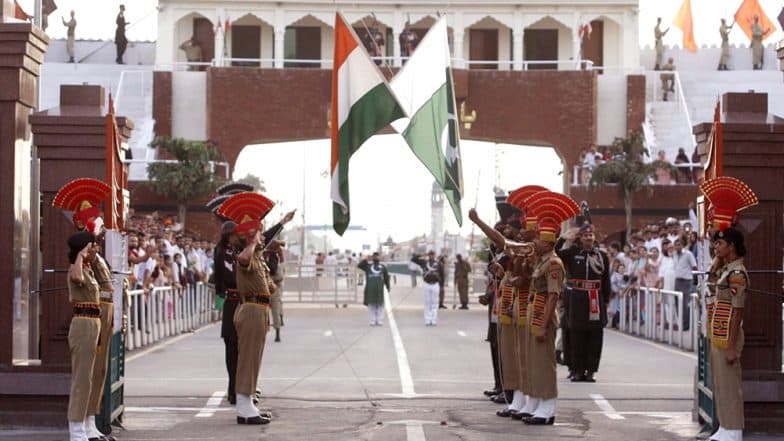 With rising tensions between India and Pakistan following the IAF strikes, people on Twitter are hoping for only peace between the two nations. #SayNoToWar is trending on Twitter with most users agreeing that war is definitely not a solution for what's happening within the two nations who have tagged as enemies for long in history. It started with Pulwama attacks carried out by Jaish-e-Mohammed which killed 40 CRPF Jawans on February 14. To take revenge of the same, the Indian Air Force struck back yesterday by destroying the terrorist camp in Balakot area of Pakistan. And as per today's reports, Pakistan's jets violated India's air space. The next update came in with two Indian pilots being in Pakistan's captivity. The tensions are clearly on a rise and a fear of a war like situation arising is felt among the civilians. IAF MiG-21 Bison Pilot Missing After India Lost Aircraft During Confrontation With Pakistan Air Force Jets That Tried to Violate Indian Air Space.
While the main discussions happen at political levels, it is definitely not a happy feeling to be involved in a war-like situation. To even think of the possibility of both the countries going on a full-fledged war is no less than a nightmare. Users from both the sides across the borders are thus hoping that these tensions deescalate through talk of peace. India, Russia, China Issue Joint Statement Against Terrorism During Tri-Lateral Summit at Zhejiang, Without Naming Pakistan.
Check Tweets on #SayNoToWar Of People Hoping For Peace Over War Between India and Pakistan
War Is Not to Be Celebrated
Don't celebrate war .#SayNoToWar

— Manaswini Satapathy (@satmanaswini) February 27, 2019
Can You Please Stop The Madness?
Stop the Madness Before it Get too Late ... #SayNoToWar #Peace

— Annum Xahra Naqvi (@Numzeeee) February 27, 2019
De-Escalate, The Actual Need of The Hour
De-escalate! De-escalate! De-escalate! #SayNoToWar

— Usman Qureshi (@You_A_Que) February 27, 2019
Spread Peace Instead of Fear
Wow!! Just look at the airspace shut down on the borders of India and Pakistan is giving me chills. It's scary and it's getting real every second. #SayNoToWar #India #Pakistan pic.twitter.com/6Y8JECmr2E

— Tanmay Chouhan (@TANinMAY) February 27, 2019
We Don't Need Red
Two nations have spilled enough blood to know the color is red but not blue or green. #saynotowar #india #pakistan

— akram syed (@akramsyed187) February 27, 2019
Let's Be Together in Peace Over War
We are together in #SayNoToWar pic.twitter.com/oMMNqB76lO

— Zain Butt (@ZainBut37766758) February 27, 2019
Starting a Little Effort
Yesterday, I started a hashtag #SayNoToWar and I so happy to know that is trending. I am thankful who took this little effort forward. We are together in this. #SayNoToWar

— Sagrika Kissu (@SagrikaKissu) February 27, 2019
A lot of users are expressing similar sentiments. Instead of spreading hate against two nations, it is necessary for such little efforts to come in, to make everyone realise that crying for war will only result in more and more tears than spreading smiles. The minute-by-minute updates are indeed scary for all the civilians. The unpredictability of what will happen next is definitely not pleasing and the best is to hope for peace.