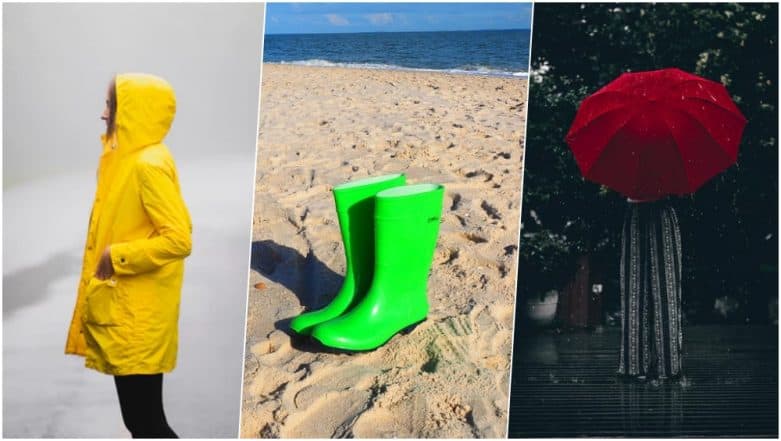 The monsoon season and arrived and that means it is time to start planning for a monsoon getaway. If you enjoy adventure then start enrolling for monsoon treks. Or you can also take a trip across the country, which turn into various hues of green from with the monsoon showers. But as exciting as it is to head out on monsoon trips, you also need to pack your stuff carefully. You are bound to get wet while you set out exploring. So this week, we give you some packing tips for a rainy holiday. Travel Tip of The Week: From Munnar to Ladakh, Some Places to Visit in Monsoon in India and How to Reach There.
What to Pack for a Rainy Holiday
A raincoat or a poncho is a must. Opt for jackets with a hood so you do not have to carry an extra cap. We will not suggest carrying an umbrella because one of your hands will remain occupied, and if it gets windy, an umbrella won't be of great help.

Pack clothes that dry quickly. Although cotton clothes feel comfortable, they are not the best option during rainy travel. Pack more of synthetics and polyester fabrics which not only dry quicker than cotton but also fold easily to keep in the bags. Travel Tip of The Week: Things to Remember While Going on a Monsoon Getaway.

While you pack your rainy wear and jackets, also carry a pair of warm clothes. The temperature may dip and you wouldn't want to freeze. So carry a warm jacket or a sweater. Pack along a pair of socks.

Invest in a good waterproof backpack. It's the one thing that will protect all your stuff. So get a good quality backpack with extra space because you will need it to keep your jackets too. Alternately, you can buy a rain cover for your bag.

Carry plastic bags. Always carry a good quality plastic bags with you but don't discard them wherever you go. Plastic bags are useful to keep your wet clothes. Carry ziplock bags to keep your medicines (if any), toiletries, electronics like charger, powerbank etc.

There are special quick dry towels that are available. These are suitable for a journey during the rainy season because you don't have to wait too long for the towel to dry. They are a handy option if you are going to stay in hostels, homestays, etc.

Don't forget to carry emergency light or a torch. Although all phones have an option of a flashlight, you cannot guarantee your device will be charged at all times. So it is always good to carry a torch or emergency lights.

Carry a repellent cream. Rains mean more insects and mosquitoes coming in. A sting or bite can cause itching. So carry a repellent to protect yourself from getting bitten.

And lastly, you cannot forget to carry a good pair of footwear. Go for boots, because they will prevent your feet from getting wet. Sport shoes can take a lot of time to dry. So invest in a good pair of boots which also provides a good grip.
We hope the above tips and points help you on a good memorable rainy journey. Carry a bigger suitcase because you wouldn't want to pack your jackets, wet clothes, dirty muddy clothes on your way back. We wish you have a happy monsoon!