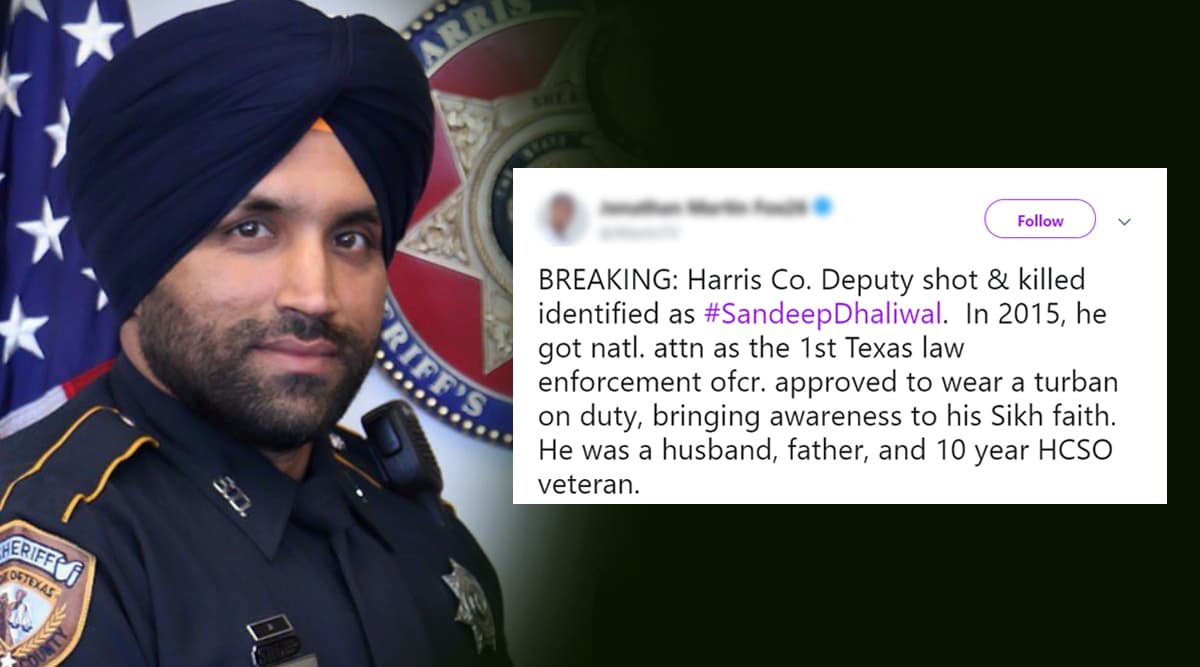 American's first Sikh officer Sandeep Dhaliwal was brutally killed on the line of duty when two bullets were shot into him in Texas, US. The deputy officer had stopped a vehicle when one of the occupants approached the officer and shot two bullets into his head from behind. The Harris County Sheriff's deputy, officer was declared Memorial Hermann Hospital after the 12:45 PM shooting. People on Twitter expressed their shock at this brutality and also paid their tributes to the late officer, including his colleagues and seniors.
The incident took place in a residential area in the northwest of Houston. Dhaliwal was 42-year-old and described as a "hero and a trailblazer" by Harris County Sheriff Ed Gonzalez. The police have managed to catch the shooter Robert Solis, 47, of Houston with the help of Dhaliwal's dashboard camera footage. The gunman and the woman along with him have been taken into custody. Sikh Police Officer, Gagandeep Singh Who Saved Muslim Boy From Being Attacked by Mob in Uttarakhand Awarded 'Frontier Service Respect Mark'.
Dhaliwal also wore a turban as a mark of his Sikh faith. In fact, Adrian Garcia the police commissioner ar Harris County had implemented a religious accommodation policy, so that Dhaliwal can carry his religious symbol with pride. A father of three children, he worked in the department for over a decade. He worked alongside with United Sikhs, a global humanitarian relief and advocacy nonprofit, to help organize the donation of truckloads of supplies for first responders after Harvey. People on social media have expressed their heartfelt tribute to the late officer.
Check Some Tweets For Sikh officer Sandeep Dhaliwal:
Horrific news. Lt. Sandeep Dhaliwal, the first ever Sikh officer to wear a turban in Texas was shot and killed in the line of duty today.

A good man devoted to serving others. Please offer your love and prayers for his family. pic.twitter.com/lVjTQVpEHu

— Simran Jeet Singh (@SikhProf) September 27, 2019
Loss of a Wonderful Man
RIP: Officer Sandeep Singh Dhaliwal, the 1st Sikh in Texas to wear his Turban while on duty shot in cold blood in northwest Harris County & killed in the line of duty. Loss of a wonderful father, husband, son, brother, friend, & last but not least, the First Sikh Officer in Texas pic.twitter.com/6WNbx7YdVH

— Instagram: @HarjinderKukreja (@SinghLions) September 28, 2019
Deeply Saddening
The killing of Harris Co Deputy Sandeep Dhaliwal is especially saddening. A groundbreaking member of law enforcement who patrolled while wearing the outward signs of his Sikh faith, put his religion's imperative of selfless service on display for all to see.

— Sylvester Turner (@SylvesterTurner) September 27, 2019
Paying Last Respects
HEARTBREAKING: Deputies pay their respects to comrade Sandeep Dhaliwal. 💔 The father and husband rallied so much support after Harvey, he needed an 18 wheeler to deliver supplies. When Maria hit Puerto Rico, he went. He was THAT guy. https://t.co/wc837fWBdF pic.twitter.com/c7jiU6rcpf

— Erica Simon (@EricaOnABC13) September 28, 2019
As Dhaliwal's senior officer Garcia called him a  guy with a heart of gold. She was quoted in a report, "This guy had a heart of gold, he treated his brothers and sisters in law enforcement as if they were just brothers and sisters. He thought of them before he thought of himself. He thought of the broader community before he thought of himself." It is indeed saddening what happened to officer Dhaliwal and his team members also expressed grief at the incidence.