The festival of Ganesh Chaturthi 2018 has begun, and the devotees cannot keep their calm. The entire nation has brightened up with beautiful pandals and mostly eco-friendly Ganpati has captivated the devotees. The unique and innovative ideas are a treat to us this time. Every year, a debate sparks up if Ganeshotsav can be environment-friendly. Following which, this year an image of Ganpati made of Bananas are going viral on social media. By now, you must have come across this green elephant-headed and also may have forwarded it to your friends on WhatsApp. One of the several posts during the Vinayaka Chaturthi mentioned that this huge idol was put together in Goa during this year's Ganesh Chaturthi. The question lies if this green Ganesha is really from Goa! Best WhatsApp Messages, GIF Images, Facebook Status & SMS to Send Happy Ganesh Chaturthi Greetings on Lord Ganesha's Birthday. 
Well, the truth is different. This 27-feet idol was made using 5 tonnes of bananas which were transported from Mumbai to Odisha, but last year. Yes, it was actually placed in Odisha's Sambalpur district in 2017 and the mind behind this eco-friendly Ekadantaya Ganesha are the members of Nataraj club. As the bananas would eventually ripen after the 10-day long festivities, they were distributed among the poor. Many media outlets too have become the victim of this image and believed it to be installed in Goa. Ganesh Visarjan of One & Half Days Ganpati: Shubh Muhurat, Puja Vidhi and Time to Bid Good Bye to Your Favourite Idol.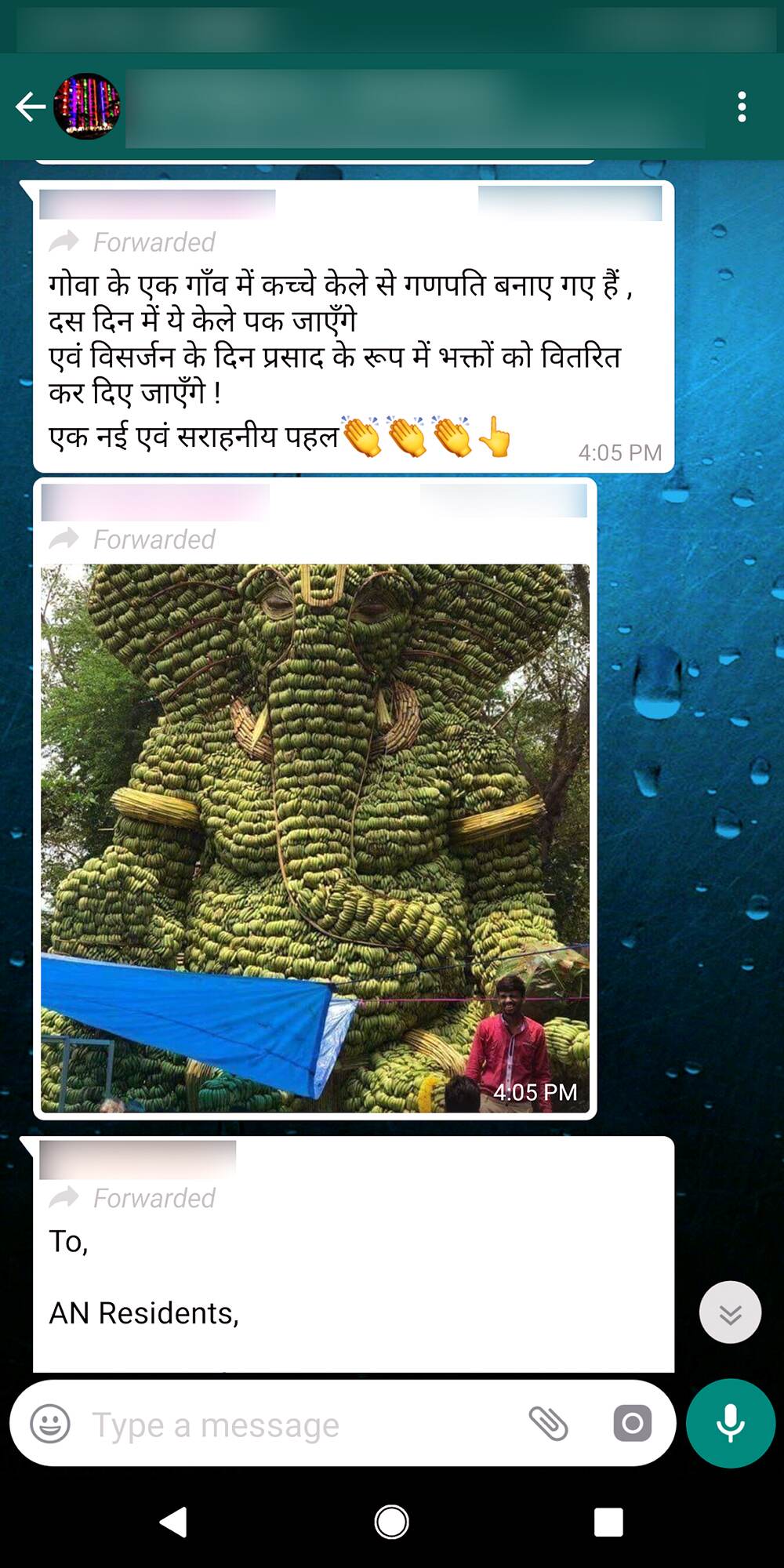 Interestingly, last year's was not the first time, the club has installed a banana Ganesha. The club came up with first such eco-friendly idol in 1999, made of plantains. Gopal Pansari, the art director of the club who came up with the idea was quoted in the New Indian Express as saying, "During earlier years, our club members had made other 25-feet-high idols with biodegradable materials such as coconuts, rudrakhsha, sweet bundi ladoos, mouli threads and conch shells. The uniqueness of our idols are that they are not immersed but as they are made of reusable and edible materials."
The ornaments and tilak for Lord Ganesha were made of bamboo and the eyes using banana leaves. Wasn't it a great idea? But it is not of Ganesh Chaturthi 2018 and the idol is definitely not placed in Goa. In a bid to reduce the environmental damage, activists, environmentalists and celebrities have been lobbying and appealing people to go for Green Ganesh Chaturthi. However, after many such efforts to make Ganeshotsav more eco-friendly, many artists across the nation have adopted some amazing ideas with non-degradable items and they are a treat for the devotees to darshan.